Leganés win the battle but lose the war as Real Madrid advance
A solitary goal from Martin Braithwaite was enough to see Leganés beat Real Madrid but Solari's side advance thanks to their 3-0 win in the first leg.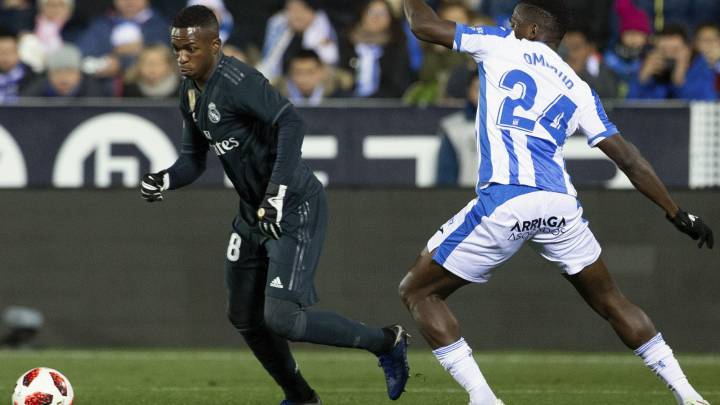 Leganés 1-0 Real Madrid: match report
Leganés beat an experimental Real Madrid side on Wednesday night at Butarque but could not overcome the 3-0 first leg scoreline.
Santiago Solari gave Isco a rare start and Marcelo played in left midfield with Vinicius and Lucas Vazqeuz also leading the line.
Karim Benzema's injury against Real Betis leaves Solari with a problem in attack and he says his "specialist" Benzema would be a loss as nobody else in his squad plays that role. Isco played as a false nine for a spell and Vinicius also took up a central role for some of the game but it was a disjointed display by the visitors.
They found themselves a goal down after half an hour when Martin Braithwaite, the lively Danish attacker, poked home after some good pressure on Real Madrid. The ball fell kindly to the new signing after his initial header hit the post and bounced back out to him.
Real Madrid were struggling to get anything going and Solari switched things up at the break. He removed Sergio Reguilon and put Marcelo back to left back with Dani Ceballos coming on to try and control the middle.
They did improve but were still stuttering in attack and never truly troubled Carlos Cuellar.
Leganés, for their part, ran out of ideas late on too and the game petered out.
Mauricio Pellegrino was sent off late on after he though his side should have won a penalty for a potential Alvaro Odriozola hand ball and Brahim Díaz hit the post for what would have been his first goal in a Real Madrid jersey.
Keylor Navas was called into action with a string of late saves also as Leganés piled on the pressure late on. It would have only been a consolation, however, as they needed two goals to push the game to extra-time.
Real Madrid continue their poor form with another poor performance but they march on into the quarter-finals of the Copa del Rey after a solid showing in the first leg.
Leganés vs Real Madrid live online: match updates and commentary
90'+4' GAME OVER! Real Madrid lose but advance no less.
90'+4'   Leganés fans throwing their weight behind their team. Really good result for them but it's a pity they lost 3-0 in the first leg.
90'+4'   Corner comes in and it's headed out for a goal kick. Navas takes his time with this one.
90'+4'   Braithwaite with another effort. Deflected out for a corner. Leganés have had a number of decent chances in the last minute. 
90'+4'   En-Nesyri with a ball inside and Merino shoots. Saved by Navas again. They can't beat him.
90'+4'   Two Navas saves. First one from Braithwaite and then the follow up is saved too. 
90'+4'   Brahim with a nice move in the penalty area. He eventually loses the ball after some fancy footwork.
90'+3'   Real Madrid just playing the ball around now in an effort to kill this game off.
90'+2'   Arnaiz absolutely cleaned out of it there by Casemiro.
90'+1' Yellow card now for Casemiro. He hauls down Arnaiz.
90'+1'   Four minutes of added time.
90'   Vinicius races clear and plays it inside to Brahim. He shoots and it hits the post. Looked like he was after netting his first goal in a Real Madrid shirt.
90'   Braithwaite on the ball and Real Madrid counter. 
90'   Valverde with an effort. Forces a save from Cuellar but never really troubling him from downtown.
89'   Brahim gets the ball off Vinicius. Cross comes in and it falls to Ceballos. Shot is deflected out for a corner.
88'   Reall disjointed display from Real Madrid tonight.
88'   Valverde with a pass out over the sideline in search of Brahim Diaz. 
87'   Vinicius with an effort now but that dribbles into Cuellar's hands. 
86'   Pellegrino has been sent off now from the bench. He wasn't happy with earlier call that he wanted as a penalty. He will watch the last few minutes from the stands.
86' Lucas Vazquez going off for Brahim.
85'   Good chance but he didn't execute that well.
85'   Sabin Merino is through on goal and he shoots but that's well over the bar. 
84'   Ball out to the other side and there's a call for hand ball. Doesn't come and Braithwaite heads down into Navas' hands. Good chance as Leganés look to put pressure on Real Madrid to finish this.
84'   Corner for Leganés but it's headed out for a throw. 
83'   Brahim getting ready to come on now.
83'   He just jumped into the Costa Rican. That's a free every day of the week.
83'   Sent into the box and Siovas fouls Keylor Navas. 
82' Vinicius booked for protesting after giving away a free. 
81'   Juanfran with a cross but Marcelo just does enough to put him off. Ball cleared and Juanfran fouls Marcelo in the end. Time for Real Madrid to slow things down here. 
80'   En-Nesyri down the right now and gets to it before it goes out. He crosses low but Navas grabs that one. 
78'   Lucas takes Arnaiz out of it now as he picks himself up off the ground fairly slowly.
77'   Odriozola with a run down the right and Siovas dives in and it's out for a goal kick. Odriozola fairly convinced that he didn't touch it last but linesman, who is really close to it, has spoken.
75'   Lucas with a cross into Cristo and it's out for a goal kick. 
74' Kravets has to go off. Jonathan Silva coming on.
73'   Kravets it gone down now with an injury. 
73' Ceballos chopped down by Recio out on the sideline. He went straight through the midfielder.
73'   Ceballos feeds the ball to Vinicius and he shoots with his right. Fairly easy for Cuellar.
73'   Game in danger or petering out here. Leganés have run out of ideas and Real Madrid just managing the game quite well now without being excellent themselves.
72'   Vinicius with a foul on Juanfran out on the sideline.
71'   En-Nesyri's first involvement is a kick on Ceballos' ankle. Free for Real Madrid.
70' Bustinza coming off for En-Nesyri.
70'   Corner comes in and Real Madrid get it away.
69'   Braithwaite looking for another. It's kicked out in the end by Odriozola but that was a little chaotic in the box from Madrid.
68' Isco is coming off for Cristo.
67'   Marcelo runs himself into trouble as he kicks it down the field in a last-gasp effort to keep the ball. Leganés come away with it.
66'   Real Madrid about to make another change. This time it's Cristo readying himself.
66'   Vinicius gets it and cuts onto his right. He shoots well over with that one. 
65'   Another nice move here as Kravets gets it on the left and plays it to Arnaiz. 
64'   Offsdide from Eraso that brings a nice Leganés move to an end.
63'  Odriozola doing battle with Kravets down the wing and it's out for a goal kick for Real Madrid. 
63' Jose Arnaiz coming on for Leganés. Gumbau goes off.
61' Gumbau takes and it nearly falls to Bustinza. Real Madrid win it back and counter. Valverde sends on in to Vinicius and Leganés counter now. Varane cuts out the move by Braithwaite. 
60'   Another corner for Leganés. 
59'   Jose Arnaiz coming on for Leganés as they start to maybe force the issue. 
59'   Vazquez with the corner and Casemiro heads down into the path of Vinicius. Another cross and Cuellar grabs that one.
58'   They could really do with a goal here though.
58'   Isco's run brought to a halt as Leganes win it back again. Real Madrid back on the attack though and they have improved in this second half. 
55'  Isco with a pass into the path of Odriozola and it's sent in via a cross. Omeruo gets a head down and away for a corner.
55'   Braithwaite sent through on goal and he hits it quite ambitiously. A mile wide and I'd say he wishes he could have that one back.
53'  Valverde with a nice run forward but Leganés win it back off him. Real Madrid slightly brighter in this half but still no good chances. 
53'   Marcelo with a long ball up the field. Leganés win it back. 
52'   Ball flicked towards Merino by Eraso but Navas comes out and grabs it. Nice ball and another slight scare for Real Madrid.
51'  Offside whistled on Odriozola.
51'   Leganés with some nice passing around the middle but the pass out to the left is way off target. Throw for Real Madrid.
50'   Marcelo to Isco again and it's a poor pass that leave Isco short. 
49'  Ball flies up into the air and Isco gets a kick on it before Gumbau fouls him with a late kick.
49'   Nice cross in from Juanfran and Odriozola heads out for a corner.
48'  Brahim  out to warm up for Real Madrid.
48'   Vinicius goes around Omeruo but he can't get a decent shot away. He tries to curl it but it doesn't even go wide.
48'   Isco loses out again and Leganés are back on the attack.
47'   Ceballos whips one out to Valverde and the ball is sent in. Almost lands to Vinicius but Cuellar gets a hand to the ball and they clear it. Good start for Real Madrid.
46'   Real Madrid still in control of the tie but a Leganés goal here will change that completely. 
46' We are back underway. Ceballos will go left-back and Ceballos will slot in at midfield.
    Ceballos on for Reguilon.
    Ceballos on the field to come in for the second half. He had been warming up during the first half. 
    Leganés with way more shots in that half than Real Madrid's three. 

  Iso with the most passes attempted amongst Real Madrid players. He tried 28 and was successful with 26 of them.
45'+1'   That should do it for the first half. Really poor from Solari's side. They need to improve in the second half and I wonder if the Argentine will make any changes at the break.
45'+1'   We will have one minute of added time.
45'   Into the last minute now of normal time.
44'   Casemiro nearly catches Recio out as Leganés play it around the middle. Foul in the end but Recio slightly lucky that was whistled.
43'   Another throw for Leganés. 
41'   Vinicius with a shot now. That's wide in the end and not troubling Cuellar but it wasn't a bad effort. 
41'   Ball out for a corner now as Vinicius nearly gets on the end of it in the six-yard box.
40'   Kravets' control lets him down and Real Madrid get a chance to do something. They lose it and shot comes in from Bustinza. Forces a save from Navas this time but fairly routine for him.
38'   Long throw in by Bustinza. Real Madrid fail to clear properly and Recio gets it. He shoots but he'll have to do a whole lot better to trouble Navas' goal. Very poor effort.
37'   Kravets down the line to Gumbau and Leganés win a throw.
36'   Kravets wins a throw now as Lucas won't let him past. Ball goes out for a goal kick as Merino can't control it.
35'   Madrid have no control in the middle.
35'   Dani Ceballos is warming up here as Solari sends him out to maybe give someone on his side a fright. 
34'   Braithwaite's third appearance for Leganés and his first goal.
33'   It has been all Leganés here in this first half. They deserved that goal. Let's see how Madrid respond.
32'   Isco flicks on to Vinicius but Omeruo gets back and cuts it out. 
30' GOAL! GOAL! GOAL! Braithwaite with the goal. He pokes it home at the third time of asking. Ball in from the right. He heads it off the post, then it comes out to Merino and his effort is flicked towards Braithwaite. He finishes and wheels away in celebration! Could be game on here.
29'   Another corner for Leganés. Vinicius wins it back and drives forward. It makes its way to Isco and he sees his shot blocked. Another effort comes in and Cuellar punches it clear. 
28'   Isco drives forward and plays it to Marcelo. He plays it back to Isco but Cuellar comes out to gather. Nice move from Real Madrid there.
27'   Shot came in and hit Braithwaite too. A couple of chances for Leganés there. Gumbau down and injured now. He gets up and limps off. Not clear what happened to him though.
26'   Eraso sends it into the middle. Headed out by Real Madrid. Sent back in and Navas with a failed punch. Ball is crossed in again and Sabin Merino heads that one wide.
25'   Leganés back up the other end and win themselves a corner.
25'   Cuellar with a clearance that catches Reguilon in the head. It bounces wide but a little but more luck and that might have gone in. 
24'   Merino with a nice cross now and Braithwaite misses it completely. Another decent chance for Leganés.
23'   Kravets with a wayward pass backwards and concedes a throw.
22'   Kravets looking for a penalty but Lucas got the ball first and he is lucky not to concede a free.
22'   There's a really good chance. Ball comes in and Gumbau can't get a head to it. It falls to Kravets at the back post but he can't score either as Lucas gets the ball away. 
21'   Leganés back on the ball now. Still no way through for them either and they've hardly had a touch in Real Madrid's penalty area even if they have started better.
21'   Very quiet start to the game by Vinicius. Not sure he has actually touched the ball yet.
20'   Vazquez with a cross and it's aimed at Vinicius but Leganés clear it.
19'   Leganés with another chance. Ball crosses in by Siovas from that same left hand side and Merino heads it well wide.
18'   Casemiro out for a throw now.
17'   Another good ball inside and Lucas fouled by Kravets after Real Madrid win it back.
16'   Nice ball in by Kravets but Varane clears it first time. 
16'   Isco loses the ball and then fouls Kravets. 
15'   Braithwaite feels like he was fouled and Gumbau puts it out for a throw. Looked like a foul too but referee says no. 
14'   Odriozola sets off down the right. He has Lucas just outside him.
13'   Fairly even event so far but Leganés need to get a move on if they want to eat into Madrid's lead.
13'   Leganés back on the ball now. Casemiro with a slide and it's out for a throw.
12'   Omeruo gets something on the ball and Real Madrid win a throw. 
12'   They are building now though.
12'   Ball out to the right and Vazquez wins it and plays it to Varane. No real attacking threat from Real Madrid just yet.
11'   Navas wins a free. Ball sent in and he punched the ball clear and got a kick for himself off Gumbau at the back post. 
10'   Long ball down to Merino now and Juanfran sets off down the right but it's out for a throw by Reguilon.
9'   Braithwaite can't quite control the long ball down to him. He heads it down but Real Madrid clear. 
8'   Siovas with an effort from way downtown. Real Madrid not too keen to close him down as they seemed to know he was going to fire wide.
7'   Vinicius looks to be playinfg as a false nine. Marcelo now pushing high up the field. Looks very fluid from Solari's side.
6'   He lays it off to Lucas Vazquez and Kravets comes in and cleans him out of it. Sore one for Vazquez and a free for Real Madrid as he shakes off the knock.
5'   Isco looks to be the number 10 and he drops deep to win the ball.
5'   MArcelo has indeed started in left midfield. 
4'   Leganés in possession again. Still no chances for either side but Leganés with all the ball. 
4'   Ball out for a corner as Eraso plays it too close to the line. 
3'   Pellegrino up off his bench and not very happy at the start. He looks concerned about something but his side have started this one well.
2'   Leganés with a good start here. Offside for Braithwaite as he tries to sneak in around the back. 
2'   Ball sent into the middle and Gumbau heads a fairly tame effort towards goals. Keylor Navas grabs it.
1'   We are underway at Butarque.
    Madrid wearing their black strips today! 
    Four degrees in Madrid tonight. Plenty of gloves being worn as the temp is set to drop too! 
    Seven changes to Pellegrino's side that beat Huesca 1-0 at the weekend. A really good win for them and seperates them from the relegation contenders for now. They're up into 13th now.

    Marcelo had been singled out for blame after a string of poor performances. He was rested against Real Betis but he is back in midfield tonight along with Casemiro and Valverde. Solari has been getting increasingly bold in his team selections.

    In the other Copa games tonight. Atlético and Girona are playing out a 2-2 draw, which will see Girona advance if it stays like that as they have scored two away goals. It's goalles in Sevilla with the home side holding a 3-1 lead over Athletic Bilbao from the first leg.
    Valdano says Isco has "lost his way" and that he needs to do some soul-searching. A start for him tonight and a chance to impress could change things for him.

    The news about Brexit recently could put Vinicius' place in Real Madrid's squad at risk. It confuses things with Bale too but Vinicius starts tonight again! He has been Real Madrid's best player for the last number of weeks.
    Leganés XI: Cuellar, Juanfran, Bustinza, Siovas, Omeruo, Kravets, Gumbau, Recio, Eraso, Braithwaite, Sabin Merino.
    Isco starts! He has become option number 20 under Solari but he starts tonight.

    Real Madrid team news: Keylor; Odriozola, Varane, Nacho, Reguilón; Casemiro, Valverde; Lucas Vázquez, Isco, Marcelo; Vinicius.
    Ramos is rested tonight and Jesus Vallejo is out injured again as Solari looks to shuffle the deck at the back against tonight.
    Solari says he only has one striker and that "specialist" Benzema is the only man who can play there for Real Madrid. He is missing tonight after breaking his finger but Solari hopes to have him back for the weekend.

    Hello and welcome to our live online coverage of the Copa del Rey clash between Leganés and Real Madrid at Butarque. Kick-off from the suburbs of Madrid is at 21:30 CET.
Leganés vs Real Madrid live online: preview
Real Madrid travel to Leganés on Wednesday January 16 after winning 0-3 at the Santiago Bernabéu last week. The lead that Santiago Solari's men take into the clash means he can rest some of his starters and give some youngsters minutes but all eyes will be on whether Isco starts or not with a very young squad named for the Copa clash.
Dani Ceballos stole the show on Sunday night with a late free-kick to beat Betis but most of the analysis after the game focused on Isco's lack of gametime. With Luka Modric and Sergio Ramos rested along with the injuries to Marco Asensio, Gareth Bale, Mariano and Karim Benzema, there are chances for plenty of youngsters in Real Madrid's squad. Jaume Grau could make his first team debut on Wednesday night having been drafted into the squad with Solari lacking resources. Thibaut Courtois remains out and Keylor Navas should remain in goals while Jesus Vallejo has been ruled out again with another muscular injury.
Leganés travel to the Camp Nou at the weekend and it remains to be seen just how strong a team Mauricio Pellegrino puts out with the 3-0 scoreline going against his side last week. Andriy Lunin and Oscar Rodriguez can not play given they are on loan and have a fear clause in their deals. New signing, Martin Braithwaite, was impressive in the first leg and should start again with Guido Carrillo missing.