Qatar beat Saudi Arabia thanks to Almoez Ali double
Almoez Ali scored twice in either half to help Qatar beat Saudi Arabia in the Asian Cup 2019 and Qatar will go on to play Iraq while Saudi Arabia will face Japan.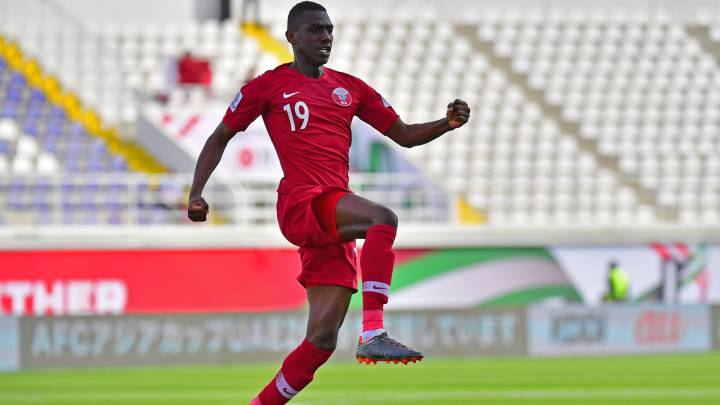 Check out the full schedule for the AFC Asian Cup Round of 16 fixtures
Saudi Arabia 0-2 Qatar: as it happened
That's it. All over in Dubai. Both teams progress. Qatar will face Iraq on Tuesday with Saudi Arabia as group runners off handed a trickier tie against Japan.
Three wins for Qatar, their best ever back-to-back win at an Asian Cup. 
90'+1'   Saudi fans still sing and chant as the players just tap the ball about and Qatar still happy to push forward. Great performance from Akram Afif today.
90'   We'll have 3 mins. of time to be added.  
89'   Time about to expire as the Saudi Arabia team anxious for the clock to run down, forget about the contest today and turn their focus on the Japan tie.
87'   Overall a poor afternoon for Saudi Arabia. Flickers of what they can offer but difficult to see the Japan side troubled on the strength of what we've seen today. Qatar v Iraq will be a closer affair I'd suggest.
Key dates for Qatar fans: Next Tuesday, round of 16 game v Iraq in Abu Dhabi. Pizzi's men will be in action earlier as the Green Falcons take on Japan next Monday in Sarjah  
Lebanon have 5' left... they do need another goal to try and seal a spot.
Almoez Ali off for Qatar. Alaaeldin on
82'   No way back now..impossible to see three Saudi goals that they need to top the group 
80'   Saudi Arabia 0-2 Qatar
Almoez Ali unmarked and nets his 7th of the tournament
Goaaaaaalllllll Qatar 2-0 
79'   Qatar have been well drilled, defending stoutly and breaking so well. Encouraging for Felix Sanchez. 
KSA change again: Al Mousa on for Abdullah Otayf 
77'   Niggly fouls now as the tempo drops on the action.
75'   Into the final 15' we go. Qatar set to face Iraq as things stand. The Green Falcons will take on Japan in the last 16.  
Fahad Al-Muwallad off for KSA  with the change being offered by Ayman Al Khulaif 
73'   Free for Saudi Arabia.... Another floater into the box as the ball falls to Hattan Bahebri who hits over. All Saudi in the second period but it's Qatar that have the all important goal.
Qatar change: Captain Al Haidos off with X his replacement Boudiaf
70'   Dangerous free awarded to Saudi Arabia. Floated into the box as Qatar manage to clear and launch a counter. Just 20' remaining here in Abu Dhabi. Clock ticking down for the Green Falcons.
Qatar change: Madibo off-Salem Al Hajri on
69'   Al Saiari heads from a fine delivery but mis-directed from the sub 
67'   Lebanon go 2-1 ahead against North Korea. They need at least 2-3 more goals though
66'   At this point, from what we're seeing, I sense both Iraq and indeed Japan will have little to fear with both Qatar and Green Falcons offering little
64'   Delay in the play as the Qatari captainAl Haidos is down with cramp
63'   No change in the other game so we'll see North Korea and Lebanon eliminated with Iraq set to face the men from Qatar with Saudi Arabai paired up with Japan in the last 16 
Change for Pizzi's men: Ghareeb off-Al Saiari on
 A terrible decision from the official. A totally legitimate goal with the referee adjudging Ali had fouled the keeper. Harsh on Qatar. 
59'   The ball is in the net but ruled out .... 
Time wasting from Hatem and he's carded for his antics
56'   Saudi chance as Fahad Al-Muwallad gets in the way as a team-mate was poised to strike. A goal for the men in white getting closer one feels. Felix Sanchez bellowing instructions (in Spanish) as Qatar almost strike with Saudi forced to hit the ball away for a corner.
55'   Our man on the megafone is excellent ..non stop chanting as he drives his Green Falcons along....
53'   Moving towards the final 30' of the group phase. No major shock exits with all the pre-competition favourites progressing to the Round of 16. South Korea, Japan and Iran have impressed. 
52' Qatar  have started very slowly.... It's the Saudi side with all the purpose and drive as they probe for a leveller
50'   Saudi strike again as Hattan Bahebri fires straight at the Qatar stopper.
48'   Saudi go close...Al Sheeb forced to smother a breaking ball as Al-Muwallad was ready to pounce.
47'   Qatar are adept at the quick break out of defence. Sanchez has the side well drilled in the art of the quick counter.
46'   We're underway again...Can Qatar hang on and progress as leaders? Can Saudi find two goals and steal top spot ? All will be revealed in the next 45'
Ali was carded after the goal celebration when he kicked the corner flag away..silly from the Qatar player
The teams make their way back to the pitch as the stadium DJ spins some Bruno Mars  
Saudi fans carry the portrait of Saudi King Salman ahead of the 2019 AFC Asian Cup group E football match between Saudi Arabia and Qatar

Both North Korea and Lebanon heading home... 
Here's how the "live" Group E table looks with 45' of action outstanding. Qatar top the group and will face Iraq with Pizzi's men set to face Japan.

Qatar goalscorer Almoez Ali  

That's the half time whistle. Saudi Arabia 0-1 Qatar
Ali find himself one on one with the keeper ... terrible defending  from the Saudi rear-guard as Ali finds himself through on goal and finishes expertly.  
Gooooool. Qatar take the lead
Albulayhi carded.
44'   Saudi go close as a header just fizzes wide of the post 
The kick was given after Ali was upended in the box and was the correct decision. Saudi Arabia and indeed Qatar still yet to ship a goal at the tournament so far. 
38'   Al Haidos to take.... The captain.... drives the ball straight at the keeper. Decent save from Al Owais who managed to see the ball ricochet away ....
38'   Penalty for Qatar
38'   Qatar almost score following a wicked deflection as Pedro breaks for Qatar sends Afif who looks for a pass but watches the ball go behind the goal for a Qatari corner. 
36'   Qatar booed every time the men in maroon break forward. More fans arrving now at the massive 43.000 seater stadium.
35'   Hattan Bahebri strikes but a poor effort from the  Al Shabab man
34'   Just the one shot on target from Qatar with the Saudi's also going close after Al-Muwallad struck the post earlier. The pace has dipped slightly after a bright 15' spell. 10' left of the first period.
and the Green Falcon team prior to the match 

Qatar side ahead of the game earlier

31'   Clear domination from the Saudi team: Possession:  KSA 72-28 QAT (%)
29'    Hatem has looked dangerous for Qatar tonight..a great burst of speed from the 28-year-old.  
We have a goal in the other Group F match as Lebanon are level against North Korea. Can't see either of these sides making one of the best placed third placed positions.  
27' Good work from Pizzi's side as they break down the left side and force a corner. Khoukhi is looking solid in his defensive role for the Al Annabi
26'   Qatar attack and Hatem finishes off the move spooning the ball high over the Saudi bar.
24'   These guys making all the noise here in Abu Dhabi tonight.

Al-Muwallad was one of the Saudi players who played with LaLiga clubs as part of the 2017/18 season drive. The 24-year-old was one of the very few players who got to see some playing action in Spain. 

21'   Saudi Arabia hit the post as Al-Muwallad drives the ball against the woodwork. The Saudi's are starting to dominate now as both teams open up a little.
19'   Call for a Saudi penalty as Al Burayk goes over in the box after a collision with Hasan Fadlalla. Ref says no !
There is some excellent support from a small group of Saudi fans who have been non-stop since the start of the game. That includes or friend with the megaphone too !!  
18'   Fair to say that the bulk of the support in Abu Dhabi tonight are behind the Green Falcons.
17'   Possession: KSA 62-38 QAT (%) 
16'   Chance for Qatar as Al Owais saves well from a well directed Khoukhi shot.  
Word coming through that a small number of Saudi fans booed the Qatari anthem at Zayed Sport City ahead of the game. 
12'   Saudi break and Qatar forced to drive clear and award the Green Falcons a corner kick.
10'   Despite the well documented recent political differences between both nations, the game has the feel of a friendly match and lacks a certain spark. The sparse crowd not helping matters despite the best efforts of one fan with a megaphone. 
8'   Another niggly foul, this time for Qatar. Zero rhythm here at the Zayed Sports City Stadium with Qatar coach Sanchez not looking too pleased at what he's seeing.
Card for Madibo for a poor challenge on Al Burayk
5'   Nervy start. Neither side has yet to coincede a goal so far at this 2019 Asian Cup. It's the Green Falcons who need to show more initiative tonight as a draw will ensure Qatar go through as the top side in Group E.
4'   Neither side to find their stride yet in Abu Dhabi as foul after foul stem the flow of the action.  
Don't forget...the winners of this group face Iraq in the next phase with the runners-up set to be pitted against a tricky Japan side in the last 16. 
1'   We're underway .... Not a full house at the Zayed Sports City Stadium as the Saudi's press early 
A mild Abu Dhabi evening with a current temperature of 24C. Ideal conditions for players and spectators alike.  
It's Saudi Arabia in all green and Qatar in their classic maroon kit in Abu Dhabi this evening.
 Saudi Arabia's Waleed Abdullah during the warm up before the match 

All the players from the Saudi squad play their football in the domestic Saudi league. 
Lebanon face North Korea in the other Group E game this evening. Even a win for the North Korean side would be enough to see them progress with a poor goal average. An emphatic win for Lebanon could see the Western Asian side advance.  
Group F has recently concluded with Japan beating Uzbekistan 2-1. That means the runners-up of today's Group E tie will face the Samurai Blue with the winners facing the task of facing Iraq on Tuesday, which is possibly a more attractive proposition.    
The Qatar dressing room at the Zayed Sports City Stadium as kick-off looms. The traditional maroon for the Gulf state tonight.

Saudi Arabia coach Juan Pizzi giving instructions in the previous Group E Asian Cup tie. Can the Argentine steer the Green Falcons to AFC Asian Cup glory?

Felix Sanchez will be hoping his Al Annabi side can deliver the win or draw that will see his side top Group E settting up a round of 16 clash with Iraq next Tuesday. 

Hello and welcome to our live coverage of Saudi Arabia vs Qatar as Group E comes to a close this evening in Abu Dhabi. kick-off at the Zayed Sports City stadium is at 1700 CET / 2000 UAE. 
Saudi Arabia-Qatar: preview
Key facts ahead of the game:
- All three previous Asian Cup encounters between Saudi Arabia and Qatar have ended in a draw – they all took place in the group stages (1984, 1992, 2000). The Saudis have never led at any point in those three games.
- Saudi Arabia have won three of their last four Asian Cup games (L1), keeping back-to-back clean sheets – they last went longer without conceding in the competition on the way to winning the 1988 tournament (three consecutive clean sheets).
- Qatar's 6-0 win against North Korea in their last match was their biggest ever in an Asian Cup match.
- Almoez Ali has scored five goals in his two appearances at this year's Asian Cup – he could become the first player to score six goals in a single Asian Cup tournament since South Korea's Lee Dong-Gook in 2000.
- Mohammed Al Owais is yet to concede a single goal at this year's tournament, making him the first Saudi Arabia goalkeeper to keep two clean sheets during the group stages of a single Asian Cup since Mohammed Al-Deayea in 2000.
What the managers said:
Qatar (Felix Sanchez): "Our strength, as I said, lies in our team spirit. The coach has prepared us well, whether in attack or defence," he said.
"Almoez and Akram [Afif] are very good players and with the help of the other players, have helped Qatar progress. We are one team - whether the 11 players who start, those on the bench and the coaching staff
"Our spirit is high as we really want to do well in the Asian Cup. We have worked very hard and will continue doing so as we want to progress as far as we can in the competition.
"When we came here, it was with the plan of taking it one game at a time. After two wins, our confidence has been boosted. We will prepare well for the match and our aim is to get the three points."
Saudi Arabia's Juan Antonio Pizzi: "We will try to do our utmost to win," the Argentine told a media conference. "We will play with all our strength and whatever opponent we face [in the knockouts] we are ready for them.
"What matters in tournaments is good results, and that is what happened in our first two games against Lebanon and North Korea."
Forward Fahad Al Muwallad added: "Our qualification does not mean that we underestimate the importance of the game. We promise to play every game with maximum strength."
Who to watch
SAUDI ARABIA – Abdulaziz Al Bishi
If Saudi Arabia are to claim a third victory over the group, then the creativity of midfielder Abdulaziz Al Bishi will be vital. The 24-year-old already has two assists to his name, something Pizzi will be hoping to see more of against group leaders Qatar.
QATAR – Almoez Ali
History beckons for top goalscorer Almoez Ali in Thursday's encounter, the 22-year-old striker having already scored five goals in the competition so far. His four against North Korea secured Qatar's progression, and should he net again in Abu Dhabi he would be the first player to score six goals in the group stage since 2000.