Copa del Rey: Barcelona and Real Madrid to meet in semi-finals
Friday's Copa del Rey semi-final draw threw up a Clásico between Barcelona and Real Madrid, while Real Betis were paired with Valencia.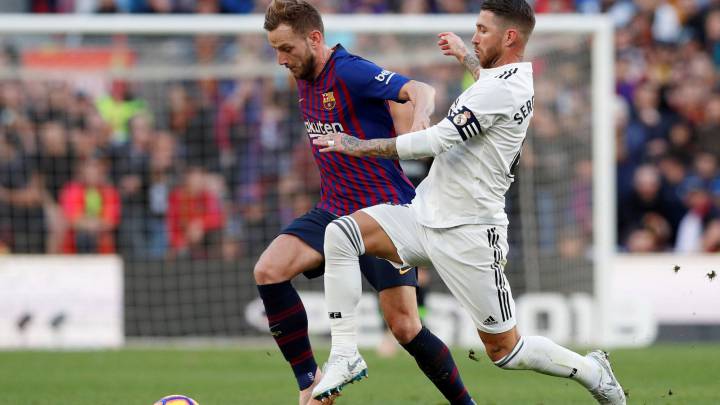 Barcelona and Real Madrid will meet three times in the space of a month after being paired together in Friday's Copa del Rey semi-final draw.
Semi-final Clásico immediately followed by LaLiga clash
The arch rivals are set to face off in the first leg at the Camp Nou on 6 February, before concluding their last-four tie at the Bernabéu on 27 February.
And that return leg comes just under a week before the pair again go head-to-head in Madrid, this time in LaLiga, in a match-up expected to be on 2 March.
Barça and Madrid were last pitted against each other in the Copa in the 2014 final, which Los Blancos won 2-1 courtesy of a memorable Gareth Bale solo goal.
Betis to meet Valencia in other semi-final
In the other semi-final, meanwhile, Real Betis - whose home ground, the Estadio Benito Villamarín, will host the final on 25 May - were drawn against Valencia.
Betis and Valencia's tie is due to be on 7 and 27 February.
---
Read also | Betis-Valencia and Barcelona-Real Madrid: AS editor Alfredo Relaño reacts to Friday's Copa del Rey draw
---
2018/19 Copa del Rey semi-final draw: as it happened
  So, the semi-final draw is: Real Betis vs Valencia and Barcelona vs Real Madrid. The initial indications are that the Betis vs Valencia tie will be played on Thursday 7 February and Wednesday 27 February, with the Copa Clásico set for Wednesday 6 February and Wednesday 27 February - but in each case that could potentially change. Thanks for reading!
  "This is one of the great matches in world football," says Real Madrid's director of institutional relations, Emilio Butragueño. Meanwhile, his Barcelona counterpart Guillermo Amor strikes an equally earth-shattering note with his post-draw comments, observing: "You have to be on your mettle against Madrid."
Spanish TV is showing the dates of the ties as being 6 February and 27 February, but they could yet be played on the 7th and 28th, too.
By the way, that Real Madrid vs Barcelona second leg will come less than a week before the arch rivals then meet once again in LaLiga on 2 March. A Clásico-fest. 
Barcelona are out first! So it'll be a first leg at the Camp Nou, and a second leg at the Bernabéu.
So, we know the second semi-final tie is a Clásico, but what we don't know is who'll be at home in each leg. We're about to find out.
Betis will be at home in the first leg of their tie with Valencia, by the way. 
The first pairing out of the hat is... Real Betis vs Valencia! There'll be a semi-final Clásico, then!
  Now a few words with 1977 Copa del Rey-winning Betis legends Julio Cardeñosa and José Ramón Esnaola... and finally it's time for ball-pluckage!
A third video montage! "This is just self-indulgent," barks a colleague in the AS newsroom.
Now for video montage numero dos: a look back on how Barcelona, Betis, Madrid and Valencia made it through to the semis, complete with exceedingly dodgy background music.
Now a few words from RFEF vice-president Ana Muñoz. Everyone's getting in on the act here. Oh come on, get on with it.
Thus far, nothing to report. Just men in suits gassing on, followed by a video montage marking the choice of the Benito Villamarín as the final venue, followed by more men in suits gassing on. 
  Time to go at the Benito Villamarín! Let the ball-plucking commence! (After the requisite long-winded exposition, obviously.)
By the way, if you're looking to accompany our live coverage with a video feed of the draw, you may wish to avail yourself of our useful guide on how and where to watch.

Fresh from being confirmed as the venue for the final on 25 May, Betis' home stadium, the Estadio Benito Villamarín, is the stage for today's draw, which is now ten minutes away.
And Madrid were the last team to secure their semi-final berth last night, as the in-form Karim Benzema grabbed a second-leg double at Girona to help the 19-time winners make it through to the last four for the first time since 2013/14.

  Meanwhile, Valencia reached the last four courtesy of two dramatic, last-gasp goals from Rodrigo Moreno against Getafe - in a second leg that ended in ugly scenes at Mestalla - and Betis also left it late to book their spot in the semis, coming out on top in a tie with Espanyol that went all the way to extra time.

  Barça's bid to win the Copa for a record fifth season on the trot continues after the Catalans recovered from a 2-0 first-leg defeat to knock out Sevilla - the first time in 34 years that they have won a domestic cup tie from such a position.

After a dashed entertaining quarter-final stage - whose four ties produced no fewer than 30 goals - we've now been left with a thoroughly enticing line-up in the semis: Real Betis, Real Madrid, Valencia and holders Barcelona.
Good afternoon and welcome to our live coverage of the draw for the semi-finals of the Copa del Rey, which gets underway in about half an hour's time.
2018/19 Copa del Rey semi-final draw: preview
The four remaining clubs in the 2018/19 Copa del Rey are to learn the identity of their next opponents in this lunchtime's semi-final draw in Seville.
Barcelona, Madrid, Betis and Valencia in semi-final pot
Barcelona, Real Betis, Real Madrid and Valencia are the teams in the hat after all coming through high-scoring clashes in what was an entertaining last eight.
Holders Barça remain in the hunt to win a record fifth straight Copa after overturning a 2-0 first-leg deficit to beat Sevilla, while Betis, Madrid and Valencia saw off Espanyol, Girona and Getafe, respectively, in a round that averaged 7.5 goals per tie.
Semi-final draw to get going at 13:30 CET
Held at Betis' Estadio Benito Villamarín, which has been confirmed as the venue for the final on 25 May, today's draw is due to get underway at 13:30 CET.