Real Madrid continue to close the gap at the top of LaLiga
Goals from Karim Benzema, Vinicius and Mariano were enough to see off a well-drilled Alavés side as they close in on Atlético Madrid and Barcelona at the top of LaLiga.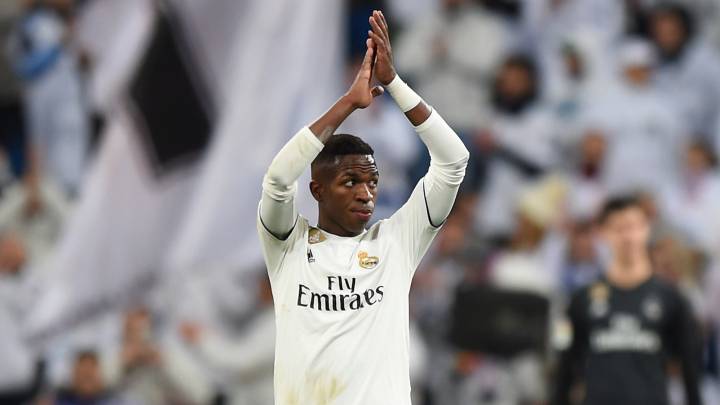 Real Madrid 3-0 Alavés: match report
Real Madrid continue to close the gap on Barcelona and Atlético Madrid at the top of LaLiga with a 3-0 victory over Alavés on Sunday night. It was their fourth win in a row and with games against Atlético and Barcelona coming in the league in the next month along with a Copa Clásico and Ajax in the Champions League, their form could not be returning at a better time.
Alavés continue to stumble but their performance at the Santiago Bernabéu on Sunday did not necessarily merit a 3-0 beating. They were organised and frustrated Real Madrid for long spells but they lacked the finishing touches to really make a game of it.
Gareth Bale returned as Vinicius, Benzema and the Welsh attacker started together for the first time. Vinicius was deployed on the left with Bale taking up the right flank as Benzema made things happen in the middle.
It was the French attacker who broke the deadlock after half an hour when Sergio Reguilón, making his fourth sucessive start in the league linked with Vinicius before send a low ball across the box. Benzema tapped home as he continued his fine run of form.
Alavés tried to respond but couldn't before the break and it was about to get a lot worse for the team who had to travel by bus from Vitoria given the snow in the northern region of Spain. It did get better for a spell though.
A couple of efforts from Jonatahn Calleri might have ended differently on another night as they tried to take advantage of Real Madrid's ambitions to get a second. They were having some luck on the counter as Real Madrid had their sights set on finishing the tie with Barcelona to come on Wednesday in the Copa.
They couldn't finish though and it has been a problem for them this season, which has become more glaring since the exit of Ibai Goméz.
The score remained 1-0 until the 80th minute when Vinicius, who would go off later to a rapturous round of applause from the freezing fans at the Bernabéu, recieved the ball from an Asensio cross and he slotted it home to break the game and Alavés spirit. Where there once was hope now lay 10 minutes where they would huff and puff to no avail.
As Real Madrid continue to improve, their injury list is shrinking too. Mariano returned to the squad and the field for a cameo in place of Benzema and he made his mark on the game too.
This time it was Odriozola from the right, who crossed it into the middle, only to see Mariano launch himself at the ball. His diving header in off the post made it 3-0.
They have two games against Barcelona, two against Ajax and a Madrid derby in the coming weeks but their form and confidence is returning at the right time. Alavés' early good promise, however, is disappearing rapidly.
Real Madrid vs Alavés live online: match updates
90'+1'   GAME OVER! 
90'+1'   Mariano! GOAL! 3-0. Game, set and match. Odriozola with a lovely cross and Mariano with the diving header. Lovely finish yet again.
90'   Odriozola with the ball in the back of the net but he's well offside. A fairly old school finish there and he was delighted but it wasn't to be.
87' Isco on now for Vinicius. The fans appreciated that performance from the Brazilian gem.
86'   Mariano with a chance now by LaGuardia puts him off. Real Madrid looking more like scoring a third than Alavés are of scoring one. 
83'   Odriozola finds himself through on goal but he gets crowded out of it. It falls to Vinicius and he spins turns and flicks the ball backwards before the same happens to him. Referee says no penalty. Goal kick.
81'   Corner for Alavés. Lovely chance as Maripán heads it down and towards the back post. It goes just wide. So, so close. 
80' Asensio with a cross and it falls to Vinicius. Lovely finish by him at the back post as he slots it low and into the bottom corner. 2-0 and surely game over.
78'   Asensio's first chance. He absolutely drives it over the bar. He purses his lips and knows he should have done better or done something different maybe.
78'   Ramos whistled for a foul on Laguardia as the pair tussle for the corner. 
77'   Ceballos runs into the penalty area and he looks like he lost the ball about three times during that dribble. Eventually gets a shot away and it's blocked for a corner. 
75'   Mariano with a kick and he misses the ball completely. That was really not very good.
73' Benzema comes off for Mariano Diaz. Another player returning from injury.
70'   Odriozola tries a cross and he wins a corner.
68'   Ball crossed in and Benzema takes it down before it's headed away. Vinicius comes in and slams a shot towards goal that is blocked.
66' Diego Rolan off for Burgui. The January signing makes his debut.
66'   What a chance for the second. Vinicius drives down the left and cuts back to Benzema. He barges forward and sends it across goal but Alavés clear. So, so close. 
64'   Wakaso gets a little but too ambitious with his run forward and Casemiro ends it. It is played out wide to Vinicius and the shot is blocked. Alavés driving forward for that goal now.
63' That's Bale's last involvement as he is taken off for Asensio.
63'   Ramos fakes a run-up to it and Bale hits it. He blazes it over.
61'   Asensio ready to come on too. 
61'   Real Madrid win a free on the edge of the penalty area. Casemiro who is hauled down by Maripán. This is made for Bale but Ramos is eyeing it up too.
59'   Another diagonal ball out to Vinicius but it's asking too much of him.
56'   Another good chance for Alavés as Calleri drives over the bar. Ball by Burgui had too much on it. It was a poor effort but he had no options in the end. But Alavés have broken through a couple of times now in the last few minutes as they look to take advamtage of Real Madrid's ambition to get a second.
55' Burgui kicks Reguilón in the stomach as the left-back chests the ball down. High foot and a deserved card for the clumsiness of the whole episode.
53'   Nice effort from Calleri ripples the side netting. Courtois had it covered from the right angle but a nice move from Alavés as they had Real Madrid outnumbered in the box. No real chance to shoot until Calleri's effort but it went wide.
51'   Pina takes Casemiro down. Real Madrid looking for a second now as they continue to pry. 
49'   Bale forces an excellent save from Pacheco. He takes the pass down with his left and strikes with his left. 
47'   Slick move from Real Madrid with the ball coming in from the right. Bale takes it down and plays to Benzema. He strikes it into the ground as it bounces up to Pacheco.
46'   Back underway at the Bernabéu. Alavés start well. Shot comes in from Laguardia.
Doesn't look like there are any changes to Real Madrid's side. 
45' HALF-TIME! Benzema's strike seperates the sides.
45'   That will do it for the break as Pacheco gets down to save a low cross. The ref has seen enough.
42'   Manu Garcia with another foul on Ceballos as he is tripped up. Still no yellow and the Bernabéu fans not happy. 
41'   Casemiro fouled in the build-up to a goal by Alavés as that free was sent in. Won't stand as the referee whistles.
40'   Now Wakaso wins a free as Vinicius bundles into him.
39'   There has been a couple of incidents in the last few minutes that suggests the ref losing this one a bit. 
39'   Wakaso jumps in on Ceballos. That's a really late and silly one. He doesn't get booked though. 
38'   Clash of heads between Manu Garcia and Reguilón as the Real Madrid players comes out worse off. He is back up again though and won't need treatment.
36'   Benzema gets the ball over the top and he's offside. Laguardia played the offside trap but it was very tight. Offside it was.
35'  Ceballos sends Modric through down the middle and they have Alavés opened up here. Vinicius has the ball nicked off him as he makes it into the penalty area. 
33'   Odriozola wins the ball back as Jony tries to race him down the wing. The defender gets it back and has time but he plays a really dangerous little pass back to Courtois, who is two yards away from him. The Belgian isn't ready but he clears it anyway but just about. Little slip of concentration there from Odriozola.
32' Laguardia is booked now for a foul on Vinicius. He was streaking down the left and the defender left a leg in as the Brazilian was just too quick for him.
30' GOAL! GOAL! GOAL! Benzema taps home. Run down the left by Reguilón and the left-back links well with Vinicius. The low cross catches out a pair of Alavés defenders and Benzema is there to turn it home. 1-0.
29'   Ball crossed in from the left and headed out to Ceballos. Not sure how he approached that one but he gets a touch on it that looked very awkward. Lands to Modric and Real Madrid continue their pressure. Alavés quite comfortable so far though. 
28'   Ball crossed in by Vigaray but it rolled out over the line before he got the chance to kick it. 
27'   Nacho tries to drive forward and Wakaso wins it back but Nacho handles the ball as he wins it back off the midfielder. 
25'   Headed back out again and Alavés clear. But Real Madrid win it back. 
25'   Ball sent in from the right and it's Benzema who gets a head to it. That's all he can do though as he heads it up into the air. 
24'   Casemiro with an effort with his left foo. Curls wide and looked closer than it actually was. He hit it really well. He just hit it really wide too!
22'   Bale looks for Vinicius with a really ambitious cross-field pass. Out for a throw. Quiet start for Bale on the right. 
20'   Modric plays it to Odriozola, who drives forward. He shows off plenty of speed as he kicks the ball way ahead of him and chases it down. He wins the corner too. It comes to nothing though.
18'   Reguilón with an effort from outside the box and it lands on the roof of the net. Close but never troubling Pacheco. 
16'   Vinicius with a lovely run down the middle of the field and he cuts in on his right. He strikes at Pacheco, who punches it away. The Brazilian is looking really lively early on after winning that one back off Wakaso following a heavy touch. 
16'   Burgui free down the left and Ramos arrives on the scene to slide in and steal it off his foot. What a chance! Straight up the other end then and Vinicius threads one through to Benzema. Pacheco rushes off his line to grab it. 
14'   Corner comes in and Nacho ends up on his back as a set-piece with a screen like you'd see in basketball sees him run into Manu García. Free for Real Madrid.
13'   Jony down the left again. He races down the wing and into the box. Nacho gets a foot on the low cross and out for a corner. That's better from Alavés though.
12'   Manu Garcia jumps with Ramos and he backs into him. Ramos goes down grabbing his hip or stomach and he is helped up by the Alavés player.
11'   Wakaso and Casemiro battling for the ball and Wakaso gets in front of him as the Brazilian throws his arm over his shoulder and pulls him down. Some extra curricular activity too as they have a word with each other.
10'   Modric scoops one over the defence but it's headed back to Pacheco. 
9'   Benzema with a a really good effort as he gets the ball onto his right and an inch or two to shoot. He tries to curl it around Pacheco but he curls it around the post instead. Not bad from the striker as he showed off his confidence.
8'   Wakaso looks for the pass again but Jony doesn't even chase that as Real Madrid have it covered.
8'   Reguilón launches himself into a tackle on Burgui and catches him. The referee arrives over and his him a very stern look but no card. Too early for that lark just yet.
6'   Wakaso sends a great ball down the left but Jony didn't hold his run, or else Wakaso delayed his pass. He's offside and Jony isn't happy as he wanted it earlier. Perfectly weighted pass by Wakaso though.
5'   Some good early pressure from Real Madrid but Alavés survive.
4'   More pressure from Real Madrid and that same side. Cross cleared and it's out for another corner. Some nervy moments again for Alavés as Ceballos has a shot that's blocked before volleying the rebound over.
3'   Bale with a cross with the outside of his left foot. Maripan fails to clear and it falls perfectly to Ceballos. His shot is deflected out for a corner and it is sent in before being headed out. 
2'   Run down the left by Vinicius and he tries to play it inside. It takes a nick and lands in Pacheco's hands. He has to scramble to save it from going out for a throw. Bale on the right and Vinicius on the right so far.
1'  We are underway at the Bernabéu.
    Marco Asensio's season has been very disappointing. He is just back from injury and could, of course, still play a role this season. He is on the bench tonight and here is an article on him and his form as he tries to rediscover it.

    Pina was missing against Rayo and Alavés really felt it. He is back tonight and that should improve their stability in the middle. 
    It's five degrees in Madrid tonight. No rain but very, very chilly.
    Another look at Real Madrid's squad as Isco remains on the bench. So does Marcelo, who has dropped behind Reguilón, and there is no sign of him getting back into the side.

    They were also hammered by Getafe and beaten at home by struggling Rayo last Monday.
    Those heady days of early season are long gone though. Alavés sat second for two weeks during that spell but they have won just two of their last nine games in the league.
They have never started together. Vinicius is in fine form, Benzema is in the form of his life and Bale will be keen to earn his place ahead of some really tasty fixtures. 
    Alavés XI: Pacheco, Duarte, Maripán, Laguardia, Vigaray, Wakaso, Manu García, Pina, Jony, Burgui, Calleri.
    Real Madrid starting three players on yellow cards. Modric, Nacho and Ramos all a yellow away from a suspension in the derby. And Ramos' knee was injured recently so he could be one clumsy tackle away from missing that game.
    BBV start together for the first time! 
    Real Madrd XI: Courtois Odriozola, Nacho, Ramos, Reguilón Casemiro, Modric, Ceballos Vinicius, Benzema, Bale.
    A look at the league table! Real Madrid creeping up the ranks with Atlético now looking over their shoulder.

    Hello and welcome to our live feed of the Real Madrid vs Alavés at the Santiago Bernabéu. Kick-off at 20:45 CET.
Real Madrid vs Alavés live online: match preview
Real Madrid enter into a crucial month in their season with a home game against Alavés on Sunday night. Once considered top-four contenders, Alavés have dropped off in recent weeks with no win in three against Girona, Getafe and Rayo Vallecano. Real Madrid have Barcelona twice, Atlético Madrid and Ajax twice in the coming weeks with a LaLiga Clásico following at the start of March but they can't take their eye off the ball after a resurgence over the last couple of weeks.
The home side have won four in a row and have been rewarded with a Copa del Rey semi-final along with a three points lead for third place ahead of Sevilla (with a game to play). On top of all that good news on the field, their injury list is getting short by the day too. Marco Asensio is back and Santiago Solari's options in attack are growing too with Gareth Bale, Vinicius and Benzema vying for time. Benzema, the bonafide starter up front, is possibly in the form of his life with five goals in three games.
Toni Kroos is rested, however, and Dani Carvajal and Raphael will get a rest too given their suspsensions. They will get clean slates for the Atlético game while Sergio Ramos, who hurt his knee against Espanyol last weekend, is back and is one yellow away from a suspension. Luka Modric and Nacho are on the same thin ice as their captain and they will have to thread carefully.
Alavés are without Rodrigo Ely, Darko Brasanac and Antonio Sivera and they also can't call on new signing Takashi Inui as he is with Japan at the Asian Cup. He was signed as a replacement for Ibai Goméz, who signed for Athletic Club during the January transfer window. They need creativity in his absence if they are to score but they might play a more defensive style in the hope of getting something out of this game.