Real Madrid: Marcelo gives Solari little reason to lift bench role
Before Wednesday's Clásico Malcom had managed five completed dribbles in 13 games. Against his out-of-sorts compatriot, he pulled off five in 75 minutes.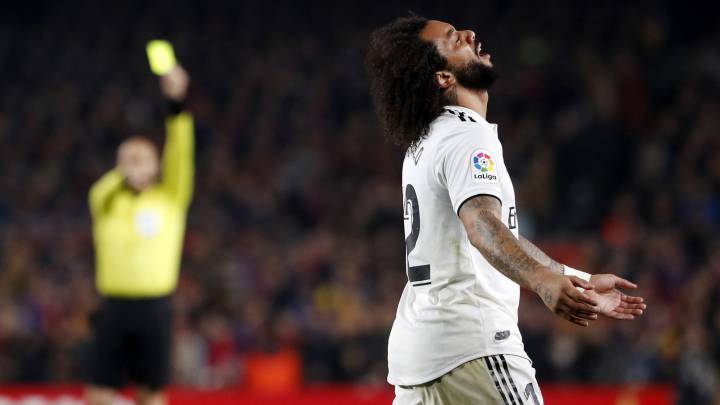 "We'll get to February flying," Real Madrid's players insisted a couple of months ago, largely on the basis that renowned fitness coach Antonio Pintus has been recalled to crack the whip. And most of Madrid's players have done so. Marcelo, though, appears to have missed the boarding call.
Barcelona's second-string winger Malcom made a mockery of Marcelo's defending on Wednesday evening. Even if that has traditionally not been the Brazilian's strong point, his compatriot brutally laid bare the parlous level at which the Real vice-captain is operating: in 453 across 13 appearances for Barça this before the Copa game, Malcom had managed to complete five dribbles. In 75 minutes against Marcelo, he matched that tally.
Marcelo's lack of form was masked earlier this season by the general poor quality of Madrid's play but now it is evident he is operating at a different speed from his teammates. Santiago Solari's ploy to snap his left back out of it with a spell on the bench has not worked. Unlike Isco, whose absence from the starting XI has a longer term aroma to it, Marcelo's benching was designed to be provisional. Now, it is looking like a necessity and Sergio Reguilón's position is only strengthened every time the Brazilian takes to that which has been his for a decade.
Solari: "Marcelo is an example"
Against Barcelona Marcelo won seven of 16 disputed balls, lost possession seven times and recovered it on three occasions. Only in his passing, with 40 of 45 successful, was he on song.
After the game, Solari again failed to endorse his vice-captain: "He is an example and he always puts Real Madrid above everything else."
Pressed by a reporter to evaluate Marcelo's performance in Camp Nou, the Real manager simply replied: "Thank you." And next question. Exactly as he had last month when discussing Marcelo's bench-warming role, when he batted away three questions.
Solari has proven to be a tough taskmaster and has not flinched when hard decisions have been required. With Madrid entering a crucial period of the season, he will have to make another about Marcelo, whose case for the defense is flimsier than it has ever been.