Nike want De Jong to wear 'Frenkie' on Barcelona shirt
According to words straight from the player himself, sports brand Nike want Barça's new signing to have his first name instead of surname.
Frenkie de Jong still has an important end to this season with Ajax, with the Dutch team sitting second in their league, in the semi-finals of their domestic cup, and just days away from a double header against Real Madrid in the Champions League. Despite this, he will be wearing the blaugrana of FC Barcelona next season, and discussions about the next stage of his career have begun.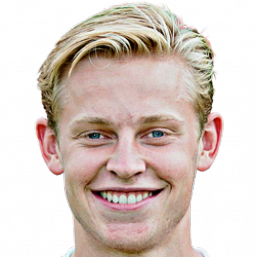 Nike want Frenkie at Barça
In an interview with Het Kontakt, the player confirmed that his sponsor Nike would prefer that he uses his first name, Frenkie, on the back of his shirt rather than the more traditional surname, De Jong. He also admitted that he'd like to have the number currently used by Carles Aleña.
"In July I will sign my official contract with Barcelona and will be presented," the 21-year old reminded us. "I would like to wear number 21, which is my number. Nike prefer that I use 'Frenkie' on the shirt, which is better from a marketing point of view, although I'm not sure what we'll do."
Barça the dream move
De Jong, or maybe we should get used to referring to him as Frenkie, will start taking Spanish classes in the coming months, as will his partner, Mikky Kiemeney, to prepare them for what he calls 'a dream'.
"At the beginning the clubs deal with my agent but when it gets more serious I get involved. PSG was a great option, but Barcelona was always a dream and I'm delighted to sign for five years.
"If I am a success, it's possible that I'll never leave. Just like Messi."