Courtois-Navas: international break reveals no clear favourite for Zidane
Neither player has had a particularly fantastic international break, with the Belgian committing a grave error against Russia to allow them score in the 16th minute.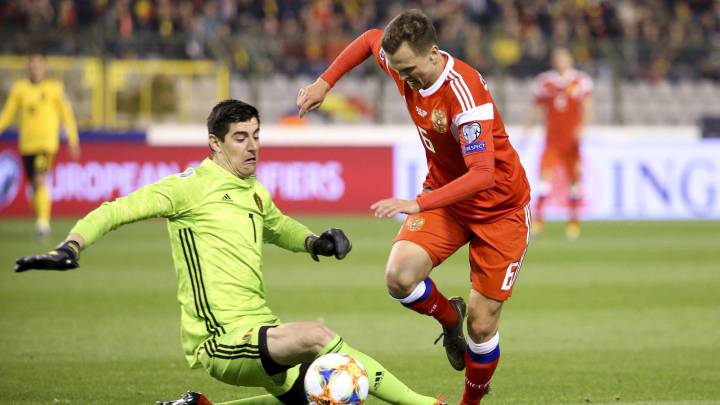 The international break has not helped to clear up any decision for Zinedine regarding who should be his number one in goal. Neither Thibaut Courtois nor Keylor Navas have had particularly brilliant performances for their respective nations, leaving Zidane without a clear favourite. In fact both goalkeepers have left a lot to be desired.
Courtois got his Euro 2020 qualifying campaign off on a terrible foot with a huge blunder that allowed Russia to draw level after 16 minutes. As he tried to dribble the ball out of his box, the Belgian keeper fell over and lost possession, allowing Denis Cheryshev to score into an open goal. Luckily for the Madrid keeper, however, his former Chelsea team mate Eden Hazard cancelled out his error by scoring two goals to salvage a 3-1 victory and a crucial three points at home.
In Belgium's second game, the ex-Chelsea shot-stopper managed to keep a clean sheet in the 2-0 victory against Cyprus, although it must be said that the minnows hardly challenged him in goal.
2 op 2, 6 punten op zak. Ideale start van deze campagne. Felicitaties aan onze kapitein voor zijn 100ste cap! #comeonbelgium 🇧🇪
2 sur 2 et 6 points dans la poche. Un départ idéal pour cette campagne. Félicitations à notre capitaine pour ses 100 caps ! #comeonbelgium 🇧🇪 pic.twitter.com/wc86q17pKH

— Thibaut Courtois (@thibautcourtois) 25 March 2019
Navas, meanwhile, has so far played just one game for Costa Rica: the shock 1-0 defeat to Guatemala, who currently lie 149th in the Fifa world rankings. While the goal came about from a deflected shot by Stefano Cincotta in the 31st minute, the Madrid keeper could have done better to position himself to stop it – but it was far from the level of Courtois' blunder against Russia. In the second half, he did pull off an impressive save to stop a second Guatemala goal and always looked comfortable with the ball at his feet.
With Costa Rica playing Jamaica on Wednesday, the 32-year-old still has one more game left during this international break to give Zidane something to think about.
Zidane reopens Courtois-Navas debate
Any debate surrounding Courtois and Navas had been virtually closed by Santiago Solari, who had made clear that the former was his number one choice for LaLiga and Champions League games, while Navas had to settle for Copa del Rey appearances.
But the return of Zidane, who always showed great confidence in the abilities of Navas, has changed the scenario. The French coach choose Navas ahead of the Belgian for his re-debut against Celta Vigo on 16 March, with the Costa Rican managing to keep a clean sheet in the 2-0 win. Courtois, meanwhile, has not been enjoying the best moments of his career, and has been in the news more for his private life recently than his on-pitch performances.
Zidane has the rest of the season to work out who will be his number one for next year's campaign, when his work will begin in earnest. But the international break will so far not have helped to lead him to any conclusions in the Courtois-Navas debate.