Real Madrid: Marcelo wants to stay following Zidane's return
Marcelo has changed his decision to leave Real Madrid for Juventus with the return of Zidane, sources close to the player have revealed to AS.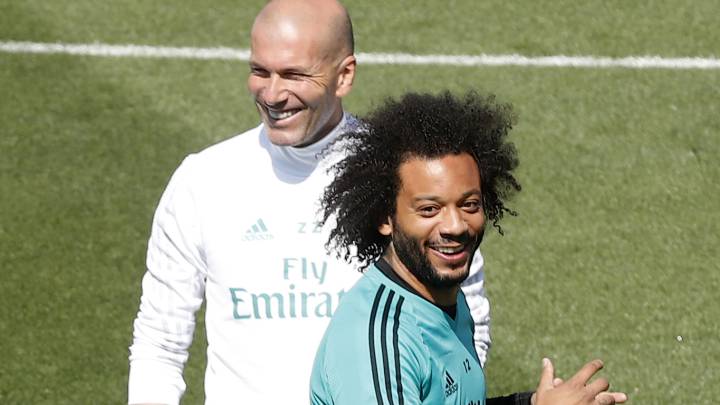 Marcelo has reconsidered his future with the return of Zinedine Zidane and now wants to stay at Real Madrid.
The Brazilian, who has a contract at the Bernabéu until 2022, had on several occasions expressed his desire to retire at the club. But that all changed under Santiago Solari, who had resigned him to the bench in place of 22-year-old Sergio Reguilón. As the relationship between Marcelo and Solari became increasingly more distant, the 30-year-old was pondering a move to join his friend and former team mate Cristiano Ronaldo at Juventus.
In February, Cope Radio reported that he even went as far as to meet Madrid director general José Ángel Sánchez to tell him that he would leave if he was not wanted.
"If I am on the list of players [Madrid] want to sell, then they can pay me up and it's all sorted. If the day ever comes when Real Madrid do not want me, then I'll go," he told Esporte Interativo somedays before.
Marcelo has change of heart with Zidane's return
However, sources close to the player have revealed to AS that the arrival of Zidane has prompted him to change his decision to leave for Juventus.
The return of the French coach, who has signed a deal until 2022, has given a new lease of life to Marcelo and the other players who had become out of favour under Solari, namely Isco, Keylor Navas and Marco Asensio. For his first game back against Celta Vigo two weeks ago, Zizou started all four of them, saying after the game that: "Nobody can erase what these players have done here, and I'm going to count on everyone, on Courtois, on Reguilón ... But Keylor, Marcelo and Isco are very good players."
Zidane counting on Marcelo for his new Madrid project
Following his return, Zidane spoke privately with Marcelo to tell him he that he wanted him to be part of his new project. The Brazilian, meanwhile, understands that Zidane's return has changed the bleak situation he faced under Solari and is now prepared to give his all for the last ten remaining games of the season.
Zidane wants to get Marcelo back to the level that has made him one of Madrid's key players over the past decade and that task began by lifting his spirits with a return to the starting eleven two weeks ago. "It's a wonderful feeling to be able to do what I love with joy," said the defender following the Vigo game.
With Brazil coach Tite not calling upon him due to his lack of prominence with Madrid, Marcelo has taken advantage of the international break to get himself back into peak shape ahead of Madrid's clash with Huesca on Sunday, where he is expected to be named in Zidane's starting eleven.