Real Madrid-Pogba: the five keys to the transfer operation
Zinedine Zidane has opened the door for Manchester United's Paul Pogba to join Los Blancos this summer, and we consider those that can make it happen.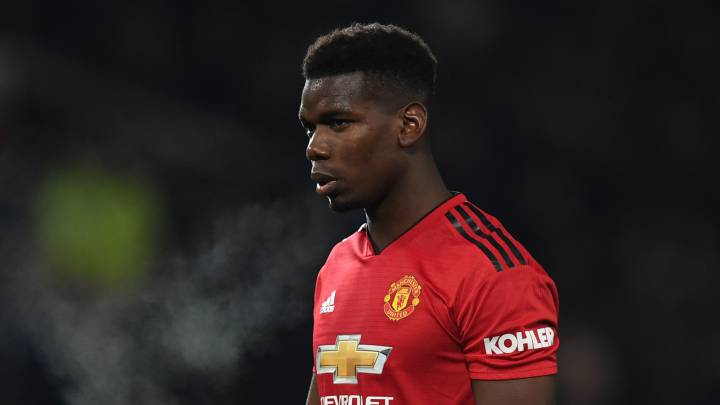 Zinedine Zidane is always careful when talking about future signings. But the Frenchman has made it clear that the Real Madrid door is very much open for Paul Pogba. After announcing in a press conference that he was not going to talk about speculation over players "that are not mine" (something that he fulfilled with regards to Kylian Mbappé), when asked about the Manchester United midfielder he expanded somewhat, metaphorically rolling out the red carpet for his compatriot.
"I like Pogba a lot, it's nothing new. I know him personally. He's a different kind of player, he brings so much and there are few players who bring as much as he does," began the manager about the player who is not his. It was as though the returning coach made an obvious attempt to pick up the gauntlet that the player himself had thrown down, after his comments, "Madrid is a dream... and Zidane is the coach."
These supposed 'winks' to a would-be suitor appear to be the beginnings of a transfer operation (or the latest attempt at one) that will prove complicated, and it requires several of those involved to play their part.
1. Zinedine Zidane - the manager
Zidane is arguably the greatest influencer in this move. The 46-year-old coach returned to Madrid with increased powers and he hopes that they will be sufficient to complete the signing this summer that he has been pursuing for three years. In 2016, after winning his first European Cup, the relatively inexperienced coach put the Pogba idea to club president Florentino Pérez. The player wanted to leave Juventus, with United and Madrid on the front row of the grid to secure his services. However, Pérez was never convinced about splashing a world-record fee for the midfielder (and his agent), and Old Trafford was his destination. However, Zidane has never forgotten about the contribution he believes Pogba could make to his team and has continued to do the ground work since then. With more sway at the top of the club's decision-making process, now seems the right time to strike.
2. Paul Pogba - the player
It is often said that top footballers end up playing for the team they want, thanks to the modern 'player power' bestowed upon them. For Pogba, as revealed on March 20, that desire is to wear the white of Real Madrid, with a seemingly added bonus of doing so with one of his idols at the helm. To lift a Champions League is one of his absolute objectives and he is aware that the Spanish giants - certainly if they decide to throw their weight behind the squad rebuild, as is predicted - may be where his chances of doing so are greater. The Frenchman, still just 26, has a contract with United until June 2021 and his salary totals around 14 million euros net. He would certainly be classed as a 'galáctico' if he was to make the move to the Bernabéu, joining Gareth Bale as the highest paid in the squad (if the Welshman was to remain at the club, of course). Remuneration, adulation, glory, fame... whether he believes it to be more attractive in Madrid than Manchester may determine the outcome.

3. Mino Raiola - the agent
Mino Raiola is Pogba's controversial agent and one of the main reasons why Florentino Pérez did not want to sign the player all those years ago. Both men have had a less than amicable relationship since 2014, when the Italian reached an agreement with José Ángel Sánchez, Madrid's general manager, before Florentino stepped in to reject the signing citing non-sporting reasons. Raiola's style has never been appreciated by the president, but time has passed since those disagreements and, if they are seen as water under the bridge, along with Zidane's renewed interest as an incentive, then that is a potential barrier that can be overcome.
4. Toni Kroos - the makeweight
The future of Toni Kroos is up in the air. After five seasons at Madrid (he arrived in 2014 for 25 million euros), the 29-year old is now seen to be on his way out this summer. The German, with a contract until 2022, has been one of the several disappointments of this season, proving inaccurate with his passing, and costing the team in crucial moments of key games, not something previously associated with the midfielder. At the end of the season, Zidane will make a decision on how his new-look side will be formed and whether the name Kroos features. An exit from the would pave the way for Pogba, with the Frenchman able to slot into a similar role, developing play from the middle of the park, and adding an attacking threat when conditions allow. This is what he is doing now at Manchester United, with Matic covering, and in the French national team, where the omnipresent Kanté sits. United have been admirers of Kroos for some time, and some type of swap deal could work out for both clubs.
5. Gareth Bale - the galáctico void
Gareth Bale is all but certain to leave Madrid in the summer, unless there are some drastic changes, as previously reported by AS. His departure could prove to be the key to Pogba's arrival. As with Kroos, United have been pursuing the signing of the Welshman for some years. In 2017, then United manager José Mourinho sent him a clear message that he would be keen to take him to Old Trafford and suggestions are that, even under new management, interest is still there. As Bale contemplates his future, and with the Bernabéu exit door seemingly wide open to allow him to find success elsewhere, the financial implications for Pérez are clear. Offsetting Bale's 'galáctico' wages for another is almost certainly required, especially with other big names being lined up.