André Gomes happy again at Everton after Barça "mini-hell"
André Gomes has spoken to the media again following his difficult confessions to 'Panenka' magazine last year: "There were good things and bad things at Barcelona".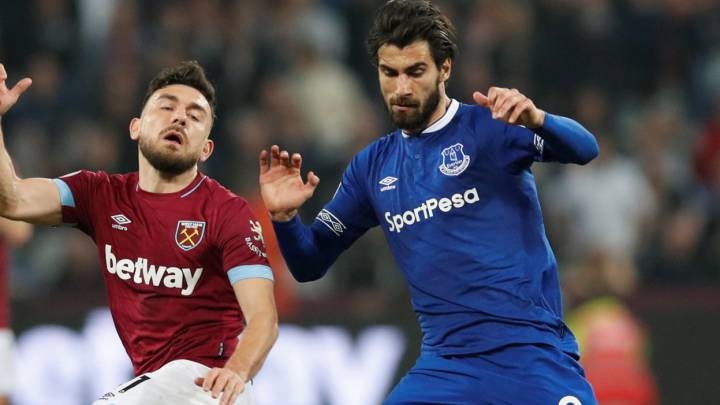 Barcelona loanee André Gomes feels that just a few months on Merseyside with Everton has gone him the world of good and has enabled him to start enjoying his football once again. The Portuguese midfielder has left behind the "mini-hell" he went through while passing his time away on the Barça bench waiting for a chance to play.
Difficult moment
"I didn't want to say everything I said [during his time at Barça]. At that moment, I was struggling a lot inside and sometimes the people who you are talking to help you to say what you want to say, and I think that was the case - I was struggling and I just said everything naturally. I was struggling and I couldn't find a way to go out and enjoy the game, enjoy the fans, and after that I started to understand things a little bit more and enjoying football more", Gomes explained in an interview with the Liverpool Echo today.
The 25-year-old referred to the interview he gave to Panenka magazine last year when he was still at Barça and confessed that he was going through a rough time. "Some people can may be confused and think that the football player is a weak person but it is nothing about that. Eveyone in their job can sometimes feel that when they are struggling. After the interview, I felt from the players that, maybe at some point in their lives, they had also felt that and it was normal. I kept moving on and working hard and, like I said, tried to enjoy my football and be happy", Gomes recalls.
On the bench, and under pressure
During his confession, he initially declared that his first six months at Barça were "quite relaxed and good", then changed his mind, going on to say "Maybe 'mini-hell' isn't the right word but it all started to go a bit mad because I started to be under more pressure".
Now though, it's all coming back together and he's happy Everton where he's been made to feel at home but he's not thinking about what might happen once his loan arrangement ends - whether Everton will decide to keep him or if he returns to Barcelona, where he would find himself competing for a place with Ivan Rakitic, Arthur Melo, Arturo Vidal and Carles Aleñá - all of whom play in his position
"I try not to think about the future; If I think further ahead than that then I will probably lose my mind in some way so I am trying to finish the season in the best way possible, give my best in every training session and in every game. We will see in the end", he explained. "Sometimes we don't stop and don't figure out that the most important thing is to be happy and enjoy...sometimes we cross that path slightly. When we win a title or win a few important games we don't enjoy the moments. Especially after my time in Barcelona, there were good things and really bad things, so this year was really good for me to understand that we have to enjoy it more because we love football, it is our job, but we have to enjoy it more".
With Everton, Gomes has converted himself into an important part of Marco Silva's set-up at Goodison and has played 62 per cent of the possible minutes playing time in the Premier League, scoring one and setting up another in 24 appearances.