Solskjaer "cannot see" Pogba leaving Man Utd next season
The Man United boss has played down talk of Pogba's summer move to Real Madrid, stating that he cannot see the 26-year-old leaving Old Trafford.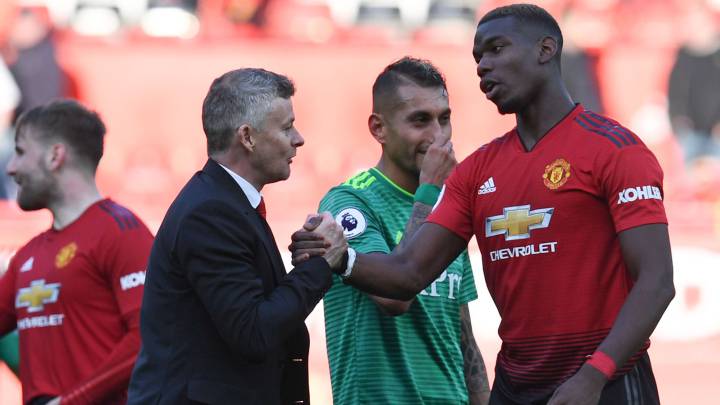 Paul Pogba is one of the priority names that Zinedine Zidane has on his agenda to strengthen his Real Madrid squad for next season.
The French coach has made no secret of his admiration for the Manchester United midfielder and confirmed that he would be welcomed with open arms at the Santiago Bernabéu.
"I like Pogba a lot… If when he finishes his experience at United he wants to come here why shouldn't he come to Real Madrid," the French coach told reporters some days ago.
By his part, Pogba himself has also given a nod towards Zidane, stating that playing for Real Madrid "is a dream for anyone."
Solskjaer plays down Pogba-Madrid links
After having had a tense relationship with Jose Mourinho, Pogba has enjoyed a new lease of life under the Portuguese coach's successor Ole Gunnar Solskjaer, who has been credited for helping the French midfielder get back to his best since he took charge in December.
Keen to have Pogba as part of his squad for next season, Solskjaer has played down talk of a summer move to Madrid, stating that he cannot see the 26-year-old leaving Old Trafford.
"Paul is looking forward to tomorrow," Solskjaer told reporters ahead of United's quarter final clash with Barcelona in the Champions League on Wednesday.
"He is a Man United player; he is one of our big performers on the big stage. He knows the game against PSG was not his greatest moment so he is only focused on playing well tomorrow against Barcelona."
"I cannot see him not playing for Man United next season either," added the Norwegian coach.
Pogba's chance to convince doubters at Real Madrid
But regardless of what Solskjaer would like to see happen regarding Pogba's future, the comments of Zidane and the player himself would indicate that a move to Real Madrid could very well be on the cards.
And after having had a disappointing game against PSG in the first leg of the last round (in which he picked up a red card that saw him suspended for the second leg), this Wednesday Pogba will have an ideal opportunity to convince those at Real Madrid who still have doubts about him.