Dani Alves: PSG should listen to me more
PSG defender Dani Alves has criticised the club for not heeding his advice, while also arguing that some of his team mates do not understand Neymar.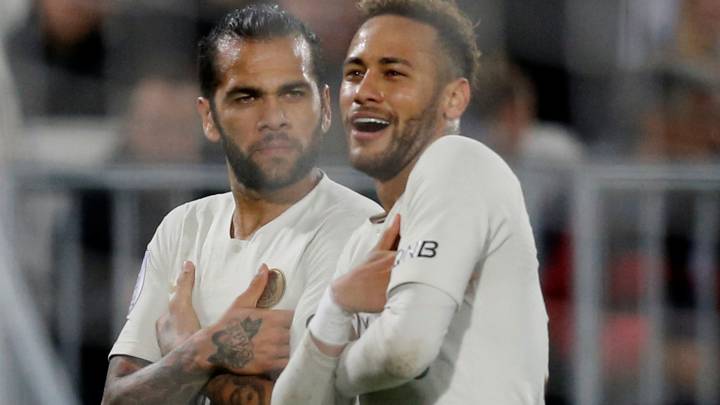 Dani Alves has come out to openly criticize PSG and its players in an interview on French radio this Thursday, arguing that the club should have paid more attention to his advice due to his experience at the highest levels of football.
"I don't want to big myself up, but I know how to win and I know how to lose. When I say something, it should be followed. And not because I know more than the rest, no, but because I have already gone through it," stated Alves on RMC radio program Team Duga, hosted by former France international Christophe Dugarry.
PSG's Champions League aspirations were disappointingly cut short at the last 16 stage for the third consecutive season, which has prompted talk of a squad overhaul this summer. And ex-Barcelona player Alves, who won the Champions League on three occasions with his former LaLiga club, feels he should have been listened to more by those at PSG.
"Perhaps you should listen to someone who has already gone through this and base yourself in their experience. I have already won everything and I am talking about what I have experienced and learned," the PSG defender told Dugarry.
PSG players "don't understand" Neymar
The Brazilian also spoke of the situation regarding his compatriot Neymar, who is being questioned more than ever in the French capital.
Alves jumped to the defence of his Brazil and PSG team mate, stating that the problem is not Neymar, but the players around him.
"He is surrounded by other players who don't understand him," said the 35-year-old "He is someone that you need to have on the field all of the time, because he gives you what you don't have. You give him the ball and he already knows what to do."
"Neymar is a footballer that makes people come to the stadium, When I pay for a ticket, I pay to see a show and people want to see a show," added Alves, before recalling his time at Barcelona with Lionel Messi. "If Messi lost a ball, we would run like crazy to win it back for him and then things would happen."