Manchester City edge closer to title after derby double
Manchester United offered a faint hope to anyone looking to derail rivals City on their quest for back-to-back titles but couldn't hold out at Old Trafford.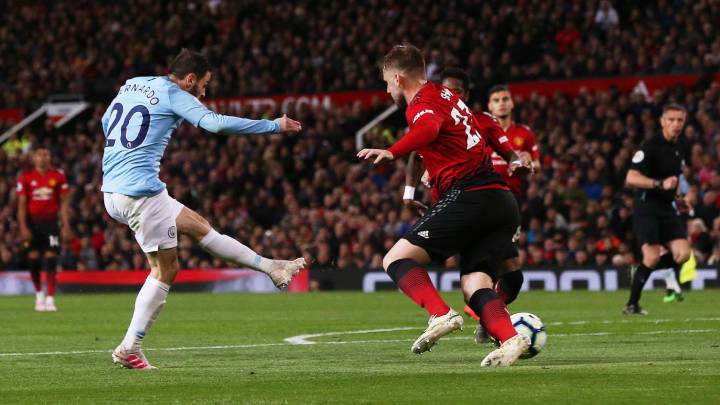 Man. United vs Man. City: match report
It was billed as a Manchester derby to determine the final destination of this season's Premier League title. The only two possible trophy cabinets lay across town or down the East Lancs road at Anfield. Neither a positive outcome for the Old Trafford faithful, but they had their own demons to exorcise.
The first half performance from the hosts produced signs that Solskjaer had given the appropriate amount of foot to bottom required to get a reaction from United's abject performance against Everton last time out. Both sides went in at the break goalless, few clear-cut chances for either, and the Red Devils actually ahead on shots on goal. Nervous glances from Guardiola on the touchline were clear.
With possession remaining with the Manchester Blues into the second half, a decisive change was forced upon the visiting manager. Fernandinho was injured putting in a strong block on a Pogba shot and had to be replaced by Leroy Sané. An extra spark was added, one that could have easily been made earlier against an opposing midfield that offered little creativity. Three minutes after the change, the always-lively Bernardo Silva struck.
Collecting the ball on the right side of the area, an early hit seemed to take David de Gea by surprise and squeezed in at the near post. Less than 10 minutes later, the substitute Sané was fed into acres of space on the left and then let rip towards goal. The Spanish stopper will get less sympathy for his attempted save on this occasion.
The final half hour or so was played out with what felt like an acceptance from both teams that the result was already decided, and with it the league title. If Solskjaer was hoping to see the best from his so-called star players then he'll head home tonight with even more doubts. The derby may have seemed like the final challenge to City's dominance, but Burnley, Leicester and Brighton may offer more resistance as they close out the season.
Man. United vs Man. City: how it happened
Thank you for joining our live coverage tonight from wherever you are in the world. We'll be back soon with more action...
Second half goals from Bernardo Silva and Leroy Sané secure another three points for Manchester City against a lacklustre United side. With three games to go in the Premier League, Guardiola and co. have a single-point lead over Liverpool in what is proving to be a fascinating title race. Solskjaer's troubles continue, with Europa League football more than likely for next season.
Full-time | Man Utd 0-2 Man City
90'+5'   Peep peep peeeeeeep!! City back on top
90'+3'   Kyle Walker decides to run all the way down to the corner flag as the whistle approaches. Seconds remain...
90'+0' Jesus and Danilo on for added on time. Agüero and Gundogan make way.
90'   City have four minutes to see out 
89' Shaw joins the others in the book.
88'   The second goal for City has taken the life out of this game. United almost accepting their fate, just playing it out. Maybe some of them already know that their future lies elsewhere. Their asking price certainly not being inflated from recent performances.
85'   Pogba showing signs of frustration (empathy with the home fans, maybe!?). The midfielder then has a shot at goal which almost deflects into the path of Rashford and Sanchez but Ederson is quick to gather.
83' Alexis Sanchez coming on for Darmian, Martial for Lingard. Can either of them pull a rabbit from the hat in the final ten minutes? 
80'   United's midfield is on another level. And by that I mean a really low one, certainly in comparison with tonight's opposition. Simple passing efforts not reaching their target far too often. Then De Gea almost gifts Silva with a poor passing clearance. Work ahead to reshape a side that will not be in the Champions League next season.
76'   Another half chance for the hosts as Rashford appears to get in behind the high City line. Kompany positions himsefl to hold the striker up well, so Lukaku is picked out. His strike is...forgettable.
74'   United almost fashion a chance as Rashford teases a run at the defence but then rolls it out to the right for Lukaku. The Belgian drops a shoulder and fires across goal but nothing comes of it.
71' Pereira gets injured, slight stop in play, then comes back on and has an effort on goal. Now he's being replaced and Lukaku comes on to show his questionable worth.
68'   See that title-winning race car? Guardiola's men have squeezed themselves into the comfy space just behind the steering wheel. Chances of throwing it away from here are slim.
Man Utd 0-2 Man City | Sterling breaks forward and releases Sané who controls and drives home. De Gea will be disappointed to have let that through him.
66' Gooooooaaaaaaalllll!!! Sané doubles City's lead
64'   ...straight into the wall, and then the follow-up is half-heartedly attempted and blocked.
62'   Oh. Is the French midfielder about to make me eat my words? A one-two with Fred has him on the edge of the City area and he's caught by a stray leg. Free-kick, Pogba to take...
60'   Pogba is a damn frustrating player to watch. Clearly has ability but fails all too often to apply himself. Did just that there as he loses possession carelessly.
58'   Oooohhhh!! Lingard is all alone at the back post as Kyle Walker fluffs a clearance but must have taken his eye off the ball and kicks air from a yard. 
56'   POST! Agüero ends a flowing move with a sweet curling effort that just nicks the outside of United's post. This is getting lively.
Man Utd 0-1 Man City
54' Goooooaaaaaaaaalllll!!!! Bernardo Silva picks up the ball in the inside right channel and picks his spot on the right side of the near post. De Gea diving, but not quick enough. 
52'   Although a forced change for Pep, it's one that I feel will work well for the visitors. United's threat rarely requires that extra defensive concentration, but will certainly be more dangerous on the offensive.
50' That block from the the Brazilian hurt. After some assessment he's having to be replaced, and it's Sané coming on.
48'   Nice interplay from Pogba and Rashford allows the Frenchman to control inside the area and strike. A strong block from Fernandinho keeps Ederson from getting involved.
46'   Immediately City get on the front foot but United do well and clear away from their right-back area. The break then earns the home side a corner and the crowd raise the noise just a decibel or two.
Let's go with that second half right now...
If you tuned in to our live feed hoping for a roller-coaster ride of emotions the likes of Puccini's operatic masterpiece Tosca, then you'll have been disappointed with the first 45 minutes. In saying that, take the magnitude of this game, what it means for United, City, Solskjaer, Guardiola...and Liverpool, and there is plenty tension to make you want to stay with us.
Goalless it remains but both sides have had their chances, and there has certainly been a concerted effort (as one would expect) from each set of players. City are much more composed in possession, and their attacking players give a sense of threat that cannot be said about their opponent in the same way. But, so far, they have failed to truly trouble De Gea.
So, there were many interpretations of how this game could have gone, from a turgid goalless affair, to an emphatic victory for the champions elect on rival territory. The truth is, neither of these have been realised...
Half-time | Man Utd 0-0 Man City
45'+3'   No more action for you in this half. Time for the managers to share their words of wisdom...
45'+1'   We're into two minutes of added on time and there's a stoppage as Gundogan gets seen to after a knock. 
45'   Another chance for City, as Pogba lazily loses the ball in his own half then half-heartedly tracks back. Agüero fed into the right channel and goes for the low drive. Well wide of the far post.
43'   CHANCE! Silva, Gundogan, and then Sterling try to walk the ball into the net. In the end De Gea is able to throw himself down and stop the rather tame effort.
41'   Pogba limping after getting a firm seeing to by Gundogan as he looked to make things happen in the final third. The ball in from the free-kick is played wide then floated high and fairly well gathered by Ederson.
39'   Ashley Young does well to stop the threat down the left but his attempted clearance to safety is intercepted inside his own half. Zinchenko tries an elaborate back flick which kills any chance of a City attack.
36'   The control from the visitors almost paid dividends there. Sterling sneaking in at the back post to latch onto a ball lifted over the defensive line but his control is terrible and it runs off his boot out for a goal kick. Better from City.
34'   A couple of minutes of sustained City pressure but the sky blue shirts are unable to find any real shooting opportunity. Certainly no signs of the home side lying back and taking it.
31'   Two on two - Rashford slips free of a challenge on the halfway line and is supported by Lingard. He decides to go it alone but makes it too easy for the defender and it's knocked away for a throw.
29'   Sterling in the area. Shimmy, swivel, rolls an inviting ball across goal but none of his teammates were keen to make it there. United come away with it.
27' Zinchenko now gets a yellow and United have a chance to swing a ball into the City area. Young delivers a lovely ball in behind the defensive line but Fernandinho clears well. 
25' Andreas Pereira fouls his way into the book.
23'   After a short delay, we're back on and, oh, guess what, Rashford is set on his way and gets a 30-yard strike away on goal. Hopeful, but decent effort from the Englishman, just dipping too late over the bar.
20'   Rashford appears hurt but I think he'll be fine to continue...let's see.
18'   CHANCE! Bernardo Silva gets on the end of a nicely worked move from City and drills the pullback towards goal. United's Spanish stopper blocks well. Chances are coming...at both ends.
16'   Effort from Lingard has Ederson throwing himself as cover. United giving as good as they're getting so far. City far from dominant, but it's early days.
14'   Sterling opens up a chance for himself. The England winger cuts in from the left and tries his luck, but it's the deflection that makes the effort difficult for De Gea. Not that difficult, to be honest.
12' Some nice play from United sees chances appear for both Young and Pogba. Open start to this game.
THUMP! Vincent Kompany knew what he was doing there as he blocked Rashford from completing his one-two on the break. The Belgian defender now has his name scribbled in Andre Marriner's little black book. Lucky him.
9'   Very nice from Pogba. Turns away from three City players but his pass forward with the outside of the foot is intercepted. That's more like what is expected from a World Cup winner (well, half of it, anyway!)
7'   A free kick midway inside the United half gives City a chance to cause some bother. Silva delivers but it's well cleared by the wall of red shirts. The follow-up ball in from Zinchenko is awful. 
5'   Some sharp passing from City, then pressure after losing the ball, has United on the back foot. Confident play, however, allows the home team to get out and look to build at the other end.
3'   A quick look at the home side's set-up and it feels like we expected from the starting XI picked by Solskjaer. Hold, frustrate, hit on the break. Let's see how that works out for them.
1'   A short period of possession for the visitors ends rather surprisingly as Sterling miscontrols and the ball rolls out for a United throw
  City get us underway, shooting from right to left as we look on...
Many questions have been asked about Paul Pogba. Can he control the midfield against one of the best around? If rumours are true that Real Madrid want to build a team around him then this is not a bad place to demonstrate his ability.
The teams are heading out of the tunnel and greeted by a wall of noise and wetness. Plenty at stake and just moments away from kick off.
Tonight's game brings back memories of 1995 | It was the final game of the Premier League season. Blackburn Rovers, under the management of Reds' legend Kenny Dalglish arrived at Anfield knowing a win would secure the title. A slip up, and Man Utd taking an expected win at West Ham, would hand the championship to the Old Trafford club. Everyone thought Liverpool would roll over, but instead they won 2-1. United failed to beat the Hammers and so Blackburn took the title. It's all about integrity for the game.
Speaking to a number of United fans over the past few days - and several UK-based papers have undertaken 'studies' to prove the point - there is a strong desire that they lose the derby. WTF?!?!  Wanting anyone but your historical rival (Liverpool) to win the title is one thing. Shooting yourself in the foot for not qualifying is completely another. Surely the players and manager don't think the same way...
Fancy a half 'n half? 

Solskjaer's line up of Darmian, Lindelof, Smalling, Young and Shaw certainly suggests that not being humiliated is most important tonight. Not exactly 'Ole' football.
A fairly impressive line-up from Guardiola. Bernardo Silva has had his injury problems but when he's playing he is always a danger to the opposition. No De Bruyne available but when you have the likes of Sterling, Silva and Agúero to find the net then you are always likely to do some damage.
So, a few raised eyebrows with those line-ups, with United fans querying the omission of Scotland's McTominay, who has impressed of late. Darmian hasn't started for United since their loss to Liverpool in December. Can Solskjaer get a tune out of this XI?
Teams are out. Let's have a look at what Solskjaer believes can do the business tonight...
Many see this as the game that defines an incredible Premier League title race (a win clinching it for Guardiola's men, anything else putting it in the laps of Jürgen Klopp). United need a pick-me-up for under-pressure boss Solskjaer, and a lifeline to qualify for next season's Champions League. Yes, there are Scousers screaming 'Come on United' tonight!
As well as the obvious derby rivarly, tonight's clash has so much more riding on the result, one that can put a strain on normal allegiances.
Hello and a very warm welcome to our live coverage from Old Trafford as Manchester United say 'make yourself at home' to their City friends in matchday 35 of the Premier League.
Man. United vs Man. City live online: preview
Manchester City boss Pep Guardiola said Manchester United's home ground Old Trafford is no longer the fortress it used to be as his side look to take all three points from their neighbours, and a huge step towards back-to-back Premier League titles.
City, who are two points behind league leaders Liverpool, play their game in hand at sixth-placed United, with the home side looking to make up for lost ground in their own battle for a top four spot. The Red Devils may have only lost one league game at home this season but Guardiola, whose side have won on their last two visits to Old Trafford, is confident about what his team can do.
"Four games left and we have to win our four games to retain the title," Guardiola told reporters on Tuesday. "It's not an easy place to go but at the same time, it's a nice place to go.
"It is not as scary to go there and play when before it was maybe more difficult. We know exactly what we have to do. It's true we did better than United in the past three seasons.
"The fact they lost at Everton maybe means they are extra motivated. It's a different game when we play them, it's a derby."
Pep without De Bruyne
City will be without influential midfielder Kevin De Bruyne after he suffered a hamstring injury in the 1-0 win over Tottenham Hotspur over the weekend. The Belgian has already missed many games this season with knee and thigh injuries.
"We will see if he can play one or two more games and next season take care of him. We are going to speak with him, with the doctors and physios to make sure he is safe and fit," said his manager.
United come into this derby with the pressure on them to perform. Not only is a Champions League place at stake - something that could affect their influence in the transfer market - but also a group of players, and a manager, needing to prove themselves should be enough motivation to make this game a contest.
On paper, City should wipe the floor with this current United side. On the pitch, let's see...