Liverpool go top as Mané and Salah grab braces apiece
A 5-0 win over Huddersfield put The Reds back ahead of Manchester City with just two games to go. A perfect evening at Anfield for Klopp and co.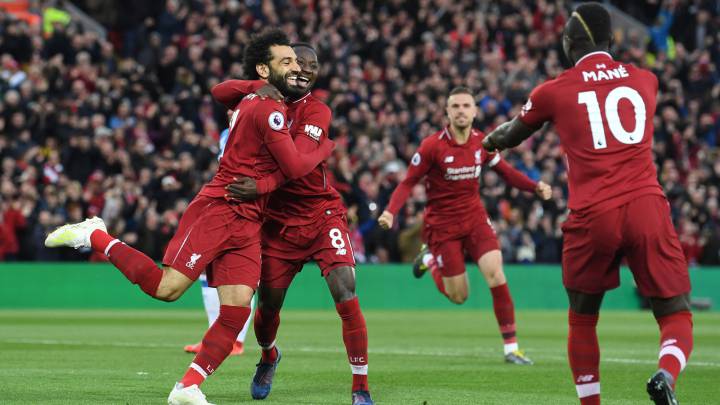 Liverpool vs Huddersfield: match report
Naby Keita scored Liverpool's fastest ever Premier League goal as the Reds ripped through Huddersfield Town on Friday - with Mohamed Salah marking a personal milestone in style just before the break.
Just 15 seconds were on the clock when Keita doubled his tally of league goals for the campaign, slotting in off the post after robbing Jon Gorenc Stankovic of possession and exchanging passes with Salah. It was Liverpool's fastest league strike in the competition, while also making Huddersfield the first Premier League side to score and concede a first-minute goal in the same season since Bournemouth in 2016-17.

Jürgen Klopp's side soon had another when Sadio Mané headed home Andrew Robertson's cross, the forward notching his 10th in his last nine games at Anfield. Two from Salah and another from Mané ensured the three points, and a lot more besides, stayed in Liverpool. Check out below for how it went down...
Liverpool vs Huddersfield: how it happened
Full-time: Liverpool 5-0 Huddersfield |  Back on top of the table, a useful +5 for goal difference, and a very nice confidence boost ahead of the Barcelona game. Klopp will be very pleased, and with no injuries picked up, and more minutes for Oxlade-Chamberlain and Gomez, it was pretty much a perfect evening.
90'+3' And that's it! A comfortable win in the end for Liverpool.
90'+3'   Another passing passage of slow, slow, slow, lightning quick! This time Shaquiri finding the space and tries a curler with his right foot from outside the area. Wide.
90'+1'   Absolutely no need to sprint with the ball down the wing, beat two defenders in the box, and then fire towards goal. But that's just what Mohamed Salah just did after playing for 90 minutes. Shot flies over.
90'+1'   Into the first of three added minutes
90'   As you'd expect, we're just seeing the game out...
88' Joe Gomez is on! Alexander-Arnold steps away to give his countryman a much needed run-out
87'   Oxlade-Chamberlain and Shaquiri linking up well since they came on. The Ox winning a free-kick for being to sharp in the pass.
85'   CHANCE!! Salah and Mané up at the back post from a deep delivery. Just cleared in time.
 Liverpool 5-0 Huddersfield | Robertson holds and holds his line, Shaqiri puts it through for him and then - yet another - assist comes from the Scotsman's boot. The Egyptian taps home.
83' Goooooooaaaaaaaaaaallllll!!! It's five. It's Salah
82'   'Fields of Anfield Road' rings out around the stadium. More than 90 points guaranteed this season...a title is not!
80' Stankovic off, Pritchard on.
78'   CLANG!! Mané almost collects a headed hat-trick. Shaquiri dinks a ball to the back post and the winger hangs in the air and thuds one off the upright. So much space for him.
76'   Fabulously amusing link-up play from Oxlade-Chamberlain, Shaqiri and Salah down the right. Salah then plays in the Ox who skips past one sliding defender and strikes. Lossl saves and the returning Englishman holds his head in his hands.
74'   Salah tries from distance again but it's deflected away from goal and out for a corner. The delivery is decent but cleared away.
73' Two changes for Klopp here and it's the return of Alex Oxlade-Chamberlain. Also coming on, Xherdan Shaqiri. Those going off are Sturridge and Wijnaldum
72'   Penalty shout from Sturridge but he's been ruled offside so it's not even worth the debate. 
69'   If there was any doubt about the result then we can put that to bed now. Huddersfield continue to try but the gulf in class is clear, and there is no shame in that as this is an impressive Reds outfit.
Liverpool 4-0 Huddersfield | A lovely flowing move from Robertson and Mané ends with the Scot's cross being cleared. Alexander-Arnold is first to it and plays it off to Henderson whose perfectly curled cross is headed home powerfully by his on-fire teammate.
66' Gooooooaaaaaallll!! Mané makes it four
64'   You can sense Sturridge is keen to score here and prove he can still perform on this stage. He hits a strike from the edge of the area when there was no real space to do so. A little desperate. (Chris Lowe comes on for Mounie)
62'   Ooohhhhh!!! Salah seems to have miscontrolled a pass into him but then reaches it ahead of the defender, lifts it over him and drills an effort in the side netting as it sat up. Almost joining the goal of the season contenders.
59'   More Robertson mailman impressions. Gets himself far forward and whips it across. Well cleared.
58'   Alisson tries a cheeky lob over the Bacuna to Van Dijk but it goes out of play. 'Simple ball', scream the fans.
56'   Gooaaa....... No! Sturridge gutted to see the offside flag go up as he tucks the cross home. Maybe it was a look of frustration as he should have held his run.
53'   Another chance! Bacuna in space on the inside right channel. He lines up a shot, thinks, waits, thinks again, and then...Keita steals it off him.
52'   CHANCE!! Bacuna does brilliantly to get into the box. Lovren clears into him and the ball deflects back across goal...a stretching Grant couldn't get any contact on it.
50'   Worry here for Liverpool. Van Dijk is down injured. Looks like it was just a boot landed on the toe and after a little rest he gets up and he looks fine. Barça fans got excited for a second.
48'   Patience being shown by the hosts, passing around the back, into Alisson, and then out again. Sturridge has come deep into the midfield to collect and swings a lovely pass to the other side of the park for Robertson. Just as something appears to be opening up the play breaks down harmlessly.
46'   Liverpool try to make something happen down the left but a flurry of blue and white shirts win the ball back and hit long.
Right, Salah rolls the ball back and we're back underway.
Before we get things going in the second half it's worth remembering that in Liverpool's last real challenge for the title, they had a key late game against Crystal Palace and led 3-0. They went for more, sniffing a goal-difference helping hand and threw two points away. Could the same happen here?
OptaJoe also tells us that Mohamed Salah has become only the third Liverpool player to score 20+ Premier League goals in consecutive seasons for the club, after Robbie Fowler (1994-95 and 1995-96) and Luis Suárez (2012-13 and 2013-14).
Half-time | Liverpool 3-0 Huddersfield
45'+2'   The whistle blows. An early goal but relatively slow start from the hosts turned into a comfortable stroll. 
Salah played in and as Lossl sprints to beat him to it at the edge of the area. That keeper decision helped with Salah's, who lifted it over him and in.
45' Goooaaaaaalllll!!! It's eventually there, and it's Salah.
43'   CHANCE!! And it really should have been three! Henderson, Mané, Robertson all involved and it finished with the captain skying high.
42'   Mané in space, just one defender facing him. He tries to burst past him but gets the ball stuck and covering players make sure it's snuffed out.
39'   CHANCE!! Alexander-Arnold with a delicious pass into Keita who had picked up a great position in the area. He just needs to roll it to Sturridge but he doesn't put the right pace on the ball and it's intercepted. Had he, it would have almost certainly been three.
37'   Another good corner in from Alexander-Arnold but Stankovic is first with the head to it and the danger is initially cleared. Henderson then picks it up on the right and takes advantage of the busy area by curling one into the mixer. Huddersfield do well to clear their lines again.
36'   Again Liverpool just knocking the ball around, Huddersfield dropping further and further back and inviting them on. Salah again is where it ends as he shimmies two, three times then wins a corner. One dropped shoulder and a pass into supporting players may have been a smarter option.
33'   Salah ends a long period of possession by going for a difficult diagonal into Robertson's path but his radar is a few metres out.
31'   It's all Liverpool right now. Huddersfield struggling to get back on the ball as they had been doing so well earlier, and when they do it's just to clear their lines.
In that last strike, there was a lovely moment from Salah to delay a pass. Nothing that will make a highlights reel, but key to creating space for things to happen.
29'   Another attempt from distance, this time Sturridge. Same result, keeping those high in the stand occupied.
27'   A period of sustained pressure from the home side is played across the back, into and through the middle of the park, and then Salah tries his luck. Way, way over the bar.
Liverpool 2-0 Huddersfield
23' Gooooaaaaaaallllll!!! Van Dijk strides forward, lays the ball out to the left for Robertson - and heads into the area. The Scotsman whips in a beautiful cross and it's Mané who leaps and heads home.
22'   Liverpool taking their time, trying to dictate the play and take any hope out of their opposition.
20'   The home side starting to show more of what we've become accustomed to, slick interplay between numerous red shirts, but the final pass goes astray at high speed. A second feels close...
19'   A nice diagonal from Wijnaldum is controlled well by Robertson but the developing move can't find Alexander-Arnold's run in at the back post.
16'   Great pressure from Mané earns a corner for Liverpool. The deliver is sharp from Alexander-Arnold and Van Dijk puts a stooping header onto it, lifting it just over the bar at some pace.
15'   Bacuna delivers and a little head tennis eventually breaks for Salah to run at the defence. The danger appears to have gone before the Egyptian pokes a toe at the ball sending it harmlessly wide of goal.
14'   Grant does brilliantly against Alexander-Arnold and wins his side's third corner of the game.
12'   Another ball played into the Liverpool penalty area, this time from Smith. Lovren is caught in the middle and gets a free-kick. No real control from the hosts since the goal.
9'   Down the right this time from the away side, after loose play from Keita. Ball swung in by Durm but it's just too far in front of those in the centre. Apart from the disasterous start, this has been decent from Huddersfield.
7'   Good play again from the visitors down the left, leading to a corner. It that previous corner was awful and short, this one only needs a change of one of the adjectives to long. How can a professional do that so poorly?
5'   The corner is awful. Bounces into the waiting Henderson to control and then allow Keita to break clear. Salah is sprinting away ahead of him but the Guinean dallies and can't get a decent pass away to any of his supporting players.
4' Incredibly, Huddersfield almost equalise as Stankovic's effort deflects just wide of Alisson's right post. Corner.
3'   Another chance for the hosts as Salah collects on the right and lets fly. It's hard but Lossl fists it away well.
The early press sees Stankovic caught on the ball, Salah plays in Keita and the midfielder slams it in off the opposite post.
1' Gooooaaaaaallll!!!! What a start. 15 seconds on the clock
We're off. Huddersfield get us going...
Now it's time for the current players to become legends...
Final stretches and pre-match rituals complete. There also a minute's silence in memory of club legend Tommy Smith. Immaculately observed.
The teams are heading out of the tunnel and we're almost ready to gets things underway
The visitors have scored in only one of their last nine away matches so it would be some achievement to nick one at the Kop end. 
As mentioned in the preview, Anfield has become somewhat of a fortress for The Reds this season. They haven't lost at home in the last 38 matches, while goals have been flowing with at least two being scored in nine of their last 10 games.
In this sense, both these sides can claim to have never won the modern version of the English First Division, although the Anfield outfit would need to squeeze on an additional 15 stars to their badge if following their fashion trend.
Did you look at the Huddersfield FC badge and wonder why there were three stars floating above their badge? Well, wonder no more. In a time long before the Premier League (yes, there was football back then too!) the Terriers won three titles in the English top flight, all coming in the 1920s...
For Huddersfield there are two changes from last time out too.Stankovic and Grant are in with Kachunga and Mooy making way.
The other change for Klopp is to bring in Lovren for Matip in defence, and not Gomez as we'd predicted, although no doubt he'll get some decent pitch time tonight. A nod too to Oxlade-Chamberlain who makes the bench.
  So, the biggest news for Liverpool fans (and speculative Fantasy Football managers!!!) is that Roberto Firmino will play no part in tonight's proceedings. Instead, Daniel Sturridge will be hoping to get amongst the goals, ably supported by Salah and Mané. Oh, it's the SMS!!
Team news is in, and there are a couple of surprises...
The form tables for tonight's opponents couldn't be more contrasting: Liverpool have won their last 6 while Huddersfield have lost their last 6.
The Reds sit just one point behind Manchester City at the top of the table, knowing that they will likely have to win all three of their remaining games to have any chance of lifting their first top-flight title in 29 years. Their opponents are already relegated and some (inlcuding the bookmakers) would say are just there to make up the fixture requirements today. But this is football...
Hello and welcome to our live coverage of Liverpool vs Huddersfield in the English Premier League. Kick off is at 21:00 CEST but we are building up all the way to the whistle with team news, match stats and hopefully some other interesting info.
Liverpool vs Huddersfield: match preview
35 down, 3 left to play. The 2018/19 Premier League title battle threatened at times across the season to include others, but there have always been two clubs that stood out. Tonight, one of those, Liverpool, will look to add pressure to their rival, Manchester City, but stepping a couple of points clear once again, in what has been an intriguing contest from the off. Already relegated Huddersfield are the visitors to fortress Anfield, knowing that only pride, and possibly a chance for players to swap the drop for a transfer, is at stake.
Liverpool
Jürgen Klopp will be delighted to be playing the league's worst side as he looks ahead to a Champions League semi-final against Barcelona on Wednesday. Playing it on Friday night should also help with his preparations and could well mean that a strong starting line-up is announced, safe in the knowledge that there is plenty of time to recover energy levels, and they can be taken off in the second half if the game has been put to bed as many expect. In saying that, a couple of injuries to his key men could prove costly, so some rotation may be involved.

Joe Gomez started this season on fire in the heart of The Reds' defence alongside Player of the Season, Virgil van Dijk, but is only now looking to make a starting return following his long-term injury. If they can immediately forge the same relationship, that would be very positive ahead of Messi and co. Alex Oxlade-Chamberlain, missing since last season's semi against Roma, is also close to being back, named in tonight's squad.
Huddersfield
Klopp's opposite number in this game has had a similar path to the Premier League. Jan Siewert, another German, was also at Bundesliga club Borussia Dortmund before taking over from David Wagner as the club aimed to turn things round at the start of 2019.

"He's a great guy and everybody realises what he's doing with Liverpool," Siewert said about his compatriot in the run up to this clash. "Of course we had a look at what he did and the way he influenced the German way of playing and at Dortmund. It was, for me, a big part of my coaching career."
The Terriers boss was realistic about his side's chances of causing a major upset but also said that they "have possibilities" and that his "players will have to go there and perform to the best of their ability." Back-up goalkeeper Jonas Lössl may get a chance to really perform.