Liverpool late goal from Origi wins it, as Salah stretchered off
Newcastle United vs Liverpool has a history of the dramatic, and their 2-3 win puts The Reds back on top with a game to play. Concern over Salah injury.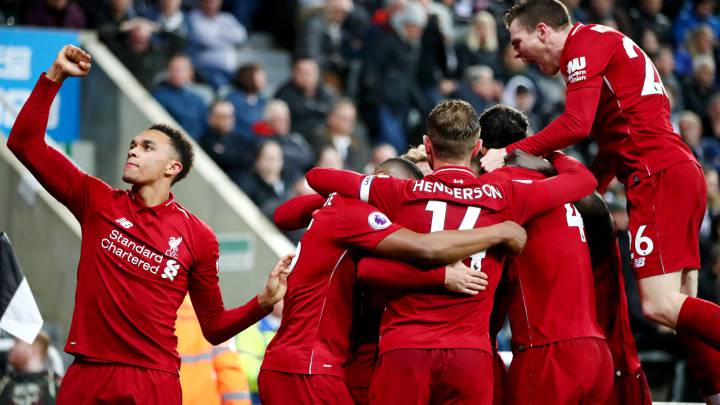 Newcastle United vs Liverpool: how it happened
Thank you to everyone for joining me this evening. We'll be back with more live football soon...
The big news from the game aside from the football was that injury to Mohamed Salah that saw the Egyptian carried off on a stretcher after a head knock. More details here as we get them.
What a night of Premier League action. Relief for Reds fans that they take their title challenge to the final game of the season, while Newcastle can be pleased with a battling performance.
Full-time | Newcastle 2-3 Liverpool
90'+8' Peeep, peeeep, peeeeeeeep!! It's all over.
90'+8'   Liverpool are struggling to hold onto this ball. There should be one more chance for Newcastle to spoil the party...
90'+7'   Corner for Newcastle afetr some clumsy play from both sides. On the second high ball Alisson takes control in the crowd and punches one-handed away. Good keeping.
90'+5'   From the free-kick Liverpool sprint forward. Shaqiri looks for a pinpoint pass rather than keeping possession and, predictably, Newcastle have the ball.
90'+3'   Rondon hits the free-kick from about 35 yards. Is he Messi? Is he f...
90'+3' Milner. Tries to stop the attack with a foul. Fails. Next phase of play seconds later he tries again. This time he achieves his goal. Yellow for the midfielder.
90'+2'   Red shirts trying to hold onto the ball but then Robertson sees a chance to cut a ball across the area. It's picked up by a Newcastle defender and they break.
90'   As we enter the 90th minute this game is certainly not over. There are eight more to go...
Newcastle 2-3 Liverpool | The finish is a header won in a crowd of players and the celebrations look more of relief than anything else. Question marks over the free-kick from which the delivery came from, though. Fabinho was under pressure wide on the right from Ritchie and after holding him off a couple of times, the Brazilian seemed to throw himself to the ground. I'll check the replay at next opportunity...
86' Goooooaaaaaaaaalllll!!! Origi puts The Reds ahead.
85'   Origi swings in a great ball and it's well defended to prevent Mané heading home.
84'   Atsu nips into the area under pressure from Alexander-Arnold. The defender appears to give him a nudge but the Ghanaian stays up and tries to shoot. It's blocked and collected.
84' Klopp is going for it. Milner is replacing Lovren.
82'   A couple of very loose passes going out for throws in the last few minutes as Klopp's side look to have lost their rhythm, style, confidence, legs. Milner about to come on.
80'   Great delivery into the penalty area from Ritchie and a perfectly timed punch from the Brazilian keeper prevents Hayden from getting on the end of it.
78'   Alexander-Arnold tries a low cross as his options appear limited. Atsu is in his face and takes the sting off the hopeful delivery.
77'   No sooner have we started and Perez is down on the ground, with the referee stopping Liverpool from playing on. Player is fine, though.
75'   Another stoppage. Ki Sung-yueng down after a coming together with Sturridge.
Origi on.74'   We're back underway, and obviously there will be several minutes added on to the end of the 90. It's Newcastle who get forward first and Rondon gets a strike away. Too many defenders in his way and it's blocked. Origi on.
The player is being carried off by the medical team and the crowd rise to their feet to clap him off. Our thoughts are with him and we wish him a speedy recovery.
Dubravka rushed out to punch a high ball clear. Salah was under it and felt the goalkeeper's force to the head. He's hardly moving on the ground as he gets treatment, and the stretcher is on.
69'   Salah down! Concern being showed here as the Egyptian lies on the ground after a collision.
68'   Hayden steps away from two players just inside the Liverpool half. Options were opening but his thought-process seemed to close.
67'   Atsu tries to direct a Ritchie cross goalwards but he's in an almost impossible position to do so.
66' First change of the game | Shaquiri on for Wijnaldum
64'   Ball comes in across the Newcastle area. Henderson finds himself there and swings a leg but doesn't make contact. The next goal is hard to predict the way things are going.
62'   Brilliant play from Perez, who seems to escape through three opposition defenders and gets a shot away. It's blocked and Liverpool start again.
61'   Mané looks to be in. No, he's offside (his belated scuffed shot is very much enjoyed by the locals)
60'   Another example there of Newcastle's intentions. Win the ball back and quickly hit long for Rondon to run into space. The Venezuelan had strayed offside though.
57'   Some controlled possession here for the guests, but the black and white shirts have fallen deep and are happy to close off space and frustrate. 
57'   Time for The Reds to do it all over again. They were surely hoping for an easier afternoon than this. 
56'   These two teams have a bit of a history of remarkable games. Is this one en route to delivering? (*for younger viewers, YouTube 3rd April 1996...Collymoooooore!)
Newcastle 2-2 Liverpool | The corner falls to the big man who lets it sit up and then buries it into the far corner. Alisson just watched as it flew by.
54' Goooooaaaaaaaalllll!!! Rondon levels things up
53'   Brilliant run from Atsu on the left, leaving Lovren for dead. Dangerous cross, but the covering Robertson heads away. The Toon still in this. 
51'   Sturridge!! No! Great build up down the left and then Wijnaldum rolls it to the striker who skies it way over the bar. Should. Have. Scored.
49'   Atsu now, picks up the ball on the left and delivers into the area. Well cleared but it's back into the feet of Rondon who drives low and hard. Alisson down quickly to save.
47'   Lascelles does really well to head away for a corner. Both of Liverpool's full-backs involved, with Robertson whipping a lovely ball in from the left.
46'   Immediately onto the front foot, Robertson bursts into the penalty area but he knocks the ball just too far ahead of him.
We're off once again. Liverpool shooting from right to left as I look on get us going.
Here come the players...
It's worth mentioning that both the Newcastle goal and Liverpool's second came against the run of play at that time, and the first half carried that feeling of uncertainty for much of it. Also, as I was telling you about Atsu's goal, another important part of the lead up to it was the block on the line by Alexander-Arnold, who used his arm. Had they not scored, that would have been a red for the defender.
Despite being behind, Benítez will be unlikely to throw caution to the wind immediately upon the restart. Give it 15 or so minutes though, and if nothing changes in the scoreline then he will try and mix it up a little. The direct option to Rondon - if he positions himself on Lovren rather than Van Dijk - is one way to unsettle The Reds without giving up too much ground in behind.
It's been an interesting half. The visitors have dominated much of the ball but in spells Newcastle have been the more threatening. Surely Klopp will be saying to his players that they need to remain composed and avoid any individual clashes that could throw this game into disarray.
45'+2' Half-time | Newcastle 1-2 Liverpool
45'+2' There was a card shown to Schar for petulantly stopping Henderson from taking a throw-in. Managers need to have a word.
45'+1'   Ritchie with a nasty challenge on Salah. There's a bit of niggle growing in this game. Van Dijk trying to show who's boss with an unnecessary block. Everyone needs to keep their heads.
44'   Another chance for Newcastle to move forward as a unit. Rondon gets a shot away but it doesn't cause too many concerns.
43'   Ball sent forward from defence and United's frontman controls it well in between the opposing centre-halves. Van Dijk organises things and The Reds come away with it.
41'   Henderson wins the ball well in the middle of the park and then heads forward towards goal. He almost makes it too but just when finesse was required...
40'   With five minutes to go, Liverpool have again taken control but the tackles are flying in from the home team. No signs of them rolling over and having their tummies tickled in this game.
37'   Another lung-bursting sprint down the left from Liverpool's Scot. He drills the cross hard and low into the area but a pair of white socks are first to it and it's cleared.
35'   Clever play from Lovren there to leave Rondon in an offside position.
32'   Dunnett given some time on the ball in his own half to hit it long, and Liverpool have it back. Then they break - Mané at pace, touched to Salah ahead of him on the right, and he returns the feed behind the defence. One on one with Dubravka and...the keeper blocks well.
31'   Bit of a naughty challenge there on Salah. He'll be OK but that could've been nasty.
30'   Bloody hell! Andy Robertson is a phenomenon. He just keeps going and going, and at top speed.
28' Goooooaaaaaaaalllll!!! Just as Newcastle looked on top, an Alexander-Arnold cross is volleyed home by Salah. Where was the marking???
26'   CLANG!! Ayoze Perez with a lovely piece of skill and then fires from a tight angle hitting the crossbar. Liverpool all over the place.
24'   Full-back Manquillo now getting in on the act but Alisson saves. A crazy change to the pattern of this game that looked so routine.
22'   Another chance for the home side as Rondon gets a shot away. The noise level here has gone up a notch or three.
Out of nothing, the cross is swung into the Liverpool area from the right. It's collected, the first shot dragged across goal, then a handball block from Alexander-Arnold, before Atsu slots home.
20' Gooooaaaaaaallllll!!!! Newcastle are level.
19'   For some reason, Lovren decides to make a dominant start for his team more interesting by playing a dodgy passback to Alisson. Dangerous but they get out of bother...just.
17'   Salah again getting in at the back post but the Egyptian can't bring the ball under control at a stretch and it's out again for a goal kick.
16'   In case you are complementing this live feed with some audio from the game, the occasional whistles from the home crowd are perfectly timed with when Jordan Henderson has possession. Sunderland lad.
15'   Mané almost runs in behind the defence but his touch lets him down and it's out for a goal kick. Can Liverpool go on and make this a comfortable afternoon?
The big Dutchman pulls away from his marker and finds himself all alone to stick the head on it. Sloppy from United.
13' Gooooaaaaaaaallllll!!!! Van Dijk heads home the corner
11'   CHANCE!! Salah takes down a cross on his chest and swings a boot. Deflected over. The pressure is mounting.
9'   Big penalty shout from the visitors. Manquillo clears the ball inside his own box but he connects with the ball at Mané's head height, giving the Senegalese forward a knock as he did. Nothing given.
7'   Mané looks to be in on goal in the inside right channel but is flagged offside. Liverpool starting to exert their authority, as Newcastle seem to be getting forced deeper and deeper. Still early days.
6'   Salah gets his first involvement in a forward motion. First attempting a little headed flick-on to Mané, and then skipping in front of the home defender to nick the ball away and start something again. Nothing comes of it.
4'   Rondon asked to charge towards Alexander-Arnold down Newcastle's left. Lovren then collects and sclaffs the clearance out for a throw.
3'   First chance for The Reds to make something happen. Out to their left-back Robertson to scamper down the wing, but then checks and the play is slowed down.
1'   Newcastle start things off by lofting the ball high towards the opposition area. Easily dealt with and a quick look down to the bench sees Benítez doing his tactical hand shuffle. A bit early for that, Rafa.
And we're off!!
In fact, Rafa and Jürgen just shared a warm embrace on the touchline. Ahhhh, nice.
The players are heading out of the tunnel following the final words of guidance from the two very-much respected managers.
Klopp has left Firmino out altogether, and there is some word that he will not return in time for Barça's Anfield visit on Tuesday. In his place is Daniel Sturridge, who has failed to deliver this season when called upon.
A couple of surprises there but pretty much as expected from both managers. Shelvey will have to content himself with a place on the bench, but could well get a chance later on.
Right, confirmed team news is in. First up, the home side...
Speaking ahead of the game Benítez said: "We have 52,000 fans in our stadium for the last home game of the season. I think everybody understands that we are professionals and we will try to do our best. That's it." Words that will please Manchester City fans, I'm sure.
Rafa Benítez has made it clear that he and his players are going to approach the final game in front of their passionate home fans professionally, and will be doing no favours for the club that still holds a warm place in his heart.
Clearly much of the focus of this match is on whether or not Jürgen Klopp's side can maintain their incredible winning run in the league, and ensure we go to the final day of the season with the destiny of the Premier League trophy still unknown. Newcastle for their part have little meaningful to play for, as no matter what happens in their final two games they will take one of the positions between midway in the table and the relegation zone.
Hello and a very warm welcome to you from around the world as we start our build-up to the evening game in the Premier League as Newcastle United host Liverpool at St James' Park.
Newcastle United vs Liverpool live online: match preview
Nobody connected with Liverpool Football Club will ever forget the Rafa Benítez years. Despite ups and downs across his reign, that night in Istanbul 2005 ensured that the Spanish manager would go down in Reds history. He is still very much connected with the city but tonight he'll put that to one side as he prepares his team to play its role in what has been an incredible race for the Premier League title. As The Reds and Manchester City have maintained their relentless form across the season, many potential king makers have come and gone. The Magpies and Leicester City are next up looking to make the headlines.
Newcastle United
The Toon Army will be in full voice for their side's final home game of the 2018/19 campaign. Risks of relegation have been averted and in their manager they trust, a man who is to meet with owner Mike Ashley soon to discuss terms of extending his stay in the north east. Tonight's game is a chance for Rafa and certain of his playing staff to show their value to the club, ahead of what could be a very interesting summer, and with an impressive goalkeeper in Dubravka and their dangerman Rondon chasing down everything, they may be able to pull off a surprise. The form guide shows a pair of wins, draws and losses for the black and whites.
Ayoze Perez was forced to leave the game against Brighton last weekend and is a big doubt for Rafa's team. Miguel Almiron is also going to be missed although there could be a place in the back-line for the returning Jamaal Lascelles. Former Anfield star Jonjo Shelvey should face up against his old side in midfield, while much will be expected from Atsu to support Rondon upfront.
Newcastle potential starting line-up:
Dubravka; Manquillo; Schar, Lascelles, Dummett, Ritchie; Kenedy, Shelvey, Hayden, Atsu; Rondon
Liverpool
Jürgen Klopp's message to his player's after Wednesday's 3-0 defeat at Camp Nou was a positive one, and rightly so. His team did the club proud, dominating much of the proceedings but, as we've seen before in football, leaving the pitch scratching their heads at the scoreline. Some commentators have said that they need to put that disappointment behind them, however, it is more likely that they will use it to spur them on. Perform to that level again tonight, and the three points will almost certainly be theirs. And if they can take a confidence-boosting goal glut into Tuesday's Champions League encounter, you never know.
Naby Keita is out for the rest of the season after a poor challenge from Rakitic midweek damaged his groin. Other than him and a doubt with Adam Lallana, Klopp should be able to take his pick from the squad. Unlike Barcelona, who rested all eleven starters for their LaLiga game on Saturday, The Reds cannot afford to risk points in the league, so we expect most of the recognised first team to take to the field - although Firmino may be given some further time to fully recover. If Klopp can tie up the game early, expect some of the key men to be brought off.
Liverpool potential starting line-up:
Alisson; Alexander-Arnold, Lovren, Van Dijk, Robertson; Henderson, Fabinho, Wijnaldum; Salah, Mane, Sturridge