Icardi: Inter Milan striker will only consider move to Juventus
According to the Italian media, the under-fire Argentina striker has no desire to leave Serie A and wants a move to Turin if he is ousted from Inter.
Mauro Icardi has become persona non grata at Inter Milan during a lengthy contract dispute between the Argentina striker, his wife and agent Wanda Nara and the Serie A club and it seems less and less likely that the 26-year-old will remain a Nerazzurri player next season.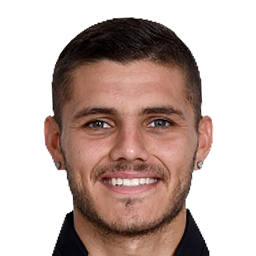 Icardi was stripped of the Inter captaincy by Luciano Spaletti in February and subsequently did not play for the side for several weeks, finally making a return against Genoa and scoring. That was not enough to smooth the ruffled feather of the Curva Nord, who have been demanding that Icardi be banished from the side altogether after the soap opera between the striker and the club, which stemmed from what the Argentinean felt was a lack of "love and respect" from the club.
After negotiations between Inter and Icardi – described by Spaletti as "humiliating" – resulted in a truce, the matter in hand is now the striker's immediate future.
Dybala the key to Icardi's Juventus dream
According to Italian media sources, Icardi is not keen on leaving Serie A despite interest from abroad and will only contemplate a move to Juventus, the only side in Italy able to meet his wage demands and offer the kind of competitive platform he desires.
The sticking point is that Juve do not need another striker. Cristiano Ronaldo has been providing goals this season with Mario Mandzukic, who signed a new contract until 2021, Paulo Dybala and Moise Kean providing support.
Unless Juve can persuade Dybala to leave, and that will be a difficult task given his current strike partner, it is hard to see why the Old Lady would shell out for Icardi if he would not be a guaranteed starter. A straight swap deal has apparently been discussed but without Dybala's willingness to play ball that is probably a non-starter. 
With that in mind, Juve are said to be considering throwing in Gonzalo Higuaín and João Cancelo to sweeten the deal, with Icardi's fellow Argentinean suffering the ignominy this season of a double loan and bound to be shipped out by Juventus during the summer.