Neymar to Real Madrid: reasons to believe in mission impossible
Real Madrid's fans would prefer Kylian Mbappé, but Florentino Pérez remains keen on Neymar, who has gone from spat to spat at PSG.
As things stand, a Real Madrid move for Neymar won't be happening this summer... unless the player forcefully agitates for a switch. That's the only way his club, Paris Saint-Germain, will forseeably agree to negotiate the Brazil star's sale.
Neymar's Barcelona past, allied with his tendency to court controversy, means he is not a popular figure among Madrid's supporters, who would much prefer Los Blancos to sign his PSG team-mate Kylian Mbappé. However, club president Florentino Pérez remains a huge fan - not least because of the marketing opportunities that the 27-year-old would bring in his native country.
With this in mind, there are still reasons to believe that a deal could come to pass for a player who, in truth, has lurched from conflict to conflict throughout his time in Paris...
Two injuries at crucial times
It comes down to little more than poor fortune, but the fact remains that, two years in a row, PSG have lost Neymar to the same injury at the same point of the season: just as they were readying themselves for the last 16 of the Champions League. And on both occasions, they have been knocked out of Europe's top club competition at that stage. The Parisians did not shell out a world-record 222m euros on Neymar just to win Ligue 1 - a trophy which is almost taken as a given at the Parc des Princes. What's more, his standing among the PSG fans has not been helped by his decision to jet back to Brazil - far away from the club's medical staff - to recover from his two metatarsal fractures.
Dressing-room conflicts
As the French media has made sure to reveal in lurid detail, Neymar's relationship with much of the PSG squad is far from ideal. His most significant conflict so far has been with strike partner Edinson Cavani, when the pair last season became embroiled in a high-profile spat about penalty-taking duties that ended up with then-coach Unai Emery making the unusual decision to have them alternate. It has also recently emerged that he was involved in a war of words with Julian Draxler, who had accused him of being too individualistic. "Who are you to talk to me like that, when all you do is play backwards passes?" was the Brazilian's biting retort.
Neymar's pay packet - he pockets an annual salary of somewhere over 35m euros - is also a source of tension in the PSG dressing room, as is the preferential treatment that he is afforded by the club, who have allowed him to return to Brazil for his injury recoveries (with the player then spotted enjoying the Rio Carnival, despite doctors telling him to rest up), and have let him opt out of league games so he can travel to Portugal to visit surfer and compatriot Gabriel Medina.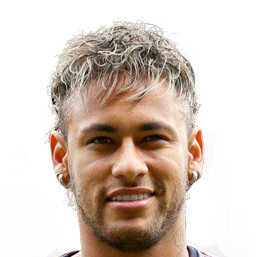 Tension with PSG chairman Al Khelaifi
Neymar has also had his run-ins with PSG chairman Nasser Al Khelaifi, most notably over Dani Alves' contract renewal. With the club offering Alves a salary dependent on the number of appearances he makes - and the right-back refusing such a deal - Neymar intervened on behalf of his countryman and good friend, leading PSG to change their plans. Having now guaranteed Alves a higher basic salary as part of a one-year extension with the option for a second, an agreement is now close.
Last summer, meanwhile, Al Khelaifi was forced to fly to Brazil and lend his support to a charity event put on by Neymar and his father, just to keep his star player on side and dispel his thoughts of a move to Madrid. Indeed, the Qatari state, which owns PSG backers Qatar Sports Investments, has even done its bit to keep him sweet: having been named one of its brand ambassadors, the forward is now on the payroll of the Qatari National Bank - money that tops up his salary and helps to drive it out of the reach of the rest of the world's clubs (and is also attracting the attentions of UEFA over possible 'financial fair play' breaches).
PSG under UEFA's microscope
This is the most compelling reason to believe in the possibility of Madrid signing Neymar: UEFA are keeping a close eye on PSG's accounts, amid accusations from several figures in Spanish football that the Ligue 1 side are essentially a club-state being illicitly financed by the Qatari royal family (Pérez's criticism tends to be more veiled; LaLiga chief Javier Tebas is much more outspoken).
So far, European football's governing body has not been able to pinpoint any irregularities, but its inspectors continue to look over PSG's books from the 2017/18 season - a year that saw them sign both Neymar and - initially on loan - Mbappé. UEFA's chief suspicions centre around sponsorship contracts which, it believes, could have been inflated well above their true market value. Should PSG finally be on the receiving end of any major sanctions, they could well be forced to sell.
Nowhere near Cristiano and Messi's top table
In theory, Neymar left Barcelona to move out of Lionel Messi's shadow and shine on his own as the outright leader of his team. (He was also tempted to PSG by a significant salary hike, it's fair to say.) Yet the move has succeeded in achieving the exact opposite: when he departed Barça, he was, together with Antoine Griezmann, the leader of the chasing pack behind Messi and Ronaldo; now, he has been overtaken by a host of players - Griezmann, Mbappé, Mohamed Salah, Kevin de Bruyne, Eden Hazard... - in world football's pecking order. One need only look at the position he occupied in the voting for the most recent Ballon d'Or: 12th.
Signing for Madrid could be the move he needs to re-establish himself as an influence on the business end of the game's top club competitions, and push him back into the shake-up for major individual awards.