Barcelona bookies' firm favourite to sign Ajax's Van de Beek
Betfair has dropped the odds on Barcelona signing Ajax midfielder Danny van de Beek from 34/1 to 3.5/1, putting them ahead of PSG at 6.5/1.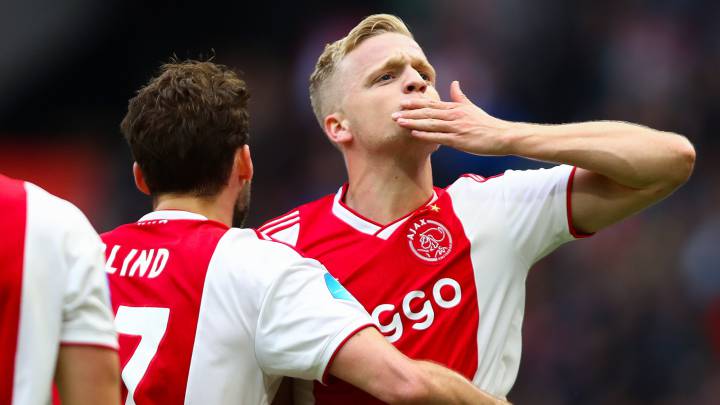 Barcelona have already secured the services of Ajax star midfielder Frenkie de Jong, signing the 21-year-old for 86 million euros in January.
Now all indications are that young Ajax captain Matthijs de Ligt will follow De Jong to Camp Nou. This Tuesday, Catalan TV station Esport 3 reported that that the 19-year-old's agent, Mino Raiola, had met with Barcelona representatives over a month ago in Montecarlo to conclude a deal.
But it seems that Barça are not finished raiding the Ajax treasure chest just yet. El Blaugrana have their sights on signing a third youngster from Ajax who also played an integral role in the Dutch club reaching their first Champions League semi-final since 1997.
Donny van de Beek among Europe's hottest properties
Donny Van de Beek's performance during Ajax's European campaign – in which the 22-year-old scored against Juventus in the quarter finals and Spurs in the semi-finals – has placed him high in the agenda of several of the continent's top clubs, including Barcelona, PSG and Borussia Dortmund.
But as it stands, the bookies' favourite is Barcelona, who have gone from 34/1 to 3.5/1 to sign the Van de Beek with Betfair, as announced by a spokesperson for the betting company, Sam Rosbottom.
The midfielder is currently valued at 25 million euros (valuation on Transfermarkt.com), but it is likely that Ajax will try to secure a better price as they look set to have their talented side dismantled in the summer.
PSG are also very interested in signing the young Dutch international, but Betfair seemingly are confident that Van de Beek will opt to follow his Ajax and Holland team mates De Jong and De Ligt to the Catalan capital should he leave the Amsterdam Arena.
Current odds clubs to sing Donny van de Beek's in the summer
FC Barcelona - 3.5
PSG - 6.5
Borussia Dortmund - 8.0
Real Madrid - 11.0
Tottenham - 13.0
Liverpool - 21.0
Bayern Munich - 21.0
Arsenal - 21.0
Manchester United - 21.0
Chelsea - 51.0