Bayern Munich Bundesliga champions after final day win
Bayern Munich won in impressive style against Frankfurt on the final day, but there were plenty of twists and turns as the final round of matches played out.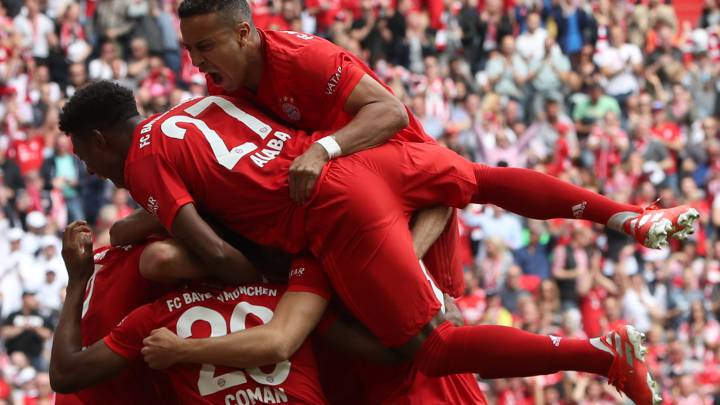 Bundesliga final day: how it happened
Thank you for joining us this afternoon and we'll be back again soon...
Now it's time for Bayern to party hard, but they need to remember they still have work to do on Saturday.
GOAL!!! Leipzig are all about the cup final on Saturday but have levelled things up against Werder Bremen 1-1.
There goes the final whistle at the Allianz. BAYERN MUNICH ARE CHAMPIONS AGAIN!
GOAL!!! Watch out! Mainz have scored and that has returned their local rivals Frankfurt into the Europa League places. Into the final five minutes...
Leverkusen are sitting pretty in fourth, and add a fourth goal in Berlin. Nurnberg get a consolation at Frieburg.
As it stands, Frankfurt are not getting European football next season, incredible collapse to an impressive season. Hoffenheim, though, down to ten men (Baumgartner off) and only hold a 2-1 lead.
WHAT A GOAL!!! Ribery runs through and dinks the keeper. The party has officially begun in Bavaria
Crazy scoreline there and, as you'll remember from our preview, a huge goal swing was needed for Wolfsburg to have any chance of reaching fourth place. It is unlikely to matter, however, with Leverkusen winning.
GOAL!!!  Instant reply from Bayern Alaba slams home after the initial save
Bayern and Dortmund now both on the same points but the reigning champs still top on GD. Wait a minute...
Ok, we're back underway for the final half of the Bundesliga season. Note that some whistles blew earlier than others due to injury time variations across the country.
Despite that Dortmund goal (remember they NEED to win to have any chance of the title) it would still require at least two goals for Frankfurt at the Allianz to stop Bayern's celebrations. With Jovic in the side, it could still happen...
As you can see, there's already been quite a bit of movement in the top half of the table, most notably Leverkusen jumping into that vital fourth spot. 

Half-time whistles now sounded and we can have a look at how things stand...
GOALS!!! Other goals going in as we kept a close eye on the refs decision: Wolfsburg now 3-0 up on Augsburg, Leverkusen get a crucial goal to put them back ahead against Hertha.
GOAL!!! Dortmund have it!  Sancho volleys home as we enter the final seconds of the first half...but VAR has the ref trotting over to check if the ball had run out of play before the cross came in...
VAR having a look at a potential Dortmund penalty...but nothing doing say them folks behind the screen.
GOAL!!! And more goal fun: Hertha Berlin equalise against Leverkusen (Lazaro) and Wolfsburg go two up.
It was a lovely finish from the former Arsenal man sweeping the ball home just inside the post but Vorsprung durch Technik as the Germans would say (advancement through technology, indeed).
NO GOAL!! Scratch that last one. VAR says OFFSIDE!
This is how the top of the Bundesliga table currently looks, but we expect it to change...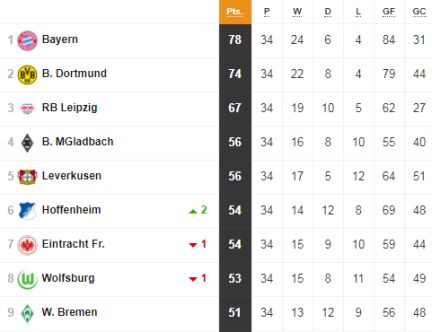 In terms of the top of the table, Bayern currrently sit four points ahead, with Dortmund still 0-0 but living dangerously (Gladbach hitting crossbar)
Early chance for Gladbach has the crowd upping the noise at Borussia-Park. Nothing though and the yellow and blacks try to move the ball around to quieten them a little.
Whistles have been blown...
The teams are starting to head out onto the fields around the country. We've got eyes on all the games and will bring you updates as goals go in...and the implications of what they mean.
There has been a lot of talk recently about whether or not Niko Kovac will stay in his job following the conclusion of this season. Bayern are expected, by many, to secure a seventh consecutive league title with the next couple of hours or so. They can then go on a lift the DFB-Pokal Cup on Saturday against Leipzig. Will his job depend on the outcome of one or both of these? The club chairman had his say ahead of the fun beginning, calling the negative rumours 'a hoax'.
A wonderful little stat I came across regarding this campaign is that Borussia Dortmund, who won their last home game 3-2 against Fortuna, managed to score at least two goals in every league match at the Westfalenstadion all season. Incredible!!!
As you will have read in our introductory preview below, the title race is still undecided going into these games. There are still four (more likely three) clubs that can nick the final Champions League spot, and the majority of sides have a chance of improving their position.
Hello and welcome to our live coverage of the climax to the Bundesliga season 2018/19. Whether you're a fan of one of the 18 clubs in Germany's top flight, having a passing interest in what goes on there, or you're just someone who loves exciting football stories then stay with us for the next couple of hours to ensure you know what is happening and how it matters...
Bundesliga final day: preview
It's the climax of Germany's top flight and there is plenty still at stake. All nine games kick-off simultaneously at 15:30 CEST, potentially putting the onus on fans in the crowd to let the players know how there situation is developing in relation to other results.
At the top
Bayern Munich take a two point advantage over Borussia Dortmund into the final game and are at home which, in most cases, would suggest the title destination is already decided. The visitors, however, should not be underestimated. Eintracht Frankfurt reached the Europa League semi-finals, narrowly missing out over two legs to Chelsea, and despite being in sixth place in the league, can still end in fourth, for a Champions League place next season. They may be on a five-game winless streak, but know a final day three points will jump them ahead if their rivals slip up.

A win for Frankfurt opens the door for Dortmund to break Bayern's recent dominance. They would, though, need to overcome Borussia Mönchengladbach, who currently sit in fourth, themselves looking to avoid that slip up mentioned above, and hope that Bayern fall in Munich. Lucien Favre and his players are still dreaming.
Champions League places
RB Leipzig have already secured third spot and will compete in Europe's showpiece competition next year. As stated above, both Mönchengladbach and Frankfurt have the chance to clinch the final spot, as do Bayer Leverkusen and Wolfsburg, although the latter needs an unprecedented series of events to occur.
Europa League, top scorers, and more...
There are only two clubs in the entire league that cannot change their place this afternoon - namely Leipzig (3rd) and Stuttgart (16th) - so we aim to keep you across all the action as it happens, and what each event means to the final standings.