USWNT not happy with FIFA's scheduling for summer events
The US women's national team feels disappointed with FIFA's scheduling for the summer tournaments, putting its final to go against the Gold Cup and Copa America.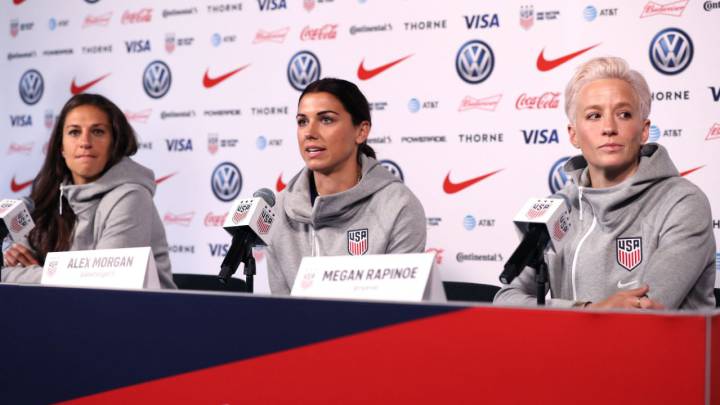 The US women's national team is ready for the coming World Cup and before traveling to France, the three team captains answered questions about their fight for equal pay and equality in sports.
The USWNT is known for its diversity and patriotic ways; its players always talked about being role models by promoting equality, diversity, and inclusion with the same passion they defend the colors of the national team, something they described as a huge honor.
The US women's team has been involved in a lawsuit against the US Soccer Federation which captain Alex Morgan, Carli Lloyd, and Rapinoe are leading, alleging gender discrimination, demanding a pay structure and equal treatment as of the men's national team.
And now, they will have to face FIFA's schedule for the summer tournaments as they will be competing in ratings and exposure against the men's competitions like the Gold Cup, or Copa America.
Megan Rapinoe mentioned feeling disappointed during the pre-World Cup media day at Twitter's New York City headquarters, about FIFA's scheduling conflict since the World Cup final is scheduled for July 7, same day that will have CONCACAF Gold Cup and Copa America games.
"It's ridiculous and disappointing, to be honest," were Rapinoe words.
Adding also the question about why they make less money than the men's national team peers, arguing that FIFA is undercutting all women's teams with a growing disparity in major prize money, the pool prize for the women's is $30 million while the one for the men's is $400 million.
Alex Morgan spoke about that issue, but she focused on the World Cup and what the team wants for the tournament, but added: "we will not sit quietly on those issues forever."