Ronaldo: "I never thought Zidane would go into coaching; Raúl seemed more management material"
Ronaldo, president and controlling shareholder at Valladolid, spoke about Real Madrid's season: "It was bad, but they need to think about building a great team".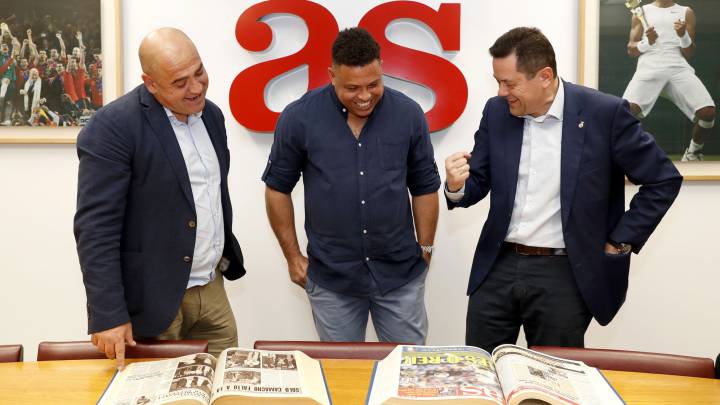 During his visit to AS yesterday, Ronaldo Nazário chatted to us about a number of topics - including his old club Real Madrid. Ronaldo spent four and a half seasons at the Bernabéu as a player (2002-2007) and held other positions at the club after hanging up his boots, including a role as advisor to Florentino Pérez and club ambassador in Latin America. He gave his thoughts on last season in which Madrid finished third - 19 points behind champions Barcelona: "Madrid are used to winning so when they don't, it feels like it's the end of the world. There's no doubt it was a bad season for them, but rather than dwelling on the problems of the season just gone, they should be putting all their energies into forming a great side for next season".

Quiet Zidane
Ronaldo added that during their playing days together at Real Madrid, he never envisaged his team mate Zidane ending up going into coaching. "I never thought he would go on to be a coach - because he's very softly spoken and introverted; it was a great surprise seeing him making his debut on the bench and winning three Champions Leagues in a row, something which no one has ever done".
Raúl's coaching credentials
It was Raúl González Blanco, who will coach Castilla next season, who looked more like management material even back then, the Brazilian noted. "Back then, I could see Raúl going into coaching, for his character. I'm sure he'll do really well".
The pressures of being a coach
And what about Ronaldo Nazário as a coach? "I never considered it because the routine a coach must follow is even worse than the ones players have. And then you have to put up with 25 lads, all of them thinking only about themselves, criticizing you..."