Gerard Piqué open to Barcelona changing to white shirt
With the recent announcement that Barça will adopt a checkered pattern on their strips for the 2019/20 season, their captain was open minded.
Gerard Piqué has surprised a number of Barcelona supporters by saying that he would be happy to play in a famous white shirt...although it would still carry the badge of his beloved Barça.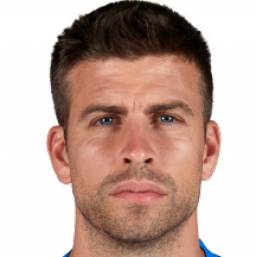 Piqué in favour of Barça in white
After the announcement that Barça will play their home games in a new checkerboard design by manufacturers Nike, one that is in marked contrast to the famous striped shirts, the newspaper Ara posted an indirect question to Piqué on Twitter. 'Would Gerard Piqué dare to wear a white shirt?' it read, in clear reference to the classic colour adopted by Real Madrid aka Los Blancos.
The captain was happy to reply and his response may have caught a few younger fans off guard. 'Yes, of course! It's part of our history,' he stated.
And Piqué was correct. In Ara's tweet they had an image of some Barça kits (plus a link to see the complete kit history of the club) and the focus was on one from the late 1970s. Indeed, even the legend that is Johan Cruyff wore that shirt.
Could history be repeated?
Barça in white may seem like a strange concept these days but their players have been seen in the colour in the league, the European Cup and various other competitions. The white was removed from the shirt in the 1980s although their was some controversy when Kappa (the brand that took over from Meyba) decided to add a white trim on the 1992-93 shirt. Times have changed.
After the disagreements over the new check design, and with the second shirt all in yellow with a horizontal stripe also making headlines, it will be interesting to see how the trend develops. Club president Josep Maria Bartomeu has a desire to finish his term in charge with a traditional shirt, and some people are wondering if that may just be a trip down memory lane into white. Maybe Florentino will one day consider blaugrana...