Modric still has the strength to continue in 'new' Real Madrid
The Real Madrid midfielder is conscious that there is a mini-revolution happening at the club, and told Universo Valdano he is keen to be part of it.
Luka Modric has been one of the stars of the Real Madrid squad ever since joining from Tottenham Hotspur in 2012. And despite a clear attempt by the club to revive the swagger that deserted them last season, and much of the season before, the Croatian is ready to fight for his place in the new look team under manager Zinedine Zidane.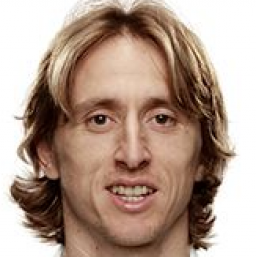 Speaking on Spanish TV show Universo Valdano, which went out on Monday evening, the midfielder discussed a variety of topics. From the pride he has representing his country, the war in his homeland, winning the Ballon d'Or, and how he now finds himself as one of the more experienced heads in Los Blancos changing room. Here are a few excerpts.
Modric on playing with Croatia
"Every day I am very proud to represent my country. I am the captain, which gives me great satisfaction. I'd like to continue as long as the manager thinks I can help, and that I think I bring value. When the day comes that I can't, I'll go.
"This team has always had hugely talented players. The country were obsessed with the generation of France 98 doing something special, they were an example for us. We had an impressive World Cup [in Russia]. We felt in debt to our country to doing something great, as they were always with us. It was hard to lose the final."
Modric on the war in Croatia
"The things that happened in Croatia because of war had a big influence on us. Playing for Croatia is a dream for every boy who achieves it. We have a togetherness that is our strength, and we are proud to represent our country."
Modric on the 2018 World Cup final
"We gave it our all. Going so far affected me during the season, the physical and mental side of it. The physical you can recover, but the mental...
"I had a very inconsistent season. I had always dreamed of doing something incredible with Real Madrid but my career would not have been complete without doing something with Croatia. This was my last chance to do something big, and that's why the drain was enormous."
Modric on retirement
"I'm not going to put any time limit on it. We go little by little. I feel good although I acknowledge that this year has not been good.
"I still have the strength to continue playing for Madrid and at the level that demands. This is an age to enjoy it, because when it ends..."
Modric on the Ballon d'Or
"To win these individual titles is impressive, especially with Messi and Cristiano around these days. It's incredible and I'm very happy. It's praise for my career."
Modric on the 'new' Real Madrid
"It'll be a better Madrid. I expect a competitive Real Madrid in all aspects and for all titles, something we didn't do last season."
Modric as an old head in the dressing room
"I am one of the elders of the team now, which is a responsibility, and one I like to have. I am sure Madrid will have a better season, and let's see if we can win some important titles, something the fans deserve.
"Last year wasn't good, but I'm sure that big players will arrive, which is what we need. I'm looking forward to a great campaign for me and Real Madrid. Bring on the new season!"