De Ligt: Real Madrid enter the race for Ajax defender
According to French media outlet RMC, Real Madrid have asked about the Netherlands international's intentions and are mulling an offer.
Real Madrid have thrown their hat into the ring for Ajax defender Matthijs de Ligt, who is involved in a tug-of-war between Barcelona, Juventus and PSG.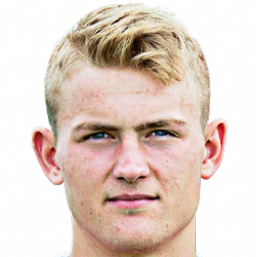 De Ligt, 19, has been stalling on making a decision about his future with some reports suggesting that the Netherlands international is weighing up several succulent offers. Barcelona had long been considered favourites for the youngster's signature given the Dutch heritage at Camp Nou and the signing of Frenkie de Jong, but PSG have apparently matched the 75-million-euro offer on the table and are willing to make De Ligt one of the highest-paid players in the world to lure him to Paris. The player's mother and sister were reportedly in the French capital last week scouting out potential properties but as yet there has been no concrete announcement.
Meanwhile, Juventus sporting director Fabio Paratici and De Ligt's agent, Mino Raiola, are old friends and the Italian champions are also interested in acquiring the player's services while Bayern Munich are also keeping an eye on the situation.
Madrid waiting in the wings for De Ligt
With a bidding war imminent, French media outlet RMC has stated Madrid have been in touch with De Ligt's advisors to try and find out if he is any closer to a decision and, with that information in hand, will consider making an offer of their own. The player and his family are currently on holiday in Miami and Madrid are hoping to use the downtime to their advantage by quietly letting it be known they would be willing to make a bid if De Ligt is interested in a move to the Bernabéu.
The main stumbling blocks are Raiola, who is persona non grata in the Bernabéu board room, and the player's understandable lack of desire to play second fiddle wherever he ends up. Madrid already have club captain Sergio Ramos, Raphaël Varane – a Zinedine Zidane favourite - and the recently signed Éder Militão in central defence as well as utility players Jesús Vallejo and Nacho to provide cover. The latter two may not remain in Madrid beyond the summer but it is difficult to envisage De Ligt breaking up the first-choice pairing of Ramos and Varane in the short-term.