Pablo Sarabia on his way to PSG
The French Ligue 1 side will pay €20 million for the Sevilla attacker after he enjoyed a good year in LaLiga as PSG look to reinforce their attacking options.
Pablo Sarabia is set to sign for Paris Saint Germain. The French club will spend €20 million on the attacker with the deal set to be sealed in the coming days. Agreement is almost complete with a number of small details to be cleared up that will see the Madrid-born attacker move to the French capital. Monchi, Sevilla's sporting director, tried to dissuade the 27-year-old but As understand that the offer from PSG was irresistable for the player. The release clause for the player is €18 million but PSG, at the wishes of Sarabia, will pay the transfer fee instead of depositing the release clause at LaLiga's offices.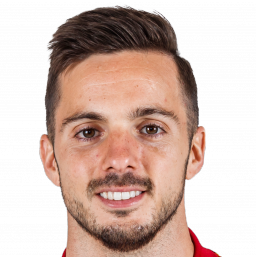 Various offers arrived from LaLiga. Atlético Madrid tried to sign him but could not compete with PSG's wages. Valencia also negotiated for his signing with a number of other top European clubs interested in the situation. There was talk of interest from Real Madrid but that option was never a reality. Barcelona were also interested but the deal with PSG is very advanced and the wages and sporting reasons to move could not be beaten.
PSG's transfer plans remain intact
Monchi returned to the role as Sevilla's sporting director and he wanted Sarabia to continue. He almost achieved it too with the arrival of Julen Lopetegui almost convincing him to stay. He felt loved by fans of Sevilla and comfortable at the club but the offer from PSG was to succulent to turn down.
With PSG's change of sporting director from Antero Henrique, who had opened negotiations, to Leonardo, nothing as change as the deal nears completion. After an excellent season with Sevilla in which he scored 23 goals and had 19 assists, Sarabia became a sought after striker but it seems PSG have won the battle for his signing.