Paul Gascoigne, Snoop Dogg and their bizarre social media spat
Why former Newcastle and England striker Paul Gascoigne has taken to Twitter to call Californian rap superstar Snoop Dogg "an ugly twat".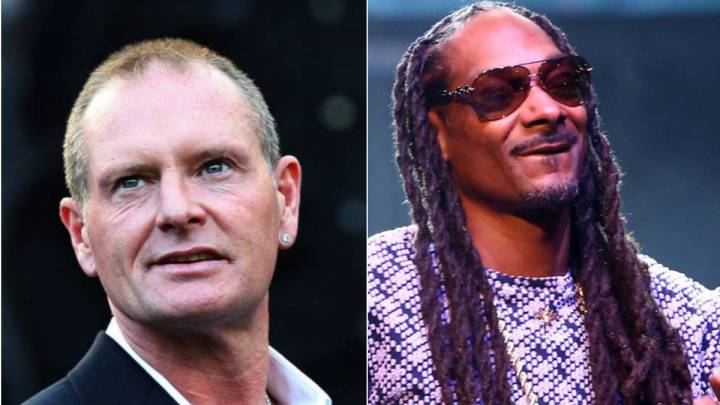 One is a multi-millionaire superstar rapper from Compton, Los Angeles; the other a former superstar footballer from Newcastle in the North of England.
They have never been known to have crossed paths before, but Paul Gascoigne and Snoop Dogg have entered into a bizarre spat on social media.
The dispute began after Snoop posted a meme to his Instagram account to highlight the effects of alcohol abuse, which juxtaposed picture of a healthy looking young Gascoigne in his playing days with another rather unflattering photo of the ex-footballer in middle age (apparently at 47).
Snoop Dogg faces backlash over Gascoigne post
The post caused outrage on social media with a number of users blasting the rapper, including TV presenter Piers Morgan.
"This is nasty. Shame on you @SnoopDogg," tweeted Morgan.
"Snoop Dogg laying in to Gazza, what a fucking liberty, your brain is fried from all that cannabis, you need to drop your habit like its hot, and you think your addiction is okay, Gazza knows he has a problem and you don't," wrote Twitter user S.J.M. wrote.
Gascoigne hits back at Snoop Dogg
Gascoigne himself took to Twitter to express his surprise at the sudden attention from one of the world's most famous rap stars.
"Just back from doing charity work in Spain then just when U thought it was safe2get out of the water fucking snoop dog turns up FFS SHANE (Gascoigne's manager) what's he snooping about for," tweeted the former England international on Thursday.
Gazza was back on Twitter again some 15 hours later to get his own back on Snoop, posting a picture of a dog with braids and a gold necklace that apparently looks like the rapper.
"Morning @SnoopDogg get your lazy arse out of bed it's walkies time woof woof you ugly twat LOVE GAZZA xxx," wrote Gazza.
Snoop Dogg has yet to respond to Gascoigne, who has openly discussed his problems with alcohol over the years.