1
Impressive Morocco confirm top spot after win over Ivory Coast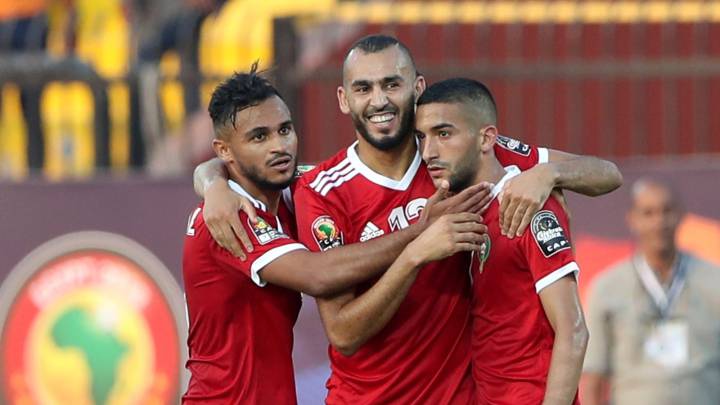 Morocco confirm their place in the knockout stage and Ivory Coast will still feel confident about joining them with another win in the group.
Renard will be delighted with that performance from the Atlas Lions. They were the better side for most of the game and worthy of the three points.
Full-time | Morocco 1-0 Ivory Coast
Ivory Coast throw the ball into the area but it's headed away and the whistle blows.
What a lovely move from Morocco!! Boussoufa and Achraf burst away down the left, one-two to open space and deliver an inch-perfect ball to the back post. Mazraoui just has to control the volley but hits the bar!
The board goes up and there are only 4 added minutes. Really?!
Traore with a self-made overhead kick that is saved by Bono on the line. That would have been some finish!
With just five minutes remaining (plus, I'd guess another five or six of added time), what can the Elephants do? It's been rather limited
It looks like Belhanda took note! He cuts in from the right side of the opposition area and stings the fingers of Gbohouo, who deflects it over
Die puts in a cracking cross which is just dealt with and that is quickly followed by a ball in from the rather disappointing Pepe. Morocco have to be mindful that this game is still far from won
Amrabat has gone done and is holding his head after what looked like little, or no, contact. His gamesmanship experience could have come from one of the many leagues he's played in.
Cornet fires one across goal but it's the red shirts that rise first and clear on the second attempt.
Despite Morocco's dominance, it's still only a goal in it...and the Ivory Coast have a chance here to cause problems from a free-kick on the right of the area.
Boufal on for Ziyech as Renard looks to shore up control of this game.
And it's that man that delivers a lovely curler from the right and En-Nesyr, who always appears to be in the right position, glances a header just wide.
Morocco are showing their class here and look much the more dangerous. Amrabat looks like he's enjoying taking control of this game whenever he's near the ball
That forced change comes. Aurier off, Bagayoko on
El Ahmadi next to go into the book for a dodgy tackle
Great effort, great save!! En Nesyri backheels the cross from Dirar and the fans are sure it's going in...Sylvain Gbohouo, though, has other ideas and is down fast to push it away. Claps all round
Game back on with only nine white shirts on the field
There's a stop in play here as Aurier lies on the ground and gets treatment. This would be an unfortunate forced change but Bagayoko is being readied
Wilfred Bony comes on for Seri as a change in the flow of this game is much needed.
Good build up again from Morocco and the always-willing support act of Achraf has a chance to play in a teammate but scuffs the cross.
Chance! Great delivery again from Ziyech and En-Nesyri gets on the end of it in front of goal. Not good connection, should have done better.
First booking of the game goes to Coulibaly. He actually wins the ball off Boussoufa but his sliding boot was a little high
The Elephants look to step up the pace and get the ball out wide to their dangerman, Pepe. The youngster has eyes on the closing defender but as he starts to run at him forgets to take the ball. Next time, son.
Free kick delivered from deep into the Morocco area but as the players rise to meet it the ref blows for some contact he disapproved off
Change for Ivory Coast | Gradel off for Cornet
Ziyech needed a little treatment on the side of the pitch but is back on and appears to be fine to continue.
Amrabat played away into space and looks as though he can create something until a sliding challenge signals him to fall over. Poor
It's Achraf again deep in the opposition corner. Aurier tries to hold him up but the Dortmund loanee skips inside him with ease and drives a shot goalwards. It's blocked well and cleared. Confident beginning from the Lions.
After being forced backwards into their own half, a quick switch of play to Real Madrid's Achraf has him tanking down the wing. He fancies his chances against Aurier and, on a second attempt, rolls a tempting ball into the area. It's cleared
Morocco immediately onto the ball again and work the play down the right.
OK. The teams are out and we're almost ready to go again
Fans of the Premier League will remember that there is a certain attacking player that Ibrahim Kamara could turn to if things don't go their way in the coming 15 mins or so. Wilfred Zaha can make differences
Let's have a look at some of the stats from that first half
Renard was getting suitably excitable on the sidelines and will be hoping he can get his players to hold onto the ball for longer periods into the second half.
Well that was an enjoyable enough first half and fans of the Lions will be delighted to go into the break with an advantage. Over the passage of play it could be argued that they deserve that although their opponents have had chances and this game is far from over.
Half-time | Morocco 1-0 Ivory Coast
Kodjia not booked but a good blow of the whistle from referee Alioum shows his displeasure with the challenge. The last 10 minutes have seen a number of niggles coming out from both sides.
There's something we've not seen often tonight, a poor cross. The Ajax winger who has impressed so far with a well-overhit corner.
ANOTHER SAVE! Straight down the other end and Bono is called into action, tipping over Serey Die's fizzing shot from distance.
SAVE! The challenge that the Ivory Coast has as they push on is that Morocco are dangerous on the counter and have just shown that clearly. En Nesyri with the strike after a great dummy for him, but Gbohouo is down sharply to save.
It's put into the area but cleared away.
The white shirts now plough forward hoping to create something before the end of the half. Benatia is forced to concede the corner and Seri can get his foot on it.
Ziyech swings the corner in and the whistle goes for a push in the crowd.
Chance! Amrabat is handed the ball from nothing as Belhanda's cross is poorly headed away by Aurier. His ball tries to find En-Nesyri but is blocked by a stretched leg and away for a corner.
Some very neat play out on the right by red and greens. There have been plenty of great balls played into the danger zones and another one, this time from Achraf Hakimi, just evades the supporting runs.
A foul by Kanon has given a chance for Ziyech again from the dead ball. Free kick delivered low into the area and well blocked by Coulibaly.
This game is hotting up nicely with the play being stretched to either end and Ivory Coast showing an increased urgency to get back into this.
Almost an immediate response from Ivory Coast. Bono does well to stop the initial break and then the follow-up effort from outside the area by Sari is cleared off the line.
Gooooaaaaallll!!! That man En-Nesyri gets in again and this time slots it home. What a ball into him by Amrabat.
Close! Morocco almost take the lead. Cross from the right is fired in by Dirar and En-Nesyri is first to it. His sharp effort looked like it was in at the near post but it was just the other side.
Seri with the corner. Good delivery but En-Nesyri first to it to clear
Corner won by Kodjia after almost creating a much better chance for himself. Saiss protecting his left-hand side well enough.
Chance! Pepe delivers a great ball into the danger area from the left but no one is able to get on the end of it. It runs away to safety.
It's the inswinger that looks most probable but Ziyech ignores the crowd in the box and tries to catch Gbohouo at the near post. Too high but worth an effort at this stage of the game.
Clumsy tackle there by Aurier. The Spurs man didn't need to go in, but chooses to anyway. A chance now for Ivory Coast on the left angle of the area...
After a couple of minutes of both teams struggling to build anything concrete, Gbohouo has to be quick out of his goal to slide clear a threw ball ahead of En Nesyri
More good play from Morocco here down the left. Ziyech twisting and turning (that won't be the first time he does that tonight) but Traore follows him and clears.
The second corner is dealt with by the Elephants but it's Morocco that have quickly got themselves into their stride after that very early scare.
Morocco now get forward and win a corner. It's played in high over Gbohouo but the keeper does well to reach it and push the ball away for another corner.
The header clearance wins a corner but nothing comes from it and it's cleared away.
Off the line!!! What a start from Ivory Coast. Romain Saiss was the last man who saved his side as Jonathan Kodjia gets a clean header away.
Who is going to be the star of the show? We're just seconds away from what could be a rather exciting encounter...
And now the orange-clad fans of the Ivory Coast follow with a wonderful rendition of L'Abidjanaise (The Song of Abidjan)
Right, the fans are all ready, and we are too. Morocco belt out their anthem first
This match sees suave Frenchman (aren't they all!?) Herve Renard go up against his old team for the first time since 2017. He has incredibly already won this title with two countries and is targeting a third for his own Wikipedia page.
As I mentioned earlier, both these sides got their campaign off to a great start with Namibia falling 1-0 to Morocco and the Ivory Coast overcoming South Africa by the same scoreline. With those three points in the bag, a win tonight will be enough to confirm their progression from Group D.
There'll be plenty attention on the Ajax and Lille wingers, and here's a handy head-to-head for those that like that sort of thing
For the Elephants, another young talent attracting a lot of attention around Europe, Nicolas Pepe, will be aiming to create for his attacking teammates, with Aston Villa striker Jonathan Kodjia hoping to benefit.
So, as expected, the Atlas Lions will line up with En-Nesyru as the focal point of the attack, and the Leganés man will be supported by Amrabat, Belhanda and one of the recent Ajax stars, Hakim Ziyech.
Hello and welcome to our live minute-by-minute coverage of the Group D match between Morocco and Ivory Coast. Following opening day wins, both sides know that another three points will ensure their place in the knockout phase, so fingers crossed they go for it and give us all a bag-full of entertainment.
.