Real Madrid: Jovic to cut holidays short as he bids to impress Zidane
Despite being entitled to longer off after playing for Serbia at the Under-21 Euros, Luka Jovic is to report for Real Madrid pre-season on 8 July.
New Real Madrid signing Luka Jovic is to significantly cut short his summer holidays in an attempt to boost his bid to win over coach Zinedine Zidane and earn a place in the Frenchman's team at the Santiago Bernabéu, AS understands.
Jovic could have had longer off after Euros involvement
The 21-year-old striker, who joined Madrid for 60m euros from Eintracht Frankfurt in June, is to report for pre-season on 8 July, together with the bulk of the squad, despite being allowed extra time off as a result of his involvement in Serbia's European Under-21 Championship campaign this summer.
With Serbia's participation in the competition coming to an end on 23 June, Jovic did not begin his summer break until the day after that, and therefore could in theory have remained off until as late as 24 July.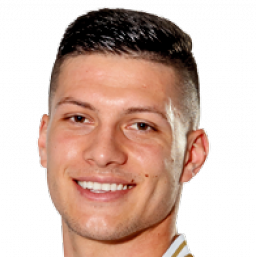 LaLiga season kicks off at Celta on 17/18 August
Between 21 and 27 July, Madrid are to play three International Champions Cup matches in the United States against Bayern Munich, Arsenal and Atlético Madrid, before taking on Tottenham Hotspur in the Audi Cup in Munich on 30 July.
Los Blancos then begin their 2019/20 LaLiga season away at Celta Vigo on 17/18 August.