REAL MADRID
Isco and Marcelo back with a bang
After a poor season for both, they have shown during the preseason that when they are fit and in form, there are few players that can affect a game like they can.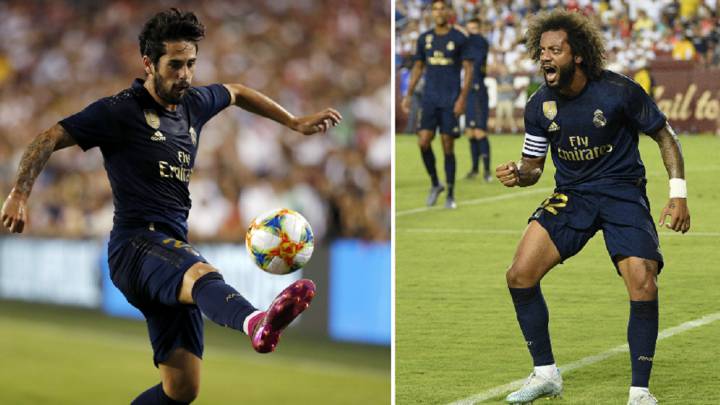 Isco and Marcelo's played important roles in winning Real Madrid's tenth Champions League title. They both came on in the 59th minutes and completely changed the game. While Ramos and Bale stole the headlines, the Brazilian and the Malagueño brought had an important impact on the game. Since then, they have both had their fair share of plaudits and criticism with both coming in equal measure.
After two lost seasons last year with Marcelo dropped for a time for Sergio Reguilon and Isco forgotten about under Solari, they are back in the first team and have shaken off the cobwebs. The game against Arsenal was testament to that and while it has nothing to do with the Champions League victory, it's a step in the right direction.
They are looking good (Marcelo has dropped 6 kilos over the summer) and playing well with some nice moments against Bayern Munich in the first preseason game and they doubled down on that with some even better moments against Arsenal. While Real Madrid are focused now, mostly, on departures, Isco and Marcelo are, as the only cliche goes, like two new signings.
Marcelo and Isco on form against Arsenal
Marcelo, looking more trim than ever on the 'anti-Mendy diet', started the play that saw Bale score and assisted the goal to make it 2-2. And while he looked good going forward, he was defensively solid too. In transition, he was able to get back, which was something his engine didn't allow him to do last season and for that he won the MVP on the night. The Brazilian has returned just in time to fend of a fight for the left-back spot against the lively Mendy.
Isco shone two and looked good on the ball and off it with some sharp movement. Against Arsenal, he proved that when he is in good fettle, the team tends to feel the same. He was in the mixer for the first goal with a lovely piece of skill to control Marcelo's pass and flick it onto Asensio. If there continues to be speculation surrounding his future, appearances like the one at FedEx Field should put paid to it if he continues on the same path.