Vallejo to pen new Madrid deal before loan move to Wolves
Jesús Vallejo is set to sign a new long-term deal with Real Madrid before he heads for the Premier League on a one-year loan assignment with Wolves.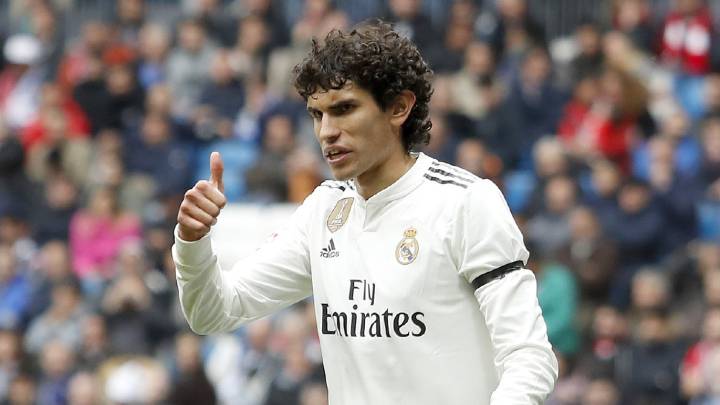 As Arsenal confirm the signing of Dani Ceballos, another Spain Under-21 European champion is set to vacate the Bernabéu on loan imminently.
Like Ceballos, Jesús Vallejo is heading for the Premier League, where he will join Wolverhampton Wanderers. But before he departs, the 22-year-old defender is set to so sign an extension to his current deal at Real Madrid, which expires in 2021.
AS has learned that the operation is in the advanced stages, with the final details being ironed out on both his new contract with Madrid and loan agreement with Wolves. And given there are no complications, it is expected that the player's loan move will be confirmed in the next few days, as well as his penning of a new deal at the Bernabéu.
Vallejo remains part of Real Madrid's long-term plans
Vallejo signed a six-year contract with Real Madrid in 2015 following a great showing at the U-19 Euros as captain of tournament winners Spain. He spent the first two seasons on loan at Zaragoza and Eintracht Frankfurt, before returning to take his place on Los Blancos' first-team squad over the past two seasons.
Four years on since the U-19 Euro 2015 win and subsequent move to Madrid, he captained La Rojita to glory again at the U-21 Euro Championships in June. But the arrival of Eder Militao has left him without a place in Zinedine Zidane's squad.
With the offer of a new contract, Madrid have demonstrated to the player that they see him as part of the club's long-term plans. But a short-term loan deal will allow him to gain valuable experience and game time in England, where he will hope to shine as he had previously done in the Bundesliga with Eintracht Frankfurt.