USA the biggest mover of FIFA ranking top 30, rising eight spots
The United States men's national team reaches 22nd place of the FIFA world ranking despite losing the Gold Cup final to Mexico, who climbed six spots.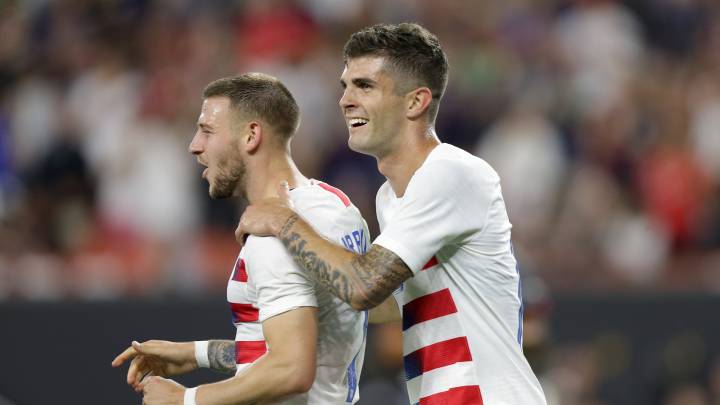 FIFA announced the new ranking for the men's national teams, with Belgium leading the table above Copa América winners Brazil and World Cup champions France, who sit second and third respectively.
The US men's national team rise eight places in the world rankings to sit in 22nd position, proving their run to the Gold Cup final was enough to enter the top 30 teams in the world.
Gregg Berhalter's squad had a perfect path in the CONCACAF tournament beating Guyana, Trinidad & Tobago, Panama, Curaçao and Jamaica to reach the final match against Mexico.
The USMNT lost to Mexico 1-0 with a Jona dos Santos goal giving the Mexican side its eighth Gold Cup trophy, to rise six spots in the FIFA rankings to reach 12th place.
USA and Mexico will face each other again on September 6th for a CONCACAF rematch in a friendly match at the MetLife Stadium.
FIFA Ranking top 30
| | | | |
| --- | --- | --- | --- |
| Place | Team | Total Points | Previous Points |
| 1 | Belgium | 1746 | 1746 |
| 2 | Brazil | 1726 | 1681 |
| 3 | France | 1718 | 1718 |
| 4 | England | 1652 | 1652 |
| 5 | Uruguay | 1637 | 1615 |
| 6 | Portugal | 1631 | 1631 |
| 7 | Croatia | 1625 | 1625 |
| 8 | Colombia | 1622 | 1580 |
| 9 | Spain | 1617 | 1617 |
| 10 | Argentina | 1610 | 1582 |
| 11 | Switzerland | 1605 | 1605 |
| 12 | Mexico | 1604 | 1557 |
| 13 | Denmark | 1589 | 1589 |
| 14 | Chile | 1583 | 1561 |
| 15 | Germany | 1582 | 1582 |
| 16 | Italy | 1569 | 1569 |
| 16 | Netherlands | 1569 | 1569 |
| 18 | Sweden | 1558 | 1558 |
| 19 | Peru | 1552 | 1516 |
| 20 | Poland | 1550 | 1550 |
| 20 | Senegal | 1550 | 1515 |
| 22 | USA | 1548 | 1495 |
| 23 | IR Iran | 1518 | 1518 |
| 24 | Wales | 1514 | 1514 |
| 25 | Ukraine | 1513 | 1513 |
| 26 | Venezuela | 1505 | 1485 |
| 27 | Austria | 1498 | 1498 |
| 28 | Romania | 1497 | 1497 |
| 29 | Tunisia | 1496 | 1501 |
| 29 | Northern Ireland | 1496 | 1496 |