ATLÉTICO MADRID
Joao Félix: "My first ever Madrid derby was a dream"
The Portuguese sits down with AS for his first full interview since joining Atlético Madrid for a club record €126 million and after his dream start against Real Madrid.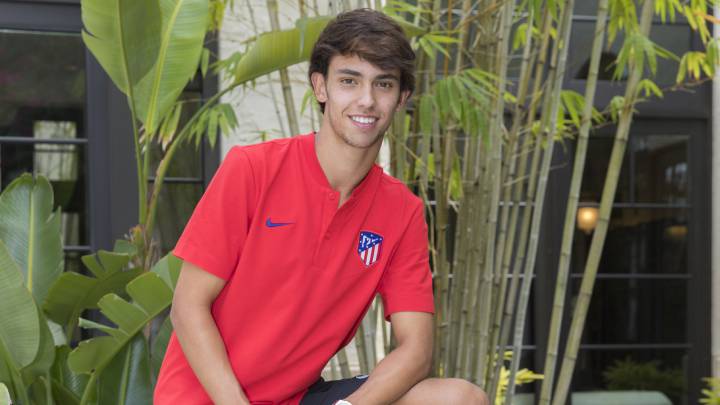 In Joao Félix' first interview since joining Atlético Madrid as a €126 million wonderkid, AS sits down with the phenom and speak about pressure, playing at the Wanda, his favourite position and adapting to the philosophy of Cholismo.
You've had a few weeks getting to know your new teammates. How have you found it so far?
I'm good, very happy, my teammates have received me well and helped a lot with my integration into the team. Honestly, everything is going well, really well.
Atlético fans have placed a lot of hope in you, in your style of play...
I will do my work to the best of my ability, play as well as I can to help the team and the club. The thing that stands out at Atlético is the passion, it's like a family, they are like brothers and I have seen that since the start.
You had important offers from different clubs but you picked Atlético, something the fans thank you for. Why Atlético?
Because it's a big club, because they work really well to develop players. It's what I have seen so far and because of Cholo Simeone, who works well with strikers and that helped me with the decision.
Did you speak to Cholo before you signed?
Just once. And that was enough.
What did he say?
He told me that I can learn a lot, I can grow and other things that will stay between us.
You showed off your ability on Friday against Real Madrid. It was your first derby, even though it was a friendly, but everything went wonderful...
It was a dream debut, really good, and I was really happy. It was my first derby and to do what I did isn't easy. I am happy with that and it ended better than I hoped. I never imagined it like that but I'm happy that we won. But it was a preseason game and it serves as work for the team.
The fans think you will be one of the players of LaLiga.
I hope that is the case, but now I can't think about that. I want to do my work, offer my style of play to help the team. I have already said that it would be nice if everything they talk about can happen but it has to be done in a natural way. Only if the team is going well will I be in the top three or four players in LaLiga. Any other way, it would be impossible. My only hope and objective now is to help the team. This is what I can do right now at this moment.
At 19, you will have to deal with a lot of pressure not usually given to a 19 year old.
Yes, I'm 19, but it's my profession and I am used to it. That's the way it is and I know it.
You say you're used to it.
It's true. My first year at Benfica was not easy, especially at the start. But after, with the help of my teammates, everything worked out well. I hope that it is the same at Atlético.
Another fear for the fans of Atlético is that the Spanish league will be very physical for you...
Nothing can stop me playing my football. I might not have a lot physically, but I have other things that the rest don't have. And that will help me a lot.
In the derby and against Numancia in the first preseason game, you played on the wing but from there you moved inside. Where do you like to play?
It's true that I played on the wing, but in defense. In attack, I played inside. I asked the manager to do that. I like to play there, from that position I have freedom to move and I can send balls into the striker.
Being an attacking midfielder, you still score goals. Have you set a figure for goals?
I haven't set a number for goals and I don't want to speak much about it. I will go little by little, game by game, goal by goal and at the end, let's talk.
Atlético have the Champions League as a goal, a trophy that resists them. This past year, they had hopes of winning it, playing the final in their stadium, but it couldn't be. How do you see the fight for this trophy?
The Champions League has been my dream since I was a kid and we will try to fight for it. It would be incredible to win it with Atlético.
Many consider LaLiga important to win. To go shoulder to shoulder with Real Madrid and Barcelona...
That too. Obviously, LaLiga is important and we will fight to achieve that but the Champions League is another thing.
Lemar, Koke, Saúl, Oblak...a lot of really good players. Have any of them surprised you?
They are all really good and to play at Atlético, you have to be the best of the best. I can't just pick out one of them, they're all really good.
You had Diego Costa by your side on Friday. What do you think of your teammate?
He is a really good striker, he has a lot of quality like the rest of the team.
Speak a little bit about your personality, how you are. To start, the first surname is your mother's, which is something a little curious.
It's easier to put my mother's maiden name (Félix) than my father's (Sequeira). My father's name is much bigger. It's curious but there's nothing behind it. There's no particular reason for it.
Who are you living with in Madrid?
With my Mother and a friend.
Despite being a young lad, you have a very calm personality...you don't seem to go out a lot.
I live in La Finca and I like to be with my family, relaxing. Sometimes I like to go out, to go to places but without a lot of attention, honestly.
You've gotten plenty of signs of affection but does the fame annoy you?
No, I didn't say that. It's nice to receive love from the fans. I like it, but at at the same time, there is a time for everything.
You will see it when you play at the Wanda Metropolitano...
I haven't seen it as much because we still haven't played in our stadium, and I won't until LaLiga starts. But the game against Numancia I saw how our fans are. I noticed what we will have for the whole year.
How do you imagine that first game at the Wanda Metropolitano with your people, your new stadium?
It's a new stadium, and it's really nice, I know that the fans support the team a lot and the atmosphere that you live through there must be incredible. It will be special to play that first game there.
You have spoken about game by game and the method of Cholismo...
Yes, but I want to win as much as we can. All of my teammates and I. But you have to go little by little with your feet on the ground. And doing what we are doing, working to the maximum to achieve out objectives.
That's all. Could you do it all and be a success at Atlético?
Sometimes, it's not easy to lead with pressure and you have to pull yourself away from what is being said. But it's obvious that I'm ambitious. I want to win everything. Who doesn't like to win?