REAL MADRID
James back at Real Madrid training...787 days later
The Colombian rejoined his teammates at Valdebebas with Fede Valverde, Casemiro and Militao but Bale, Varane and Jovic could not train with the group.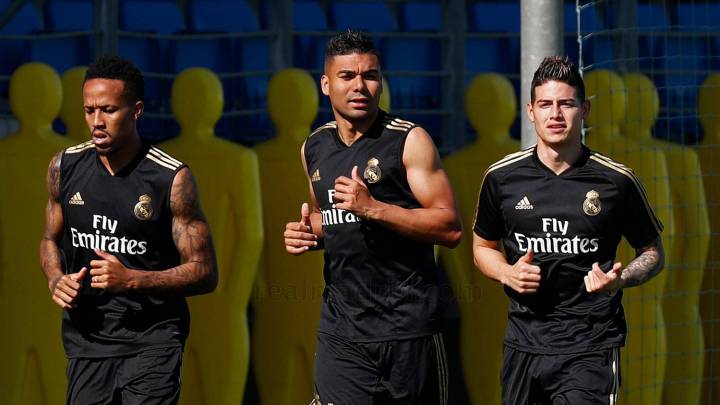 On June 3, 2019, Real Madrid amade history and won the Champions League. The day after, James Rodríguez trained for the last time under Zinedine Zidane. Much has happened since then, but the Colombian, who never actually left the club, has returned to Valdebebas to train with Real Madrid.
A total of 787 days after, James Rodríguez stepped onto the turf at Real Madrid's training ground. That day over two years ago, James was left with a very important and clear message: Zidane isn't including you in his plans next season.
He left for Bayern Munich on loan for two years with the German club holding an option to buy. However, the Colombian asked the club not to exercise that option as he didn't want to continue in Germany. Now, James is back in Madrid and his next club remains a mystery. There are two clubs linked in Napoli and Atlético although El Chiringuito said that he will stay at Real Madrid next season.
Demanding session ahead of trip to Munich
Real Madrid will play Tottenham on Tuesday in the Audi Cup. Before the trip to Munich, the squad trained at Veldebebas with a 'demanding' session according to the club's website. They trained with Fede Valverde in the group and with Casemiro, James and Militao training on their own.
The three most recent additions to the scenery at Valdebebas warmed up with their teammates but did a more long and steady run and specific ball work as they feel their way back into action. Kubo and Seoane also joined the squad along with De la Fuente, Javi Hernandez and Miguel Gutierrez. They joined in to support the group due to absences of Varane, who trained alone, along with Bale and Jovic, who trained indoors.