REAL MADRID
Real Madrid tell James he's staying
The 7-3 defeat to Atlético Madrid and Marco Asensio's injury have prompted Real Madrid president Florentino Peréz to decide against selling James Rodríguez.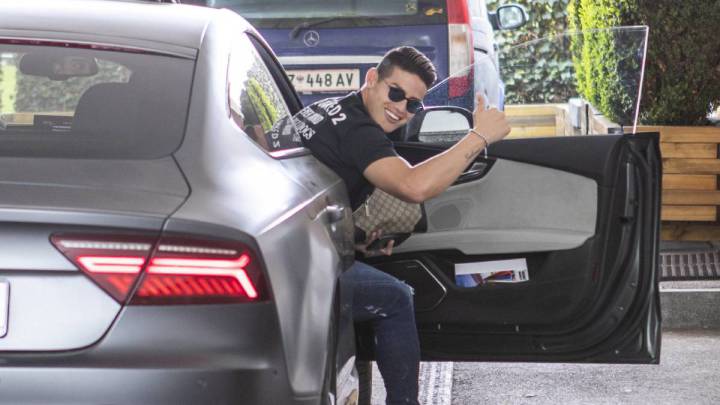 Real Madrid have informed James Rodríguez that he will not be transferred and will remain at the club for next season.
AS has learned that the humiliating 7-3 defeat to Atlético Madrid and the serious injury to Marco Asensio, who is set to miss the majority of next season, have prompted Florentino Peréz to decide against selling the Colombian midfielder, despite the feelings of coach Zinedine Zidane.
On Monday, the 28-year-old returned to training at Los Blancos' Valdebebas training centre after his vacation following the Copa América, reuniting with his Madrid team mates two years on since he left the club for a two-season loan spell at Bayern Munich, who decided not to execute their option to purchase him in June.
Napoli was favoured move for James
Just a week ago, the Colombia international looked set to leave Real Madrid, but the events of the last few days have changed everything. Both Napoli and Atlético Madrid publically stated their desire to sign him, with the player understood to having favoured a move to the Serie A club to reunite with Carlo Ancelotti, who has called him personally on several occasions to tell him he wants him in Southern Italy next season.
However, Napoli's president, Aurelio De Laurentiis, slowed down the operation as he wanted to negotiate a loan deal for the player instead of paying the 40-million-euro transfer fee Madrid had demanded.
Atlético CEO acknowledged James interest
Amid negotiations between Real and Napoli, Atlético appeared on the scene. And just before the derby in the United States, Atléti CEO, Miguel Ángel Gil Marín, acknowledged the club's interest.
"I know that James doesn't want to continue at Real Madrid. I know that Real Madrid doesn't want him to continue, but there have to be many circumstances to make it possible. It would be very nice, but it depends a lot on the president of Madrid," said the Rojiblancos director.
Hours later, Madrid were humiliated by Atlético in New Jersey – circumstances which, along with Asensio's injury setback, have prompted Peréz to put a halt to James' exit – despite the fact that the club needs to bring in cash before it tries to make a move for Paul Pogba.