LaLiga: Real Madrid rivals Barça, Atlético to enjoy physical edge
Real Madrid's hectic pre-season schedule means they will have played more games and will have had less time to rest when they face Celta Vigo.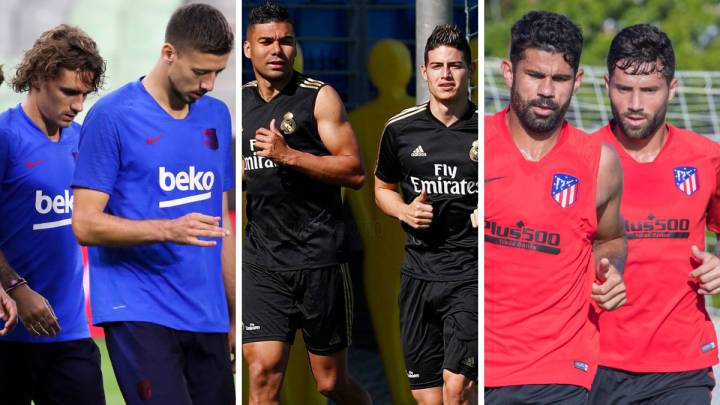 Real Madrid have confirmed that they are to play their final friendly of the pre-season period against Roma on 11 August, leaving the squad with six days to recharge their batteries before kicking off their LaLiga campaign away to Celta Vigo on the 17th.
Barcelona have longer to rest and less hectic schedule
Although this is on paper plenty of time for Madrid to recuperate before their opening league fixture, it is also true that they will be at a physical disadvantage to arch rivals Barcelona. The Blaugrana take on Napoli in their final warm-up on 10 August, giving them an extra 24 hours' rest ahead of their maiden LaLiga outing, which is at Athletic Bilbao on the same day as Madrid's Vigo trip.
What's more, LaLiga champions Barça will begin the defence of their Spanish title on the back of a far less hectic pre-season programme, in which they will have played just the five matches (against Chelsea, Vissel Kobe, Arsenal and Napoli twice).
Zinedine Zidane's men, on the other hand, will have had to come through no fewer than eight pre-season fixtures (Bayern Munich, Arsenal, Atlético Madrid, Tottenham, Bayern/Fenerbahçe, Red Bull Salzburg and Roma).
And as question marks begin to surround the methods of Madrid's new fitness coach, Grégory Dupont, there are suspicions that Los Blancos' significantly higher workload this pre-season is partly to blame for their already crowded sickbay, which is currently occupied by as many as five players.
Atlético will also be fresher on LaLiga opening weekend
Meanwhile, city rivals Atlético Madrid are also likely to have accumulated less fatigue going into the start of the season, as they are due to appear in only six friendlies in total - against Numancia, Chivas, Madrid, MLS All Stars, Atlético San Luis and Juventus - and when they take to the field for their first league game of 2019/20, they will have had two more days' rest than Los Merengues.
Atlético's pre-season fixtures come to an end on 10 August, with their week-one LaLiga clash away to Getafe scheduled to take place eight days later.