Bale future: Welshman leaves ball in Real Madrid's court
In the wake of the collapse of his move to China, Gareth Bale is ready to stay at Real Madrid, despite not being wanted by Zinedine Zidane.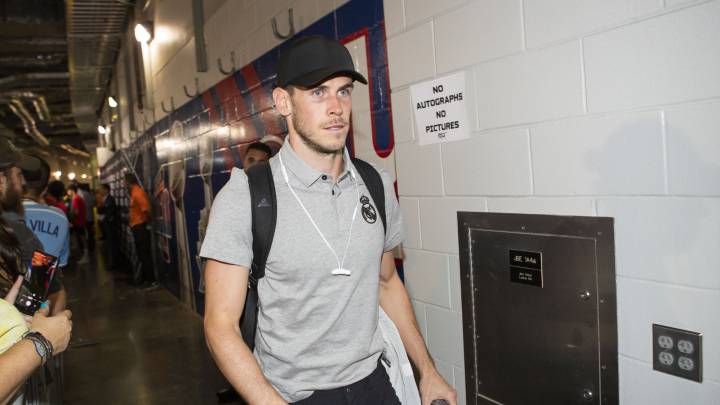 The close of the Chinese transfer window on Wednesday saw Real Madrid's hopes of offloading Gareth Bale this summer dwindle almost to the point of disappearing altogether.
Bale won't make moves to sort out new club before end of August
Despite not being in Zinedine Zidane's plans, Bale is now prepared to dig in his heels and remain at the Bernabéu, at least until the January window.
Indeed, AS understands that following the collapse of his proposed transfer to Jiangsu Suning, he will take no further proactive steps to sort out a departure before the end of August - meaning that the ball is very much in Madrid's court.
If Madrid are to force through the 30-year-old's exit this summer, the LaLiga giants look to have two chief courses of action open to them. One is to agree a deal with the player whereby he leaves on a free transfer and can seek out a new club; the other is to terminate his contract unilaterally.
However, they are unlikely to countenance the latter option, as it would require them to pay up the remaining three years on the Welshman's deal.
There could yet be a third way - if, that is, a European club can be found that wants to buy Bale and pay his after-tax annual salary of 17 million euros. This would evidently be Madrid's preferred outcome, but as things stand no such potential buyer has registered an interest.
11


Bale aware he's in a strong bargaining position
Against this backdrop, Bale is adamant that he intends to stay at Madrid, not least because Los Blancos' poor pre-season form has fuelled his hopes that Zidane could be fired mid-season, and that the arrival of a new coach might change his situation.
Given that Madrid are in part dependent on Bale's departure to fund the signing of Paul Pogba from Manchester United, it is not lost on the former Tottenham Hotspur man that he finds himself in a bargaining position of considerable strength in this stand-off over his future. Over to you, Real Madrid...