Real Madrid: Van de Beek eager to join LaLiga giants
"If I were him, I'd go to Madrid on a bicycle," Donny van de Beek has been told by compatriot and ex-Real star Rafael van der Vaart.
Lasse Schöne, a veteran of seven years at Ajax, is finalising a move to Genoa, Daley Blind is threatening to listen to any juicy offers that come in and, if Real Madrid target Donny van de Beek goes to Spain, another of the major stars of last term's run to the Champions League semi-finals will have been lured away.
Van de Beek set on Real Madrid - if they finally go for him
AS understands that, within the Ajax dressing room, it has been made plain that Van de Beek is eager to join Madrid if Los Blancos finally opt to sign the 22-year-old over their more high-profile summer midfield target, Manchester United's Paul Pogba.
From outside the club, there are voices urging the Dutch international to jump at the chance to go the Bernabéu. "If I were Van de Beek, I'd go to Madrid on a bicycle," was the unequivocal advice given to him by ex-Madrid and Ajax man Rafael van de Vaart.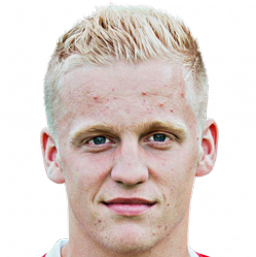 But while Van de Beek talked openly about Real Madrid post-match, he also did not hold back in admitting how hard he would find leaving the club that has put him on the footballing map. A product of Ajax's fabled academy, his emotional ties to the club run deep. Asked what he would prefer to do - stay in Amsterdam or go to the Spanish capital - he admitted: "Both options sound good."
Ajax supporters plead with Van de Beek to stay
Ajax's fans are watching on with concern as the situation unfolds. Within a single summer, they have had to deal with the blow of losing Frenkie de Jong to Barcelona and Matthijs de Ligt to Juventus, and had hoped that Van de Beek would become the new centrepiece of the Dutch champions' team.
With that in mind, the 500 or so supporters who were at Vitesse's GelreDome stadium for this weekend's 2-2 draw spent the game exhorting him to stay on for one more season - chants that he acknowledged he had heard.
However, his mind appears to be made up.