Playing in the MLS, Antoine Griezmann's American dream
The Frenchman aspires to play in the United States has never hidden his admiration for David Beckham, Inter Miami owner. "My favorite footballer," he said in his biography.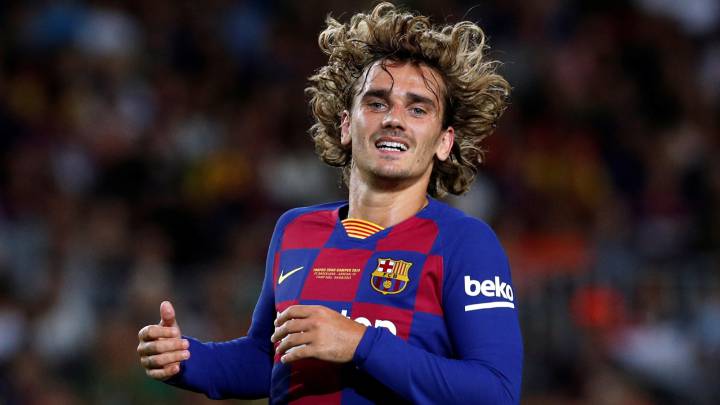 Recently signed by Barcelona after a year of bickering and hesitation, it goes without saying that Antoine Griezmann is an ambitions footballer, capable of visualizing stages and moving on without much sentimentality and attending exclusively to his priorities. The landing of Barça in Miami makes us talk about one of the last objectives The Little Prince has set for his career. Play in the United States, the country of Derrick Rose, his great idol, been seen watching games in Madison's front row; or fiddling on the Miami Heat training grounds. In his autobiographical book, the Frenchman reveals that curiosity: "I feel good in the United States. Each house has its national flag, which is a way to show and claim its patriotic pride. I like the way Americans see things, and also that mix with the Blacks, Chinese, Latinos ... I could perfectly play one day in the United States, if possible, in a club that has an international franchise, that would be ideal. Time, it is not a matter of rushing. But I would like to live the experience, to live the American way, to impregnate myself with that culture. I imagine it at the end of my career, as Thierry Henry (...)."
Griezmann perfect storm would be to end up at Inter Miami, a team David Beckham has been manufacturing for several years and is already ready to enter the MLS to the point of having two players signed: Matías Pellegrini from Estudiantes La Plata and Julián Carranza, who will arrive from Banfield. Inter Miami will play its first year in Fort Lauderdale, but it's already building a stadium in Freedom Park. Griezmann has never hidden his favorite footballer, and his lifestyle model is the Spice Boy: "He is definitely my favorite player. He is the only one I would have liked to play with, even though today, watching the German Mesut Özil it's a gift".
Griezmann was already this summer at Hard Rock in Miami. Not to play as he will this Wednesday, but to visit with Koke. The two friends put on the Dolphins shirt. At that time, the new 17 still couldn't wear Barça colors. The US tour could make Griezmann a last gift, as Barcelona will fly from Miami to Michigan to play at Ann Arbor, very close to Detroit, and Derrick Rose just signed with the Pistons this summer, who at the age 30 stretches a career marked by injuries in another historic and dominant franchise in the late 1980s. Beckham, Rose, Miami's Latin charm and the University like of Michigan, the US tour looks dashing for Griezmann.