Marcelo takes full advantage of Mendy injury setback
With Marcelo regaining his best form in Ferland Mendy's absence, the latter will now have his work cut out to dislodge the veteran defender as starting left back.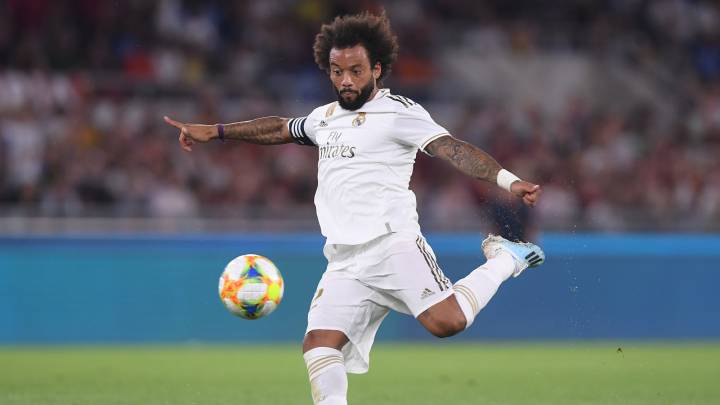 Marcelo Vieira's performance has been one of the few positive notes from Real Madrid's disappointing pre-season, with the Brazilian defender putting in more minutes than any other member of Zinedine Zidane's squad.
The 31-year-old started six of the seven matches, playing a total of 473 minutes, during which he managed to score a goal against Roma and provide two assists.
If Marcelo's performance last season was somewhat duller than usual, this summer Madrid's deputy captain seems to have regained his brightest form, particularly on the offensive. The Brazilian left-back had the second highest level of goal participation in the Madrid squad in the preseason with three, only behind the five of Karim Benzema.
Marcelo: "In my head, I never had the idea to wear the jersey of Juventus. I have always felt connected to Real Madrid. The Italian clubs often approached me, but it was nothing concrete. The truth is that I love Real Madrid, it's my home and the best club in the world." pic.twitter.com/QHVdKpeIbS

— RMadridHome (@RMadridHome_) August 9, 2019
Marcelo takes advantage of Mendy injury
The injury setback of new signing Ferland Mendy has presented an opportunity for the veteran defender from Rio de Janeiro and he has taken full advantage.
On the request of Zidane, Madrid paid Lyon 50 million euros for Mendy, who suffered an injury in the second pre-season game against Arsenal and is not expected to return until Madrid's second LaLiga fixture against Valladolid – by which time he may have his work cut out in dislodging Marcelo as the starting left back.
Marcelo has regained his form thanks to the continuity he did not enjoy last season under Santiago Solari. While for Solari he was a bench player, for Zidane he is almost untouchable. And the left back responded to the unwavering faith of the French coach by returning from holidays in better shape than ever.
Marcelo freed up under Zidane's new system
As such, the attacking-minded full back has found it less taxing when it's time track back and defend. Even so, Marcelo did suffer defensively in some of the pre-season friendlies, such as in the 7-3 thrashing by Atlético Madrid.
But Zidane's decision to adopt a new system in the last two fixtures, playing three central defenders, has perfectly suited the free-roaming Brazilian. With fewer defensive obligations, the 31-year has had more freedom to fulfil his natural vocation to attack.