Iker Casillas: Ronaldo closing on Champions League record-holder
The Porto keeper, currently sidelined after suffering a heart issue, won't play in Europe this season after his team's elimination and may not add to his 177 games.
Porto's elimination from the Champions League at the hands of Krasnodar may have brought about the end of an era in Europe's elite club competition with Iker Casillas set to play no part in the tournament for the first time in 20 years. The competition's record appearance-maker, who is currently out of action after suffering a heart attack in May, now has Cristiano Ronaldo bearing down on yet another European record.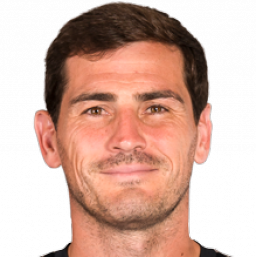 Casillas had made 177 appearances in the Champions League proper, not including qualifiers, more than any player in the history of the tournament in its current format and its predecessor the European Cup.
The former Real Madrid goalkeeper has featured in every season of the competition for the past 20 years after making his debut in 1999-00, winning the tournament three times with the Liga giants and reaching the knock-out stages on a record 19 occasions.
Ronaldo can reach 175 Champions League games this season
Now, with Porto knocked out in the third qualifying round, it is not beyond the realms of possibility that Casillas has played his last Champions League game. Porto have offered the keeper a reduced role after his heart scare, with Casillas combining backroom duties with his day job after the Portuguese side elected to register him for Primeira Liga action.
That leaves Casillas' record to vulnerable to the competition's all-time top scorer and collector of European marks, Ronaldo. The Juventus forward has made 162 Champions League appearances and along with Leo Messi (135) is the only player in the top10 still active in European football.
Should Juventus win the tournament this season and Ronaldo feature in every game, the Portuguese will move to 175 Champions League appearances with one year remaining on his current contract with the Serie A champions.