Real Madrid's injury woes go on: Hazard makes it six already
After being ruled out of Madrid's LaLiga opener, Eden Hazard has become Los Blancos' sixth injury victim since the start of pre-season.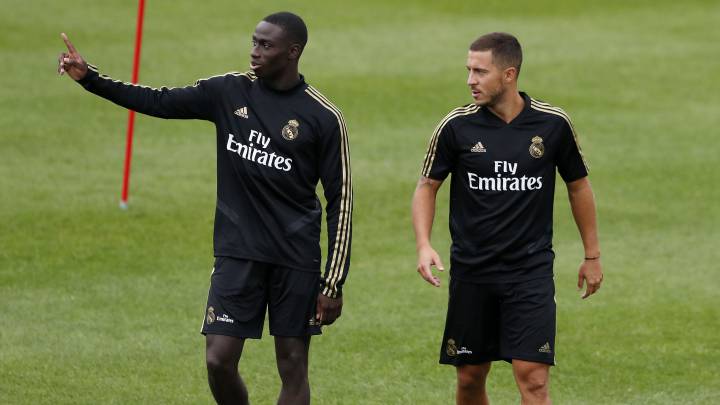 When the appointment of World Cup-winning fitness coach Grégory Dupont was announced at the beginning of July, few expected quite so many Real Madrid players to have been consigned to the sick bay just a month and a half later.
Having been diagnosed with a thigh strain on Friday, a day before Madrid's LaLiga opener against Celta Vigo, Eden Hazard has become the sixth member of the squad to have suffered injury since the start of the pre-season period, after Brahim Díaz, Marco Asensio, Ferland Mendy, Luka Jovic and Thibaut Courtois.
Injury prevention supposed to be Dupont's chief obsession...
In Dupont's defence, half of these absences have been down to bad luck more than anything else: Asensio ruptured his anterior cruciate ligament and meniscus against Arsenal, while Jovic and Courtois picked up chance ankle knocks in the defeat to Atlético Madrid and in training, respectively.
However, Brahim (hamstring), Mendy (thigh) and Hazard have all seen their preparations for the new campaign hit by muscle problems. Dupont arrived with a stellar reputation, with an obsession with injury prevention one of his chief calling cards. So far, though, things aren't quite going to plan for the Frenchman.
Heavy fixture schedule, thousands of air miles
There is, though, one particular factor that is outwith his control: the huge amount of air miles amassed by the squad during what has been a packed pre-season schedule. Dupont is said to set great store by a medical study that says footballers are six times more likely to suffer injury if they play every 96 hours.
Looking at Madrid's summer fixture list (Bayern, 21 July; Arsenal, 24 July; Atlético, 27 July, Tottenham, 30 July; Fenerbahçe, 31 July; RB Salzburg, 7 August; and Roma, 11 August), there is just one gap of more than four days between one game and the next - a state of affairs which, in turn, is evidently exacerbated by the non-stop travelling of a side that did not play a single match on home soil.

Clearly, Madrid are far from alone in covering vast distances in the course of their pre-season commitments, as part of global tours that are hugely beneficial to the LaLiga club's financial well-being. In sporting terms, however, they throw up many more questions than answers.
Although it is true that Real Madrid have in part been struck by plain old misfortune, there is little denying that, with Zinedine Zidane's side yet to even begin the 2019/20 season proper, injuries are already taking too heavy a toll.