Coutinho: a prime example of Barcelona's failure in planning
The Brazilian is off on loan to Bayern Munich, confirming that the huge expenditure on the player was a terrible investment.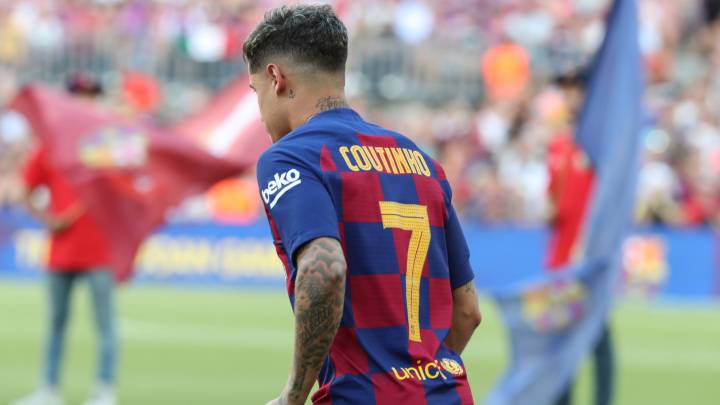 Coutinho is off on loan to Bayern Munich a year and a half after arriving at the Camp Nou as the most expensive signing in Barcelona's history. The terrible end result of what was an appalling investment - a prime example of the erratic sporting policy of a club which has sacked two sporting directors in two years, in a manner which culminated in the resignation of sporting vice-president Jordi Mestre a month and a half ago.
See also: Coutinho seals Bayern Munich loan move
Coutinho never lived up to expectations at Barcelona
Coutinho landed in Barcelona in January 2018. He arrived in the winter transfer window having already played for Liverpool in the group stages of the Champions League, meaning he was cup-tied in that competition for Barça, who ended up being knocked out in disastrous fashion in Rome.
Coutinho's first (half) season at Barcelona was his best spell, though he got worse as time went on, despite finishing the season with a fine performance in the Copa del Rey final, in which Barcelona stuffed Sevilla in the Metropolitano.
The Brazilian leaves having played 75 games for Barça, with 21 goals and 11 assists. With him, the club have won the above mentioned Copa del Rey, the Spanish Supercopa in Tangier against Sevilla and two leagues.
A haul that doesn't look so bad on paper, but when analysed through the lens of his performances and what was paid for him 120 million plus 40 in add-ons (of which 15 have been paid) in no way meets the expectations when he was signed.
Dembélé ahead of Coutinho

Coutinho could always rely on Valverde, who kept the opportunities coming his way. What's more, he had an advantage given that he was competing for his place with Dembélé, who managed to get injured as soon as he joined the club. When the French player recovered, no matter how inconsistent he was, he showed he was better than Coutinho, as recognised by Jon Aspiazu, Valverde's assistant who famously said: "he's slightly ahead of him".
In the end it wasn't Dembélé that moved slightly ahead of him, it was that Barcelona itself was too much for him. The Brazilian is now off to Bayern, leaving the number 7 free - the number the club had reserved for Griezmann and which the Frenchman is now free to make his own.