James Rodríguez: no Napoli lifeline as Chucky Lozano signs
The Mexico international is in Naples to put to pen to paper on a €42m move from PSV, breaking the club record set for Gonzalo Higuaín in 2013.
James Rodríguez's chances of a move to Napoli have evaporated with the Serie A side set to announce the signing of Hirving Lozano from PSV Eindhoven for a club record €42m.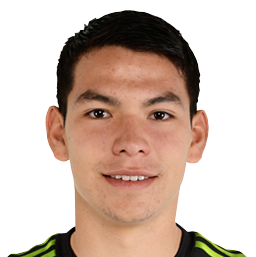 Napoli had been keen to sign James but were put off by Real Madrid's demands for a permanent transfer, instead preferring to offer a season-long loan deal with a purchase option. Zinedine Zidane has said he is happy with James and that he will be a part of his plans this season, but the Colombian did not make it off the bench in last Saturday's 3-1 win at Celta Vigo and faces an uphill struggle to work his way into a very packed midfield at the Bernabéu.
James stuck in Madrid after Napoli choose Lozano
To rub salt into the matter for James, €42m is the amount that Bayern Munich had the opportunity to pay to make his loan move in Bavaria permanent, with the Bundesliga champions eventually electing not to make the investment. Had Napoli offered Madrid the same amount, James would surely have been sold to the Serie A side to reunite with Carlo Ancelotti, one of the Colombian's staunchest admirers. However, Aurelio De Laurentiis decided on Lozano due to his relative youth: at 24 he retains a sell-on value that James, 28, does not possess.
Now, James faces the prospect of a season on the fringes at Madrid unless an 11th-hour solution can be found. Atlético Madrid were interested but have apparently gone cold on the idea and the Premier League transfer market is closed.
However, Ancelotti will be happy with the capture of Lozano, who caught his eye at the Russia World Cup where the Italian was working as a commentator.
The Mexico winger will become Napoli's record signing when the deal is finalized. The previous record was held by Gonzalo Higuaín, who arrived from Real Madrid for €37m in 2013.