"James isn't as focused as he should be" claims former Colombia national team doctor
Héctor Fabio Cruz told 'FutbolRed' that the Real Madrid player "is distracted; instead of working for the new season, he's more concerned about his hair".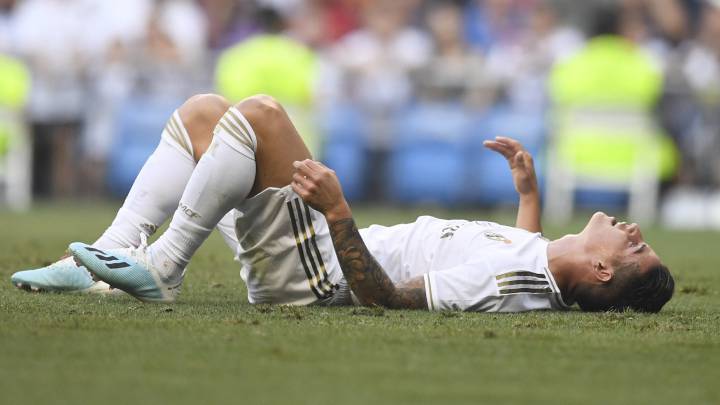 Héctor Fabio Cruz, sports medicine specialist and former doctor for the Colombia national team and América de Cali, told 'FútbolRed' that he believes James Rodríguez's injury problems stem from a lack of adequate preparation.
James isn't focused: "The guy is distracted, instead of working to prepare himself for the new season, he's more concerned with fixing his eyebrows and his hair when he should be making sure he's physically in the best shape possible".
Cristiano Ronaldo, the model professional
Polar opposite of Cristiano Ronaldo: "[Cristiano] would take one week's holiday, he would take his family out on his yacht around the Greek islands and the following week he would have 15 people working with him to prepare him for the new season. He's the most professional sportsperson I've ever known".
Self-discipline is vital: "A player who earns 7.5 million euros a year cannot allow himself to be blasé about his preparation. Big clubs like Madrid presume that all of their players are professionals, that they make sure they are fully prepared, this guy [James] - his mind's not on it - he doesn't prepare. A player who spends months on end off the pitch, going from one party to another, how is he going to be fit to play?"
Preparing properly: "Any sportsman or women has to prepare their body for the great exertion it will be put under when the time comes to compete. James can't stop training because he knows he has to train a little every day. If he stops, he'll suffer a long-term injury".
Bad practice

I've stopped trusting him: "I knew what was going to happen - that as soon as he needed to physically exert himself , he's going to have problems because he hasn't put in the preliminary work. He finished the World Cup with an injury then went off to the beach, he hired a private jet, relaxed and that's just not the right way to do things. After the Copa América he went to Medellín, didn't do any training and then how long did he spend out sidelined?"
Finding a solution to James' problem: "If he really wants to put things right he needs to change his mentality, his attitude. He's a tremendous player but how is he going to sustain his career if he's not prepared to work at it? He'll have one game or maybe two then he won't be able to complete a third game because it's too demanding for him. He has to begin the whole process from scratch - if he doesn't, he'll lose his place in the side and then he won't play again and we'll be back right where we started".
Metaphor: "Football is like a high-speed train, one that travels at 350 kilometres per hour - and when it stops at a station, it will need time to get back to full speed - or it will stop permanently. I was shaping my eyebrows, my hair, appearing in a magazine, going out with a new girlfriend… all of that is like getting off the train and not getting back on again, because there is always someone behind you who is ready to take your place".
Treating calf injuries
Soleus injuries don't have to be so difficult to treat: "It's one thing to make sure you get enough rest and another to not bother with preparing properly - that's one area you cannot skip. It's not the same as stopping altogether; it requires changing your training routine, developing some kind of structure to your everyday exercising".
How should James be training now he is carrying a calf muscle injury? "It requires a complete routine of specific exercises designed to build back and tone muscle, closed chain exercises, isometric workouts... there are many different ways of working. You need to strengthen everything - to prevent injuries to other parts of the body such as the groin, adductors, hip, hamstring, quads, abdominals... If you put in the work you'll see the results but if you don't... there's no short way around it".