2
Gerard Moreno 11',
Moi Gómez 73'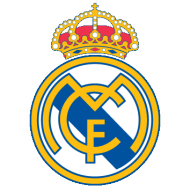 2
Bale brace and red card as Villarreal hold Madrid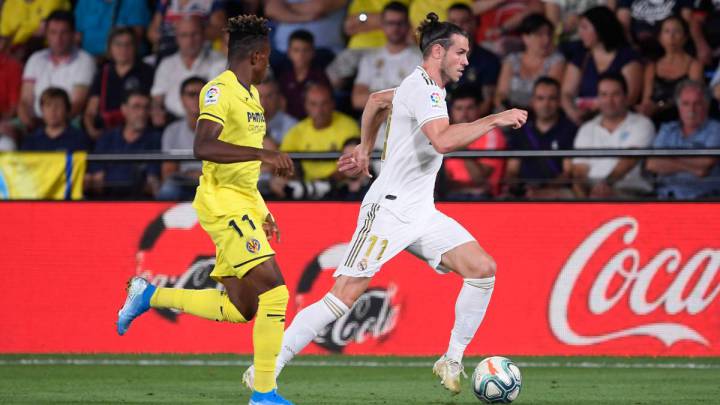 Villarreal vs Real Madrid: as it happened!
Bale sent off. He gets his second yellow in a matter of seconds for a high foot.
Ball sent into the box and it's handled by Villarreal.
Bale taking his time over this one.
Bale with a foul on Quintilla. He gets himself booked for the effort.
Madrid pushing for their third and the one that would surely win it for them. Villarreal getting pushed further back.
Shout for a penalty. Vinicius has his leg clipped but it would have been very, very harsh.
Modric launches one across the goal. Saved and rebounds to Benzema but he can't convert. Terrible miss (he was offside anyway) but Villarreal survive another scare.
Free from Ontiveros and he sends it over the bar. Waste of a chance really.
Mendy and Moi Gomez do battle and the left-back ends up being whistled.
Vazquez off for Vinicius.
Iborra brings an end to a nice Villarreal move. A really overhit pass to nobody. Strange effort.
Cross into the box and Mendy heads down to Courtois. He almost leaves him short but the keeper comes out to grab it.
Vazquez cross. Ramos, who looks to be playing as a number 9, with the foul.
Anguissa with a lovely bit of skill and he leaves Carvajal on his back. Villarreal trying to lift it again. They've been very flat for a while now.
Bale cross after Real Madrid win it back.
Chance for Villarreal. Ekambi coming off for Anguissa.
Benzema GOAL! But he's offside. Ball sent in by Mendy and it's headed down to Benzema, who didn't stay onside. Villarreal defender is just the wrong side of the goals of him. It is very, very close though.
Cross into the box and it's headed up into the air. Ramos and Fernandez fight for it and the keeper punches it out for a corner.
Villarreal living life on the edge. Kroos shot is saved and rebounds as it falls to Kroos again. They manage to get it away for a corner but that was so, so close!
Mendy tries to make a yard or two for himself but it's out over the line as he overruns it.
Chukwueze off for Ontiveros.
A lot of miscues by Villarreal tonight. Another one as Ekambi loses control from a Cazorla pass.
Free sent in by Kroos and Fernandez grabs it.
Quintilla can't get to grips with Vazquez, literally, as he tries to grab him but he wriggles away a few times. The left back is booked eventually for the foul.
Corner for Real Madrid after Vazquez takes off down the right and it's cleared. Ramos heads the ensuing corner over.
Cazorla with a rare misplaced pass.
No changes for either side.
We are back underway for the second half.
GOAL! Real Madrid with the equaliser. Jovic with a lovely backheel to Carvajal and he squares to Bale to knock it home. Just like that.
One minute of added time and we're into it.
Benzema rattles the post. It hit the base of it from a rocket of a shot. Villarreal hanging on here.
Ekambi with the shot on the counter. He had a man racing up the field to his left but went alone. Over!
Handball in the penalty area by Vazquez after a Bale cross. Some confusion there after it looked like the ball had gone out for a throw but wasn't down the left. Villarreal hanging on until the half...
Mistake by Madrid again. Moreno tries to curl one home.
Vazquez with a lovely cross and it's headed up into the air before Casemiro clashes with the keeper. Quite cynical really as he's whistled for the foul.
Vazquez buries it wide! He hits the side netting after some confusion at the back.
He gets up but he doesn't look comfortable.
Mendy down injured now after going toe-to-toe with Chukwueze.
Corner and Ramos heads it just wide.
Madrid building now. Villarreal looking shaky.
Fernandez comes out for a cross and misses it by miles. Casemiro at the back post with a free header into the net. He hits it wide.
Kroos gets it from Bale and he launches one with his left.
Half an hour in and Villarreal continue to look dangerous in attack.
Casemiro pushed up on the counter and plays to Jovic. He evades a tackle and drives a shot wide. Much better from Madrid.
Risky pass across the field and Madrid win it back. Crossed in by Bale, who is playing on the left and the keeper nabs it.
Villarreal putting Real Madrid under all sorts of pressure.
Comes back out to Cazorla and he drives it low only to see it sent back out to him for a corner by Carvajal.
Bale takes and curls it over the bar. Keeper at full stretch but it was never dropping.
Ramos kicks the ball against Cazorla's hand and it's a free. The Villarreal midfielder pleads innocence but the new rules and all....
Mendy sneaks in around the back of Chukwueze and crosses but Albiol puts it out for a corner.
Chukwueze versus Mendy. The Nigerian takes off down the right and Mendy matches him step for step and sees it out over the endline.
Another chance for Villarreal. Ball in from the left and Ekambi gets to it first but Courtois makes himself big and blocks it with his body.
GOAL! Moreno with the goal. He slots it under Courtois after Ramos coughs it up. He feeds to Ekambi and hit shot is rebounded out to the waiting Moreno.
Villarreal coming into this now. Ball down to Ekambi and Courtois is out to grab it.
Gerard Moreno recieves the ball from the left and he sends a ball into the stands. Woeful strike.
Cazorla drives forward and Vazquez takes him down. Haven't seen a card but the home crowd baying for one.
Villarreal under the cosh here.
Bale on the left again and crosses but it's awkward for Jovic and he can't control it.
Real Madrid the better side here early on. Villarreal are a very open side!
Lucas Vazquez with a run. A stubborn run as he nearly gets pulled down a couple of times but stays on his feet. Sends it low to the edge of the box and it's cleared.
Corner comes in and Kroos puts it on Ramos' head. He loops it onto the roof of the net.
Cross whipped in by Bale. Put over for a corner.
Lively start here with no team taking a step back. Nothing doing in front of goal for either side yet though.
A minute's silence for Luis Enrique's young daughter, who passed away during the week. One of the more tragic events in recent memory.
We are ready for action in Estadio de la Ceramica.
Atlético Madrid just came back from 2-0 down and look set to beat Eibar. Real Madrid really need a win here to keep pace with them.
The big news is that Jovic and Mendy start for Real Madrid. Marcelo on the bench alongside Modric, who is just returning from his red card suspension. Meanwhile, Lucas Vazquez is starting and we can't figure out if Bale will start on the left with Vazquez on the right of a 4-4-2 or if Zidane is plotting something else.
Villarreal XI: Andres Fernandez, Gaspar, Albiol, Pau, Gerard Moreno, Cazorla, Iborra, Chuckwueze, Quintilla, Ekambi, Moi Gomez.
Real Madrid XI: Courtois; Carvajal, Varane, Ramos, Mendy; Casemiro, Kroos, Lucas Vázquez; Bale, Benzema, Jovic.
Zidane says one or possible two signings but Christian Eriksen is one player trending away from the club. Looks like he will stay at Tottenham.
Hello and welcome to our live online coverage of Villarreal vs Real Madrid in LaLiga! We will be building up over the next hour with news, team news and then coverage during the game. Stay tuned!
.