PSG set to sign Icardi from Inter on transfer deadline day
Following the end of the Neymar saga, at least for now, the French giants appear to have a proven Serie A striker lined up for Monday.
By midnight on Monday, the transfer market will be closed in France (as well as Spain and Germany) and thus ending the rampant speculation of big-money moves around the top five European leagues. With Neymar's move to Barça broken off - at least for the moment - Paris Saint-Germain are reportedly looking to boost their attacking options further before the end of the day, with Serie A targets on their mind.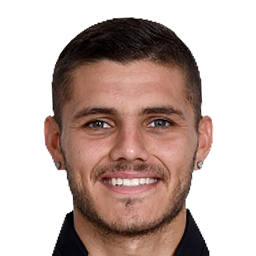 Icardi gift from PSG on deadline day
Thomas Tuchel has a forward-line headache right now, with both Kylian Mbappé and Edinson Cavani unavailable through injury, and a Brazilian with his own issues to be sorted.
According to French paper Le Parisien one solution to this, both in the short and long term, is to bring in Mauro Icardi, who has had numerous problems at Inter Milan, a club that also recently invested in Romelu Lukaku and Alexis Sanchez. A proven goalscorer, he could be a valuable addition to the Parisian side, and despite Leonardo saying that it would not be a summer of "bling-bling", if the Argentine becomes available at a reasonable price, the opportunity is unlikely to be wasted. And they have in mind that Cavani's yet-to-be-renewed contract expires in a year, and Mbappé is being lined up for a move to Madrid.
And it appears that Icardi will be a PSG player in the coming hours, with an offer being accepted and the player set to land in the French capital on Monday afternoon to put pen to paper and undergo a medical. It will be a loan move initially with an option to buy.
Mauro Icardi's agent and wife Wanda Nara hinted that the Inter outcast could join PSG before Monday's transfer deadline, with the Serie A club seemingly determined to sell the player that was stripped of the captaincy last season and is not wanted by new head coach Antonio Conte.
Amid reports Icardi could make a deadline-day move to PSG on loan, Nara told Tiki Taka: "I'll work until the end of the transfer window. "There are a couple of teams. My relationship with the Inter board is very good.
"Boca Juniors would be difficult, but there are solutions in Europe. We'll see if he goes to a team outside of Italy."
Interest was also confirmed on other Serie A players, specifically Juventus ones. With Pjanic, Verratti and Dybala discussed in a potential Operation Neyamr now out of the question, Mattia De Sciglio could be achieved. Another is Mario Mandzukic, although the Croatian would be unlikely if Icardi was secured.
Icardi's Inter issues
It comes amid speculation Icardi's lawyer is reportedly threatening to sue Inter over his exclusion from the first team.
Gazzetta dello Sport reported Icardi's legal team will seek to bring action against Inter in order to have the former club captain reinstated in the squad, which necessitates a claim for damages.
An Inter spokesperson declined to comment on the matter when contacted by Omnisport.
When asked about the Icardi saga prior to Sunday's 2-1 win over Cagliari, Inter CEO Giuseppe Marotta told Sky: "We have been very clear before and we are calm today.
"We will also face this situation, but I think it is right to give space to the players who go on the pitch, to the fans, and to the club.
"It is not a question to be solved. It is not a problem; it is ordinary football management. At the end of the transfer window, it will be clearer."