1

2
Sergio Ramos 28' (p),
Alcácer 46',
Llorente 78'
Spain survive late Romania rally to remain perfect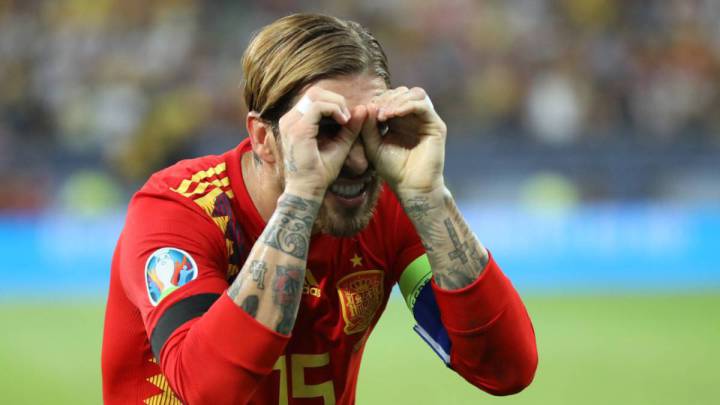 Romania vs Spain: as it happened!
GAME OVER!! Spain win 1-2 despite getting a man sent off in the second half. A Ramos penalty gave them the lead and Alcacer doubled that lead early in the second half. Romania responded through Florin Andone though and saw Diego Llorente sent off. They have to dig in for the three points but they saw off the comeback and remain perfect after five games in Euro qualification.
Sarabia gives the ball away and Romania break. Hermoso defends it well and then concedes a free.
Into the last minute now. Second left for Spain to hold on and they have a throw.
SAVE! Kepa with a marvellous save. Puscas header from a cross is low and saved by his feet. He just saved Spain 2 points! Rebound is fired over the bar.
Free sent in low as Puscas drives a shot at Kepa. He saves for a corner and Romania look for the equaliser.
We will have four minutes added on as Spain try to hang on.
Romania getting desperate.
Yet another corner as Ruiz sees his shot deflected over. Zero hurry for Spain here.
That was just wonderful from Spain as Navas backheels to Ramos, he plays to Oyarzabal and he plays to Sarabia in space. Chance but he drives it over despite having men arriving into the box.
Spain win another corner as they try to just kill the clock now.
Alcacer goes off for Mario Hermoso.
Corner is cleared and Romania try to attack. Busquets with a tactical foul.
Navas down the right, he's still going! Crosses low witht two yellow jerseys in front of him. Out for a corner.
Spain trying to hang onto possession now and Romanian fans want it back.
Hagi hits the free low and into the wall. Ramos clears for a throw. Spain down to 10 men. Can they hang on?
It's a free for Romania just outside the box.
Unclear as to whether it's a penalty or not but replay shows it was outside. Massive mistake by the referee as Llorente explains he got the ball. Ref doesn't agree but he's wrong.
Diego Llorente is given a red card.
Romania with a chance. They break forward and Puscas gets pulled down by Llorente.
Sarabia makes hs debut. Ceballos the man who makes way.
Spain with chances. Ball into the back post now and it's touched back to Saul. He swings a foot at it and misses badly.
Romania replace Deac with Maxim. That's their final change.
Rodrigo is replaced by Oyarzabal. That's Spain's first change on the night.
Alcacer with a shot after Fabian plays it to him. He gets a second bite of it as it's blocked out to him. He hits that one badly wide.
Fabian to Ceballos and he slips. Spain keep the ball though.
Busquets gets the ball on the edge of the box and he strikes it first time. Curls it into the keepers waiting hands.
Oyarzabal is coming on for Spain.
Spain back in control. They have to be wary of that counter especially with Andone now on and chasing everything!
Spain looking suspect. Kepa grabs a through ball and starts an attack. Rodrigo cuts inside and looks to have been fouled but he gets the shot away and the referee lets it go. Keeper starts again.
Andone putting more pressure on Spain's defence. He forces Navas into kicking the ball out for a corner.
Alcacer wins the ball and holds it up before winning a throw. Nice breather for Spain.
Stancu is replaced now by Hagi.
Cross in from the right and Ceballos is said to have fouled Benzar.
Romanian crowd really getting into this one now. Baying their side on. Spain need a response. A third would really kill it off.
Romania with the first move. Andone on for Keseru.
Fabian with the curling effort. He bends it wide with his left after dodging a would-be tackler.
Romania manager, Cosmin Contra, about to make a move now to try and get something out of this game.
Navas breaks into the box and shoots but it's way over the bar.
WHAT A FINISH! Ceballos with the most beautiful through ball you'll ever see. Alba squares to Alcacer and he literally taps it home.
Spain work the ball across the field. They are probing early on.
We are back underway for the second half in Bucharest.
Spain corner is headed out. We're into the finally few seconds now. Spain happy to take their lead into the break. Ramos continues to get booed and the ref blows the whistle just as Ramos touches it.
Busquets caught in the face. He's not playacting either because he's bleeding fairly heavily from the lip. Elbow, says Robert Moreno.
Spain again pushing for a goal. Navas to Rodrigo, who tries a tasty backheel and Ceballos jus can't get to it.
Corner for Romania as Tosca and Navas battle it out for the ball and the Sevilla right-back loses out.
Another wonderful cross and chance. Rodrigo to Alcacer and Tatarusanu saves it. What a save! Another one.
What a play. Brilliant as Saul backheels to Ceballos, he sends the cross in and Rodrigo sees his shot saved. Corner. Beautiful football from Spain.
Spain win a throw. Spain back in control. They have no need to really force it now as Romania chase shadows.
Ramos being booed to the rafters now.
Ramos gets himself booked for ... we're not sure. And it looks like he isn't sure either.
Alba to Ceballos and he goes down. Referee waits a few seconds......and then points to the spot. Unclear as to whether he was caught.
Puscas chases a long ball. Crossed in as Romania keep the play going. Spain eventuall win it back and Alcacer gets bundled over but doesn't win a free. Game opening up more now but not necessarily suiting Spain.
Busquets clips one over the top to Rodrigo and he gets to it before it goes out of play. He slips though and the ball dribbles out for a goalkick.
Navas with another cross and he hits it straight to the keeper.
Cross in from Navas again and it's sent up into the air and cleared by Romania.
Romanis coming more into this one. They transition quick and send it across to Benzar. Cross and headed wide by Puscas.
Free from Stancu but he blazes it well over.
Foul by Busquets on Puscas. He backs into him and forces the foul. Romania looking dangerous on the break without getting too many chances away.
Ceballos cleaned out of it with a late challenge as he kicks the ball. Benzar is the culprit and Ceballos is down grabbing at his ankle. Awkward and painful fall.
Romania living on the edge. Navas with another cross and it's Alba at the back post. Saved again and another corner.
Spain completely dominating this one. They've had some nice chances early too. Romania being forced further back by the minute.
Fabian takes. Ramos with the header at the back post and the keeper, Tatarusanu, gets a glove to it.
Navas with a cross that gets blocked for a corner.
Ceballos carries forward and has a man overlapping in Alba. He goes alone and sees his effort blocked. Romania counter but Spain win it back.
From the corner, Spain try a designed play that sees the ball passed low to the edge of the box. Romania jump in front of it but you could see what they were trying there.
What a pass by Fabian to Alcacer. Perfect pass and he sees his shot saved and sent around the post.
Puscas takes off now and has Ramos for company. The Real Madrid captain jumps in and misses the tackle. Romania keep pressing as that attack ends in a throw. Offside as Kepa sees a head loop over his crossbar.
Jesus Navas takes off own the right, gets turned around and Spain go all the way across to Jordi Alba.
Romania struggling to pass the ball out from the back as Tosca launches one straight to a Spain player.
Romania nick the ball of Rodrigo and Saul with the fairly cynical foul as they try to counter.
Navas with the pass to Alcacer but it was drifting away from goal and he had to shoot back across goal from an awkward position.
Spain with the ball to start. And it's a great start too. Ball played through to Alcacer and he shoots into the keeper's midsection. Great chance!
Now, we are officially underway.
There are some firecrackers on the field and the referee delays the start.
Romania's national anthem blares around the stadium.
Teams in the tunnel and ready to head out onto the field.
Warm-ups under way in Arena Nationala.
The debate over Kepa and De Gear rumbles on but it seems the Chelsea shot-stopper has won the battle for now. He has started the last three games in a row and conceded just once against Faroe Islands. He didn't start the first game of the qualifiers, however, against Norway. Spain won 2-1 but De Gea didn't entirely convince.
Saul gets a start tonight despite being shifted around by Simeone to start the season. He has played on the left, at left-back and in midfield in Atlético's first three games. He should have a more central role tonight just ahead of Busquets and with Fabian as company.

No start for Sarabia tonight but he did get his first call up and Moreno expects him to make his debut at some point in the next week. Unai Nuñez is another player to get his first call from the Spain manager.
Spain have scored 11 and conceded just 2 in four games.
Spain sit comfortably at the top of Group F. They have 12 points after four games. Sweden are next on 7 points with Romania having collected the same number. They beat Malta and Faroe Islands, drew with Norway and lost to Sweden so far.
Romania XI: Tatarusanu, Benzar, Nedelcearu, Chiriches, Grigore, Tosca, Deac, Marin, Stanciu, Puscas, Keseru.
Jesus Navas had not played with Spain since 2014 since his move to right-back and return to Sevilla. He has played two full games in this qualifying campaign. He started and finished against Norway and Faroe Islands and even got a goal in the latter.
Moreno starts with Rodrigo and Alcacer in attack with Ceballos playing to the left of them in a 4-3-3 but he will more than likely play in a number 10 role, drifting in from the left.
Spain XI: Kepa; Navas, Ramos, Llorente, Jordi Alba; Busquets, Saúl, Ceballos, Fabián; Rodrigo, Alcácer.


Moreno in charge after Luis Enrique had to step aside to be with his daughter as she fought a losing battle with cancer. In one of the most heartbreaking stories in recent times, the news send shockwaves through Spain. The outpouring of support for the former Barcelona and Real Madrid player and his family was incredible, however, and there is sure to be plenty of emotion in the atmosphere tonight.
Hello and welcome to our live coverage of Romania vs Spain as Robert Moreno leads Spain for the first time as the official manager of the national team. Kick-off from Romania coming at 20:45 CEST.
.