Sergio Ramos: "Winning the Champions League for a 5th time would be unreal"
Sergio Ramos presented his new documentary for Amazon Prime Video, 'El corazón de Sergio Ramos', at the Reina Sofía Museum in Madrid today.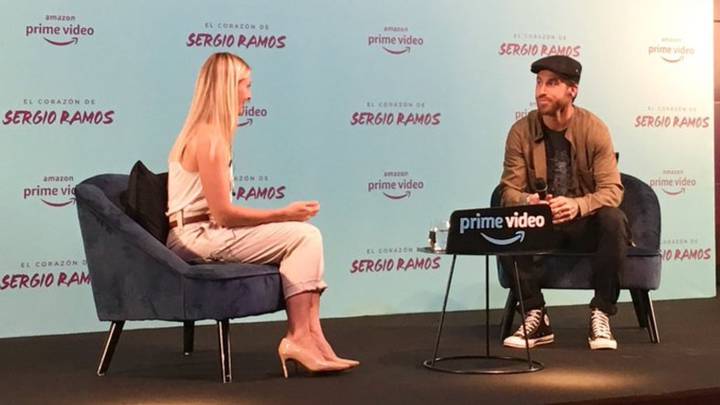 Sergio Ramos presented his new documentary for Amazon Primer Video El corazón de Sergio Ramos (loosely translated as 'The Heart and Soul of Sergio Ramos') in the auditorium at Madrid's Reina Sofía museum this afternoon. The Real Madrid captain was joined by director Georgia Brown, who described the player as "the perfect example of what we are looking for when we select content". After the official presentation, Ramos took questions from the media.
What image do you think the public has of you and how do you think the documentary might change their point of view?
I would hope they would know enough about me to judge me as a footballer - we are just normal people, we have good days and bad days, passion and interests like anyone else… I don't intend to change anyone's opinion, I just hope they get to know a little bit more about me and that with effort and sacrifice, you can achieve things.
What was it like being filmed in the stands watching Madrid get knocked out of the Champions League by Ajax while you were suspended for forcing a yellow card?
Once we gave the go-ahead for this project, it means you have obligations and commitments to meet when it comes to filming. A lot has been said about the yellow card and us being eliminated from the Champions League, and too much has been made of it. Nobody expected Madrid to go out that day, it wasn't a very nice experience for any of us. Not everything is perfect and things don't always turn out well.
Ramos on Van Dijk
There's no Ballon d'Or in your documentary, it looks like [Liverpool's] Virgil van Dijk is going to win it. Do you think that's fair, seeing you have never been a candidate?
Everything to do with individual awards is very difficult to assess. Van Dijk is a great central defender, he enjoyed a very good season. He's worked hard for it; people always talk about Cristiano and Messi, but this is a step in another direction and it's nice when other players win. It's true that in recent years, some players could have won the Ballon d'Or but haven't and that makes you think. Football is a collective sport so making individual assessments is very difficult. I think he's a great defender, and if he wins we must congratulate him, he's had a great season.
Was it a bit disappointing that the documentary was made in one of Madrid's worst seasons in recent years?
At the end of the day, in life it's during the bad moments when you learn most. My career has been successful but in the year we decided to tell the story just turned out the way it did. That's also one of the appealing things about the documentary - that people can see that sometimes things just don't turn out well. It also helps to motivate us to try and win more trophies with our renewed hope.
Do you have any regrets?
Well, you either regret things ot not but we've all done things in our lives that we might regret - we learn by making mistakes. Mistakes end up being life lessons. I'm a very optimistic person, sometimes getting things wrong even makes me happy because I know it will make me a better person.
Champions League dream
How many dreams have you left to fulfil? Winning the Champions League, the World Cup, the Ballon d'Or...

All of that, if it's at all possible, that's my dream. I never stop dreaming, I'd love to win my fifth Champions Leaguw with Madrid, that would be amazing, unreal. And the same with the national team - another Euro or World Cup… would be incredible. The Ballon d'Or maybe, I don't know if I'm any nearer or further away from winning it. If [Fabio] Cannavaro did it, why not? I have to maintain that hope I had as a kid in Camas so that those things might happen. When my body tells me it's time, I'll think it over but for now, I think I have a couple more years at the top level.
Messi can leave Barça as from next year. Would you like him as a team mate at Madrid?
Well, it's not for me to talk about what other players do with their careers. I've always spoken highly of Leo because I think he's an example to follow, one of the best players in history. He's free to take the decisions he thinks are right for him. I have two years left on my contract and I'll be using that time to try and win things. After that we'll see what happens. I want to enjoy every moment and we'll see what tomorrow brings, I'll make the most of every moment as though it's the last.