Messi: "I'm not sure if everything was done in trying to sign Neymar"
The Argentine striker spoke to Catalan sports daily Sport and previewed the season ahead and discussed his future with FC Barcelona.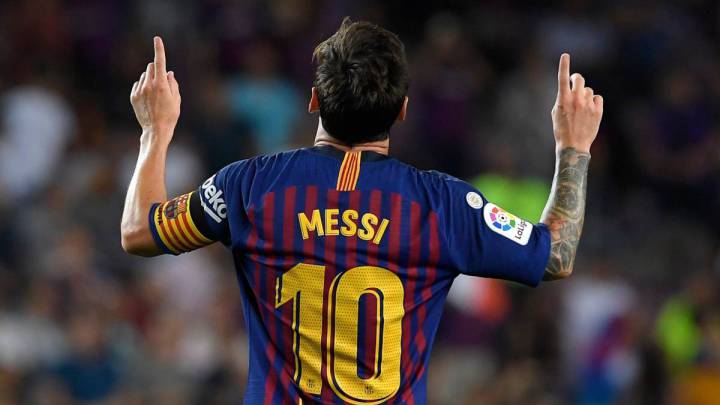 Leo Messi was interviewed by Catalan sports daily Sport and over the course of the interview, the Barça striker analysed many contemporary issues with the player also focusing on his future plans with the Catalan club.
Champions League:
"It's been some time since we lifted the trophy and personally I'd love to win this again but I wouldn't be happy winning the Champions League and not winning the domestic league. What we've discovered over the past few seasons is it just takes one poor game to undo everything and it's essential to score away from home. When we've won this competition in the past, we've done so by scoring away from Camp Nou".
Key rivals in Spain and in Europe:
"Atlético Madrid who many had felt had sold their key players have assembled a strong side with good balance. Real Madrid have signed well too with Hazard. Juventus and Manchester City too are strong but the overall feeling is that most teams are looking good and it will be an even competition".
The Barça squad:
"I'm not sure if it's better than the previous year but we've acquired some good players".
Neymar:
"I understand that there were some people against his return given the manner in how he left, but on a sporting level, he is one of the best in the world. Personally, I'd have loved to see him come back as his return would have helped us in secure titles. To be honest, I'm not sure if everything possible was done to secure his return. I spoke to him a few times with negotiations ongoing and he was keen to come back. His arrival would have given us a lift in terms of quality and have helped the club in terms of sponsors too. I followed developments via the press and it was never clear as to what was going on. We haven't spoken after the move broke down but from a squad perspective we never tried to impose our views on anyone, we simply gave our opinion. I´m not in charge as I simply play football. I'm not disappointed that he didn't come back although I would have liked to have seen it materialise".
Griezmann:
"I don't know him that well as we've coincided little. I sustained an injury and have been training separately whilst the first team went on tour so we've yet to get to know each other properly but we'll have plenty of time ahead to do this".
Ernesto Valverde:
"I thought he's job could have been danger with the team failing to secure our objectives but what happened at Anfield last season was our fault and not that of the head coach".
Dembélé:
"He's a fine player and this will be a key season for him to make the step up and I hope he can be injury free as they've hampered him in the past. He really is a great player".
Injury:
"I'm better, I was hoping to be back for the Betis match but suffered a late setback. The club doctors maintain that a soleus muscule is tricky and can be deceptive and this is the first time I've suffered this way. There's still no definitive date for my return and I won't be ready for the Valencia game and am now hoping to get to play in the Borussia Dortmund game or the league fixture against Granada".
Cristiano Ronaldo:
"I've no problem in accepting his invitation. We're not friends and top be honest don't know each other that well and have met occasionally at award events and we speak with no issues. The last ceremony is when we spoke the most. I'm not too sure if we'll meet for lunch as we've both got busy schedules but I've no issues in accepting the invite".
Release clause and renewal:
"A release clause and the money linked to that are not important issues for me. What I want to see is a project that sets out to win, that's clear. At present there are no ongoing renewal negotiations as that side of my career is handled by my father and at present it's not a matter that we've discussed".
The start of the 2019-20 LaLiga season:
"It's not that worrying, but it's far from ideal to start as we have done. We've been badly hit by injuries which have affected things and we now need to click into gear for the forthcoming games".