Zidane: "James has always had quality, that hasn't changed"
The Real Madrid manager praised the performance of James Rodríguez against Levante and threw an arm around Vinicius: "He is only 18 years old."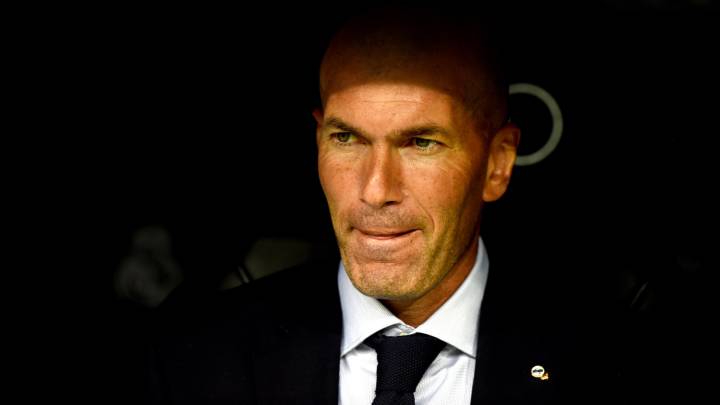 Zinedine Zidane analysed Real Madrid's 3-2 victory over Levante in the press room after the Saturday lunchtime kick-off in a rain-soaked Bernabéu and had words of praise for James and Karim Benzema while deflecting criticism of Vinicius after a rather profligate performance from the Brazilian teenager.
"The problem we had was that we didn't go into the second half with conviction and they scored and got back into the game. I was pleased with our first-half performance though, we played very well. We scored goals, created chances. We also had a few chances in the second half and could have made it four, five or six in the first but we didn't take them. We deserved to win but we also have to think about how to play well for 90 minutes. If we can play well for 45 minutes we can do the same for 90 minutes."
Faced with a trip to PSG and a mounting injury list, Zidane denied his side were distracted by the impending arrival of the Champions League: "The most important game was the one today. We were only thinking about that."
Zidane: "James showed great character and determination"
Speaking about his players, the Madrid boss expressed satisfaction with James, who has been brought back in from the cold after two seasons on loan at Bayern Munich.
"He played well and looked comfortable. He has no problem at all on the ball. Physically it was harder work for him because he's been injured. But he is very motivated and he wanted to score. He has always had quality, that hasn't changed. Although he in not quite fully fit yet, he showed great character and determination. He was knackered at the end. I'm happy that he left it all out there on the pitch."
On Benzema and the debut of Eden Hazard, Zidane observed: "We have been monitoring the players who aren't quite ready yet and who haven't trained that much. But he [Hazard] will get better. Hopefully he won't have any injury setbacks. He's only had four training sessions. He's a very direct player and he'll help us out a lot. As for Benzema, I've been hearing it all the time: that his last game was always his best performance. He always turns up."
As for Vinicius, who has yet to find the back of the net this season but provided his first assist of the campaign for Casemiro's goal, Zidane noted: "He's 18 years old and the important thing is that he creates chances."